How to (really) order online for Whole Foods pickup or delivery
Make sure you get what you want without getting stuck with weird replacements
If you've ever ordered for Whole Foods pick up or delivery, you've probably ended up with your fair share of weird replacements. We'll get into why and what you can do about that in just a moment.
For those of you who'd like to order from Whole Foods Market online, you'll need an Amazon Prime account. Once you have that, there'll be a tab that shows Whole Foods as an option. 
You'll be able to add items to your cart from and checkout from there. Easy enough, right? Right but now let's get into why there's a right and a wrong way to order. 
In order to get the items you actually want, you'll have to be aware of a couple of things:
Your Whole Foods (technically Amazon Prime) shopper has performance metrics
Why does that matter? Because one of those metrics is offering a replacement for every out of stock item, 100% of the time, regardless of whether or not there actually is a good replacement. That's just the way it is. And that's why you've maybe ended up with limes instead of bananas. 
There's nothing you can do about that part but what you can do is:
---
Select a replacement for every single one of the items in your order
Yep, every single one of them 
Don't just leave it on the "Best available item" defaul but actually select your preferred item from the list. You might have to search for it.
However, if you select a replacement for every single one of your items and that replacement is out of stock as well, the shopper has to come up with a third options so it's important that you monitor your order while the shopper is shopping so you can accept and decline in case your two choices are out of stock and the shopper is trying to stick you with a third option. 

So if you ordered 6 organic bananas and you have a replacement of conventional bananas, there is a chance that both are out of stock on a particularly busy Sunday afternoon. Now, the shopper has to come up with a replacement that the system will accept price-wise (plantains are more expensive so that's a no-go) and a lot of times that's something like 6 lemons or limes.
The replacement amount always have to match the original amount requested so 6 bananas for 6 limes in this case. It's not that your shopper is incompetent (well maybe sometimes but they're actually well-trained overall) but they just have to meet that 100% replacements offered metric set forth by Amazon.
You only have a couple of minutes after the shopper has finished shopping to accept or decline, otherwise you're stuck with a replacement and you'll have to go through Amazon's refund process. Amazon's refund process is pretty generous but it's obviously annoying to end up with something you didn't want in the first place so even if you selected a replacement, there's still a chance that's out of stock too, which is why monitoring your order is another important piece of the puzzle. 
---
Or select "Don't substitute"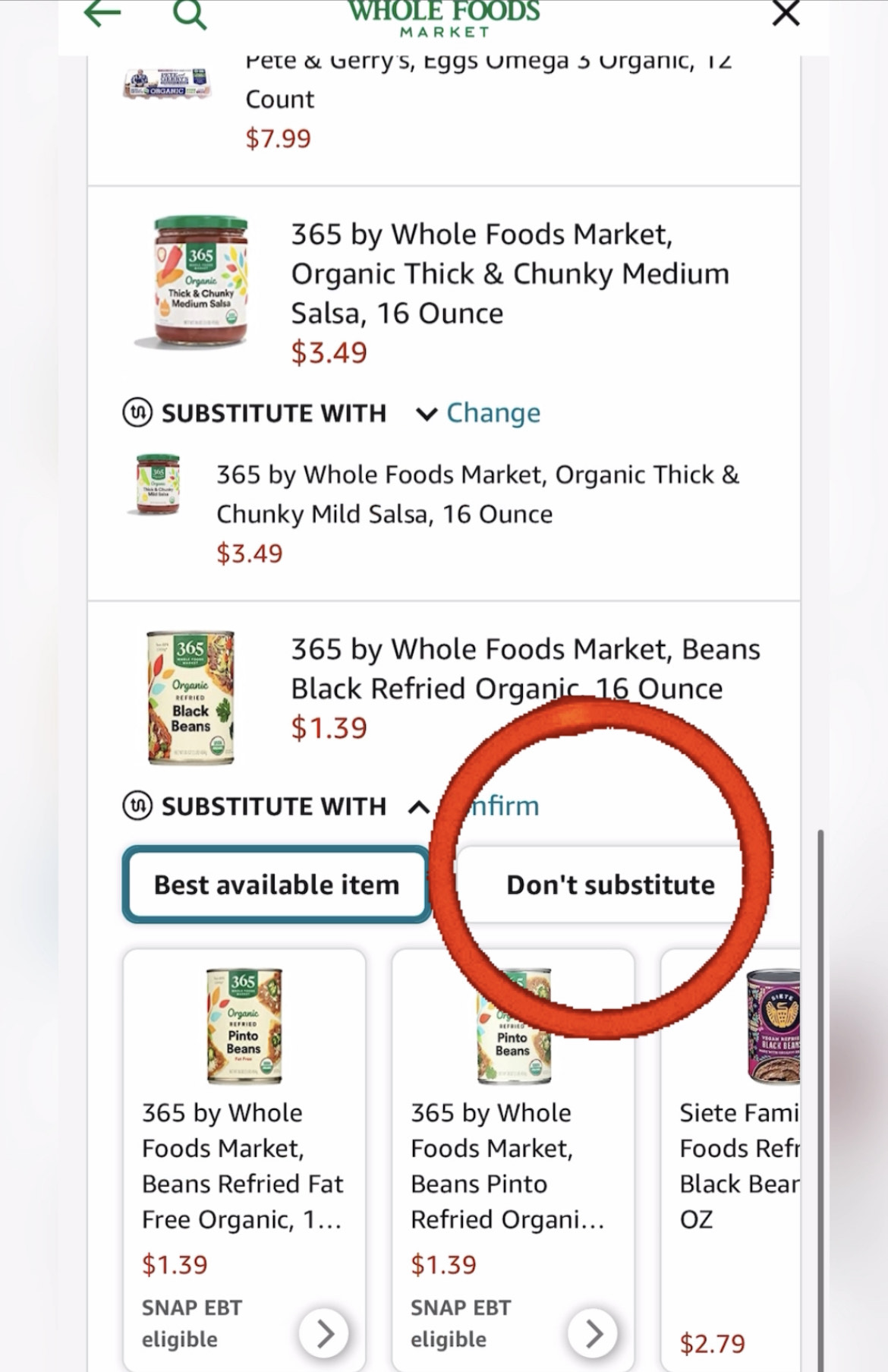 If it's a particular speciality item or something like grass-fed meat, select Don't substitute.
If you select Do not substitute, the shopper can't offer a replacement and you're all set. You won't end up with a weird replacement.
To recap, you have two options:
Select a replacement for every item but monitor your order in case of out of stock replacements because if you don't you'll get stuck with unwanted items and have to go through the refund process or
Select Don't substitute. 
I hope this super quick guide was helpful. 
Check out my related pages below if you're also an Instacart customer or for tipping your Whole Foods shopper and Amazon Flex driver.
---
Prefer to watch a quick video? 
Related Pages
How to (really) order on Instacart
How to tip your Whole Foods (Amazon Prime) shopper
Sign up for Gig It! News


G

et exclusive tips & tricks monthly to stay ahead in the food delivery game!