Getting started as Grubhub driver
Let me take you through the basic steps of becoming a Grubhub driver, including declining, accepting and dropping an order on the app so you know what to expect.
Many people sign up for food delivery and then don't go out for their first order because they don't know what to expect.
If you're unsure you want to do Grubhub or the others like UberEats or Grubhub, I have links at the bottom of this page for comparisons, pros and cons, etc. 

I always recommend signing up for two apps around the same time so you have a backup in case demand for one decreases or one of the apps glitches, which does happen.
You probably won't have insulated bags on your first order but Grubhub will send you one a few days after you sign up.
In the meantime, I recommend you find some in your house and sanitize them. Your job is to deliver food to customers and that food should arrive hot if it was meant to arrive hot.
Signup to become a Grubhub driver
Signup is straightforward. You can signup for Grubhub here.
You enter your personal info, upload a picture of your Driver's License and car insurance and wait for that to process.
Your information will be subjected to a background check and you have to wait until that is complete. 
Once it's processed, you'll be sent a W9 partner agreement to sign. You'll wait for Grubhub to process that. Once everything processes, you'll be sent a short orientation link.
Before your first order
Grubhub asks you to complete the orientation. It's nothing complicated and you probably won't retain half the info they provide. Nonetheless, be sure to complete that so you can start getting on the road and making money.
Once you complete the orientation, you'll be prompted to sign into the app before you can get going. The app then takes you to the map of your area where you can switch from unavailable to available to start seeing orders.
Please note that: Grubhub recently changed a few steps to make it easier to see your map and to be able to get on the road for orders. It is a much improved process but still a little clunky overall.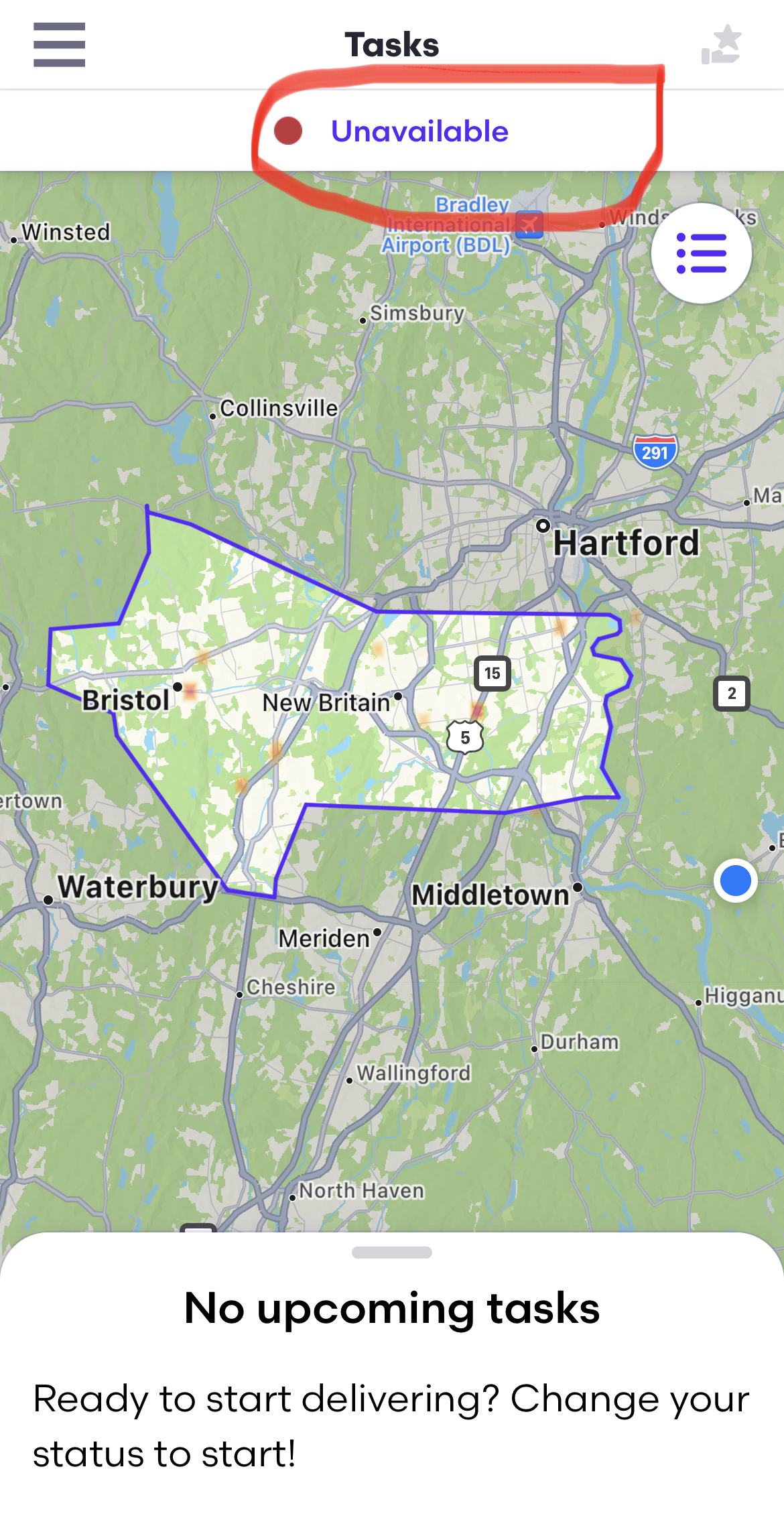 Once you sign in, the app now takes you to the map of your area, where you can sort of see if you're near any busy restaurants by zooming in on the map.
It's not the most informative map but you can zoom in enough to see if you're in a busy zone. Busy times in my area are usually from 11:30AM-1PM and 5PM-9PM and later on the weekends but demand across all food delivery apps has been down in my area as of late. 
Bear in mind, you won't get sent orders outside of the zone you signed up for. I'm right in between zones so I often deliver outside of my zone but then have to backtrack into my original zone to get new orders.
Once you determine it's busy enough for you to get on the road or if you're scheduled, you'll hit "Unavailable", which then allows you to swipe over to "Taking offers"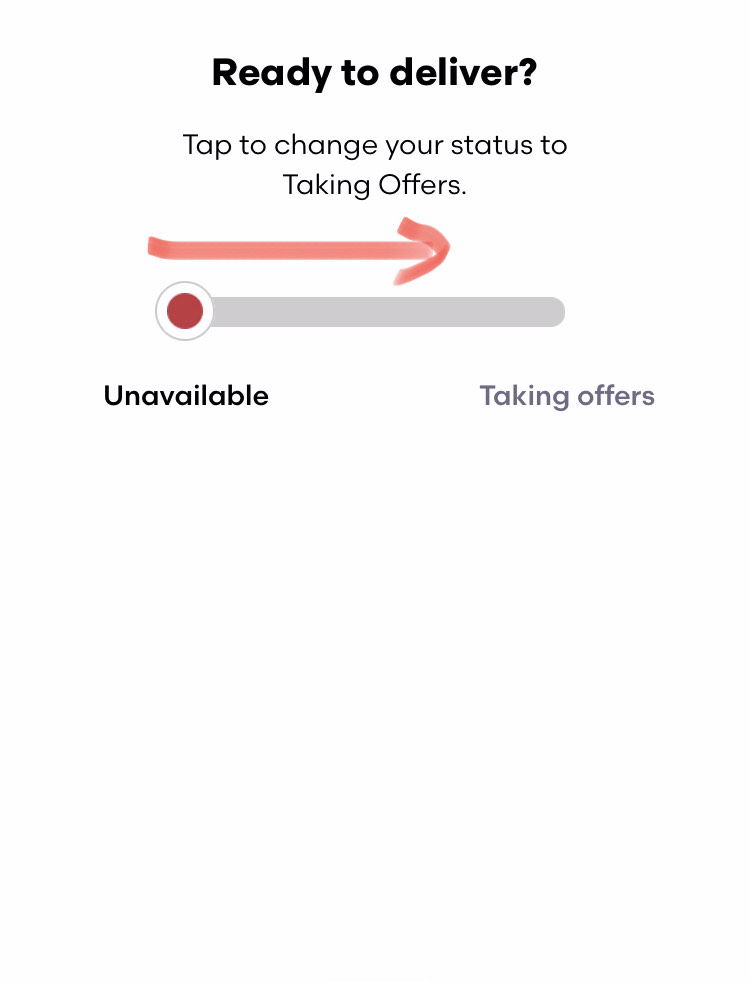 Screenshot of Grubhub's unavailable to available screen
---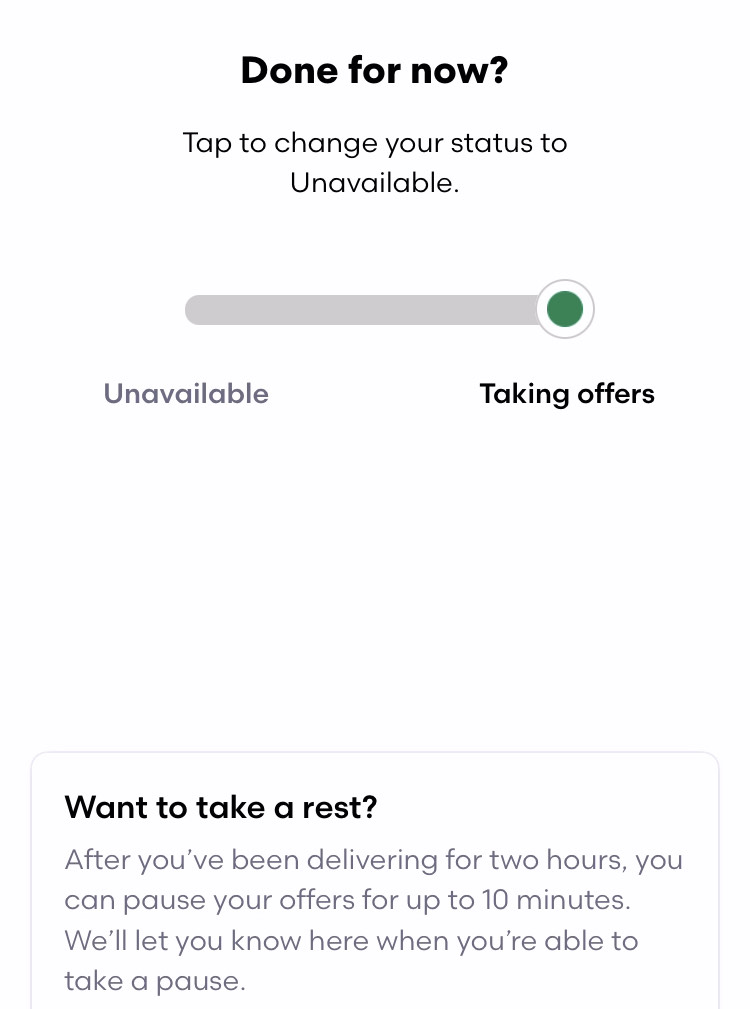 Screenshot of Grubhub's taking offers
---
Don't worry about sliding right back to "Unavailable" if you're not quite ready. Nothing will happen if you play around and explore the app the first few times.

Declining an order
You'll soon be sent an order. Don't be afraid to decline that order if it's crappy. I don't worry about acceptance rate on any apps but only about maximizing my earnings. You are on the hook to pay for gas (always keep and log your receipts, you get money back come tax season!!) so you need to be smart about the orders you take.
Grubhub is a little different from DoorDash and UberEats because its base pay is higher as it pays for mileage from the restaurant to the customer but there are still quite a few crappy orders. That's a shame because Grubhub's stats emphasize your acceptance rate to reach higher levels on the app but I simply won't accept a crappy offer just to keep my acceptance rate high.
Grubhub times its orders differently than DoorDash and UberEats. Grubhub usually releases an order for pickup soon after the customer has placed the order to give the driver ample time to get to the store. Therefore, if your strategy is to wait close to restaurants, you'll likely end up waiting a lot longer for the Grubhub order since the restaurant just received the customer's order and most likely hasn't even started preparing it.
This has happened to me several times and I've had to drop the orders (more on dropping orders in a moment). It wasn't just a 10-20 minute wait time, one restaurant gave me a 60 minute wait time, another a 35 minute wait time. No way! I could do several orders on DoorDash and UberEats in that time so there is no way I would wait 35-60 minutes even for a $20 order.
To decline an order, simply click "Reject offer", provide a reason (it doesn't really matter what you select) and it will go away.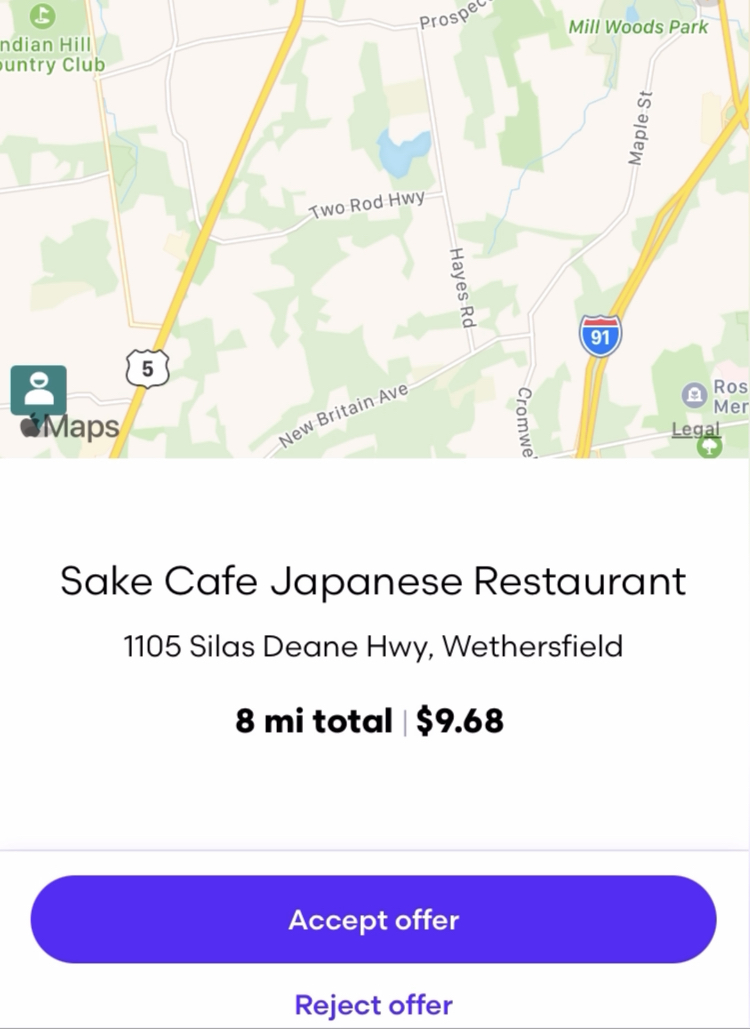 Grubhub offer screen to accept or reject offer
---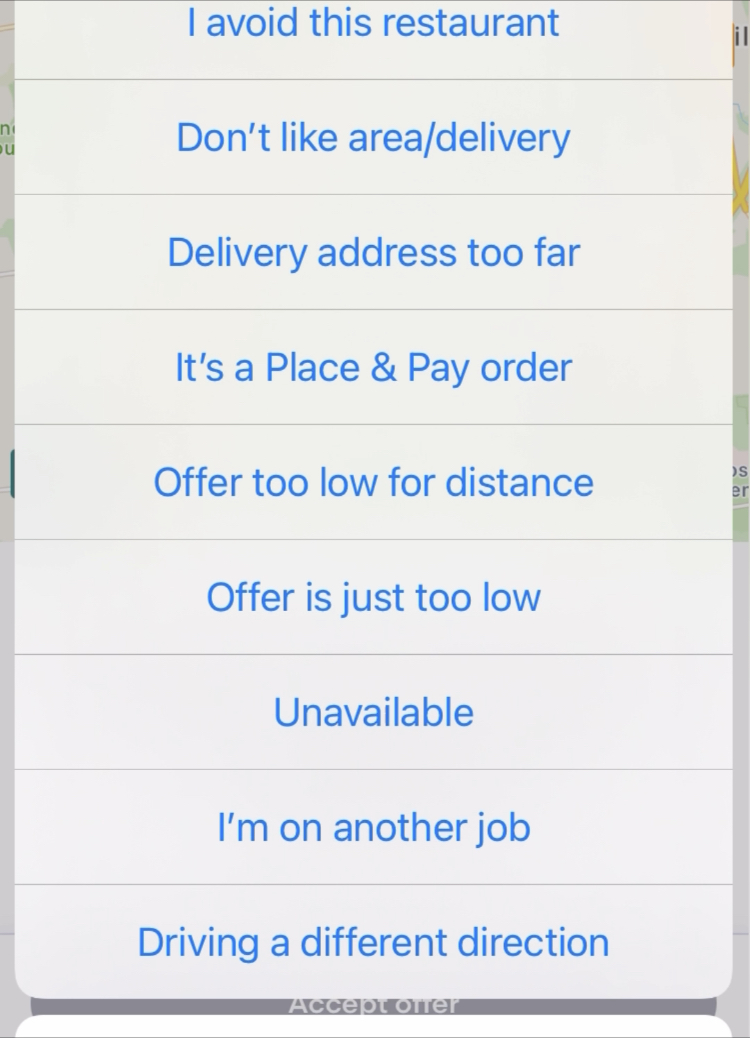 Grubhub screen to provide a reason for rejecting offer
Accepting an order
Once an order pops up that seems like something you wanna do (don't overthink this), just hit the "Accept offer" button.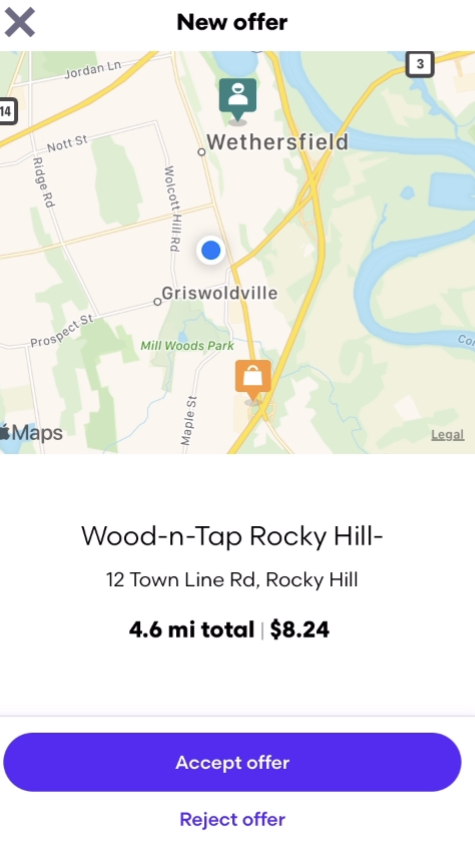 Screenshot of Grubhub Accept or Reject offer
Once you accept the offer, you'll see a map with navigation, just click on the arrow on the map to navigate to the restaurant. 
Sometimes orders have more than one person in which case you might have to go to two restaurants and deliver to two people. You'll be taken through the steps.
Grubhub is not as transparent as DoorDash and UberEats who make it clear the order has more than one customer right when the order pops up (before you accept it). 
Once you arrive at the restaurant, click "Arrived", then tell someone at the restaurant the name of the person whose order you're picking up. I usually say "Grubhub for XYZ".
That way they know it's Grubhub and not some other service. Many places also have shelves with pickup orders so you can check that as well. I usually check the shelf first but more often than not, I have to let someone at the restaurant know. 
While you're waiting, check the items. See if the order has drinks. They're the most forgotten item. 
Once the restaurant person hands you the order, confirm the name on the ticket (sometimes there isn't one so you don't have to do that part obviously) along with the items and hit "Got Order". Then hit "Leaving". Start the navigation by once again, hitting the arrow on the map. 
Delivery
Once you arrive at the customer's, just follow the delivery instructions. Many customers choose "Contactless/Leave at door" with a text customer option. 
You'll click on that and Grubhub will have a pre-selected message to the customer with your name so you can just send it like that or you can choose to add your own touch. I usually do "You're all set, enjoy."
Grubhub does not give customers the option to rate their drivers but I still like to provide good customer service.
If the customer chose in-person delivery, just walk up to their door. You might have to ring the bell if they're not already out there. Before you do that, just give them a call or text them you're there. I prefer texting but I also don't wanna waste time so I call if the customer isn't outside. If there is no response, ring the doorbell. 
Swipe to complete and you're all done. 
Please note that Grubhub will often send you offers while you're on another delivery. Just be careful while you're driving. I often just let the offer time out instead of looking at it since I'm trying to focus on getting the current delivery done but you can just see what you're comfortable with.
As I said before, Grubhub emphasizes acceptance rate so you can advance to different levels but I choose convenience and pay over going out of my way to accept bad offers just to reach different levels. 
Dropping an order
Dropping an order on Grubhub is not nearly as easy as it is on UberEats or DoorDash, which is unfortunate. One of my first orders had a 60 minute wait-time (no way, I know!!) so I had to drop it. I've talked to other, more experienced Grubhub drivers and apparently long wait-times are not unusual.
I've actually had other orders like that and I've asked other Grubhub drivers who say that while pay per order is higher, they can often only do one order in an hour because of wait-times.
That's nuts because I can often do up to 4 individual orders on DoorDash in an hour so even though the base pay and tips tend to be smaller on DoorDash and UberEats, I know I can make as much or more an hour than on Grubhub. I prefer to be going and going rather than stagnant and waiting for an order but that's just my personal preference.

I don't make dropping an order a habit because it affects the timing of the customer's order but it's OK to drop an order with excessive wait time or if you're stuck in major traffic trying to get to the restaurant. It's better to drop the order so someone else can get to it. 
To drop an order, select "There's a problem" at the bottom of the screen. Make sure you're in the Order screen.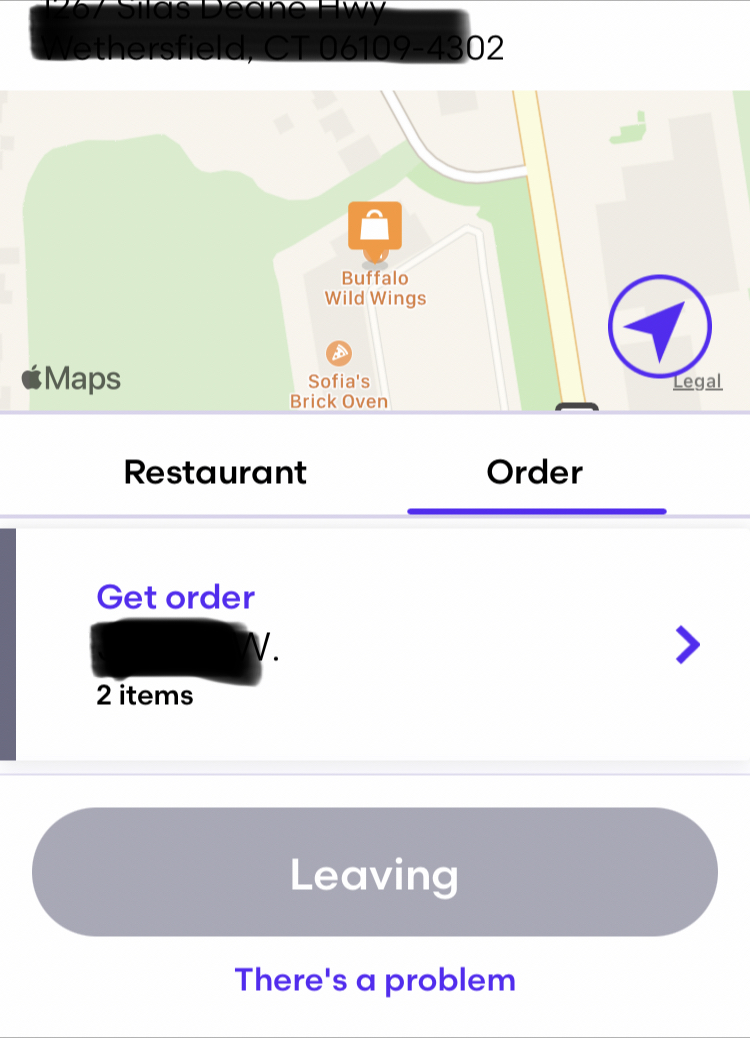 Screenshot of Grubhub There's a problem to start dropping an order
---
Then just select "I can't deliver this order". 
---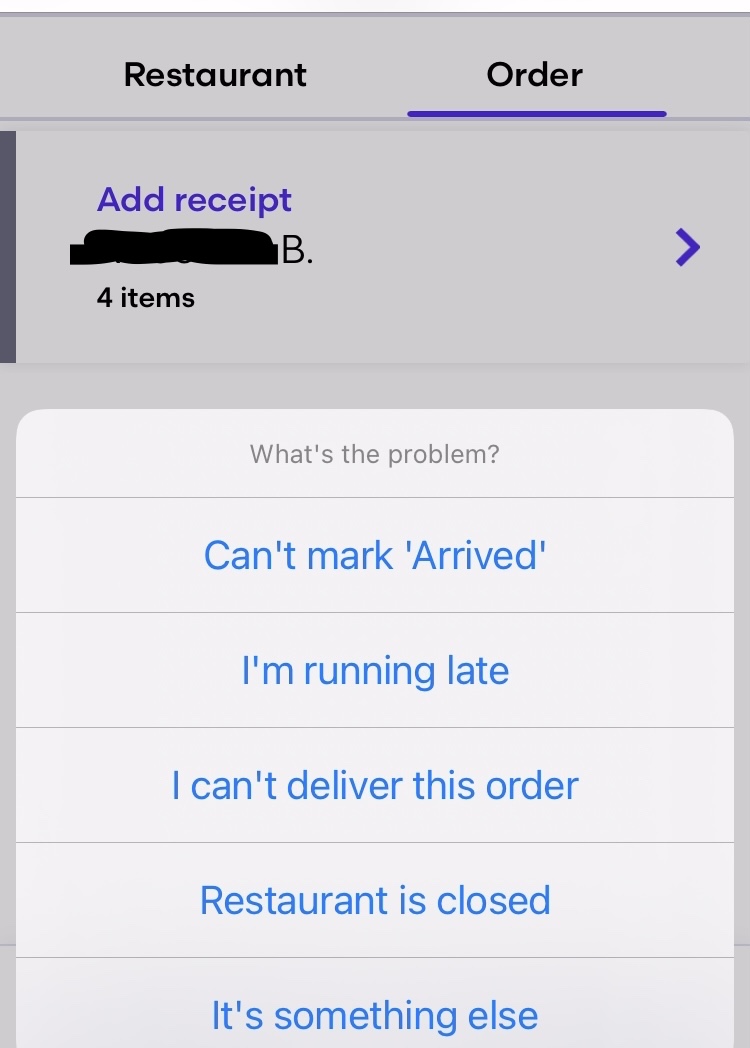 Screenshot of Grubhub Can't deliver this order
---
As of right now, Grubhub prompts you to call support if you select any reason other than "Payment is too low" or "Distance is too far". If you select either of those, the order will be dropped without you having to call support.
I'm not a person who likes to make phone calls so that's kind of a deal breaker so I select "Payment is too low"  or "Distance is too far" to be able to cancel the order in the app even if it's something else like long wait time. 
---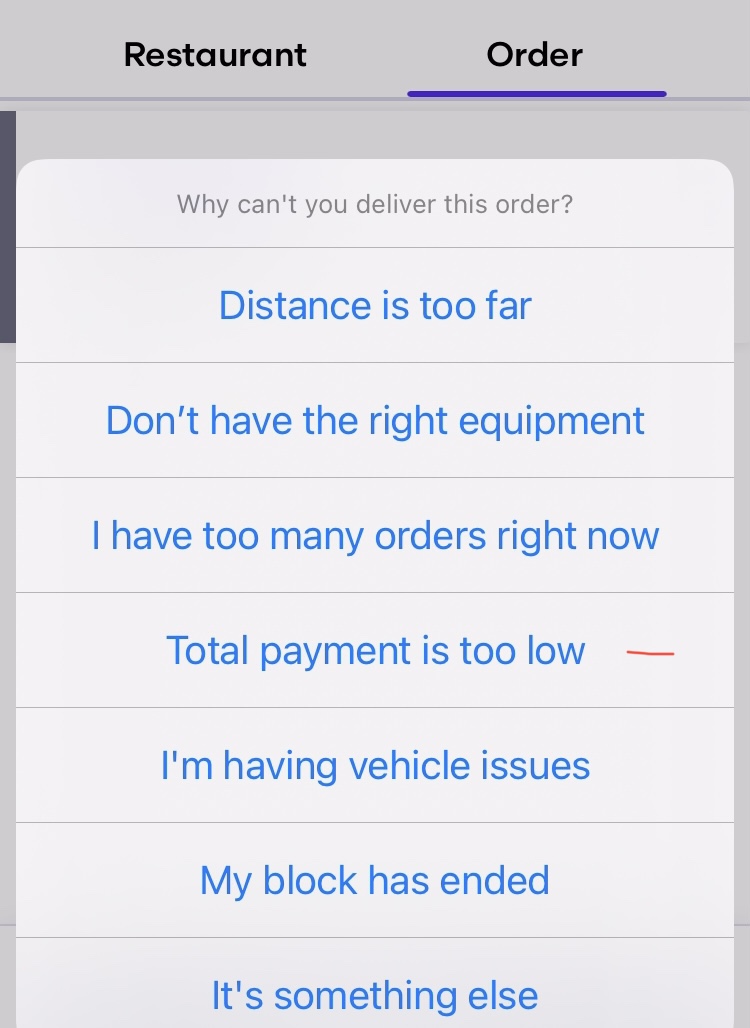 Screenshot of reason for dropping order on Grubhub
And you're all done. You'll be able to receive new orders now.
---
Earnings
The earnings structure on Grubhub differs from DoorDash and UberEats because Grubhub pays for mileage from the restaurant to the customer. You'll still have to record your mileage to the restaurant and from the customer to the next restaurant but the fact that Grubhub pays for part of the mileage makes the base pay higher than the other services.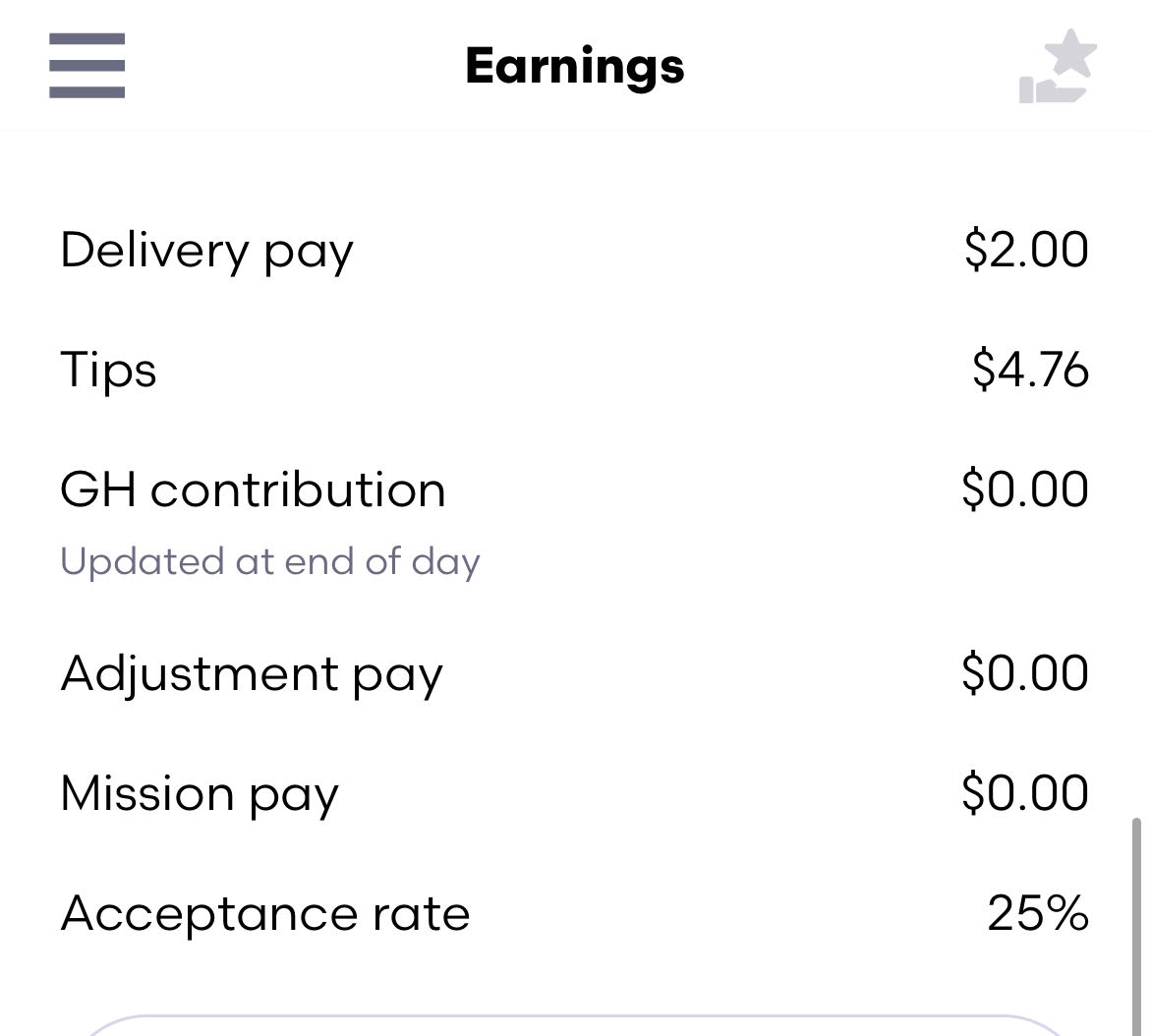 I personally feel like Grubhub's app is clunky and wait times are often longer than its competitors but the base pay structure definitely has its advantages.
Things also get tricky when the distance from the restaurant to the customer's isn't far as in this example where Grubhub pay was only $2 because the customer didn't live far from the restaurant.
How much you make will depend on your area and your ability to go out during busy times. 
Once you have earnings, you can cash them out right away for a 50 cent fee or you can wait for the weekly deposit to your bank account, which is free. 
Going forward
Gear
Grubhub will send you a decent insulated bag within just a few days along with its driver card.
The Grubhub bag is pretty good but I recommend you have two big ones in case you have more than one order.
Chili's orders usually have big bags so you have to use insulated bags to accommodate their size. Your job is to deliver food so it should arrive hot if it's meant to be hot. And buy professional size ones is a tax write-off anyways.
Many people skip this part and let me tell you, tax season is a doozy if you don't have your ducks in a row. Check out my tax guide here.

Taxes
Mileage 
Speaking of taxes, I know you're early on in the process but you'll have to worry about taxes no matter which company you choose to deliver for.
One of the most important components that will reduce your tax bill is tracking your mileage. Don't just track your mileage that Grubhub gives you from the restaurant to the customer but also if you have to come back to your starting point without having gotten another delivery or any other time you're driving around waiting for an order to pop up. 
Grubhub only pays for the mileage from where you currently are, to the restaurant, to the customer's, nothing else. I suggest you get a mileage tracker to run in the background at all times while you're out delivering or driving around waiting for another order.
Here's my quick tax guide.
Grubhub driver card
As I said, Grubhub will mail you a welcome package just a few days after you are cleared to deliver. The package includes the aforementioned insulated bag and a driver card.
Unlike DoorDash and UberEats, you'll use the driver card more often on Grubhub. It's nothing to worry about at all, just keep it with you in the car at all times and use it like you would your own credit card when paying for an order. It's that easy. 
Not every order requires it so please don't think it's this big deal, it isn't. 
Related Pages
Like I said, I recommend signing up for more than one delivery service so checkout getting started with DoorDash here and UberEats here.
Go here for my head-to-head comparison of each app from the delivery driver perspective.
If you want just the pros and cons of delivering for Grubhub, check that out here.
If you'd like to do Instacart, check it out here.
Sign up for Gig It! News


G

et exclusive tips & tricks monthly to stay ahead in the food delivery game!