The pros and cons of delivering for Grubhub
From payment to wait-times, here's the roundup of pros and cons
Of all the food delivery apps including Instacart, I've only been doing Grubhub for a little over a year. In comparison, I've done over 1,400 DoorDash orders, 300+ UberEats and 1,200+ Instacart orders so I know a thing or two about food delivery apps.
It's not difficult to see the pros and cons when you've been in the delivery game for a minute. However, in order to create this Grubhub pros and cons page, I've talked to dozens of experienced Grubhub drivers so I could give you the most detailed info about the pros and cons of delivering for Grubhub.
Let's dive right in to the pros and cons of Grubhub!
Pro(ish): Signup
With Grubhub you are guided through the application steps but can't actually create a user name and password for the app until your background check clears. 
The overall process didn't take all that long but once you get approved, Grubhub does require a short orientation before you hit the road. That's not a bad thing but you most likely won't retain much of the info but it's still a nice touch.
Once your background check clears and you sign your delivery partner agreement, you'll be able to create a user name and password for the app, upload your picture and enter your bank account info.
Speaking of ...
Slight Con: Bank verification and pro: Cash out
In terms of bank info, DoorDash and UberEats let you add a bank account for weekly transfers (which are free) AND a debit card for when you need to cash out daily (for a fee). This is useful when you're trying to use one account for your daily spending and one to save for taxes.
Grubhub just has one account that both the weekly transfers and cash-outs go into. You can check my gig economist tax guide for why I recommend having two bank accounts to squirrel away money for tax season.
Grubhub's bank verification takes a couple of days but is good compared to DoorDash.
Its cash out fee is only 50 cents so that's also better than DoorDash. Like I said, the only drawback is that it only has one account you can link so it's a slight con.
Pro: Gear
I know some of you wonder if you need any gear before hitting the road and I would like to say yes you will need an insulated bag on your first day because your job is to deliver food ... and most of that food is intended to stay hot from the time you pick it up to the time you deliver.
Grubhub sends you a package within the first few days after you get "hired", including a pretty substantial insulated bag (it even fits pizza boxes!), their debit card and a sign saying "delivery in progress". I've not used it but it's kind of a cute touch. Grubhub is serious about giving you gear to succeed in the delivery game!
Grubhub's debit card is required for some orders but I've only used it a couple of times. You'd swipe it just like you would your own when you get to the restaurant. It's pre-loaded by Grubhub and the customer so it has nothing to do with your own money.
This is common across all three delivery apps (also Instacart) so it's no big deal. You'll see if an order requires the card ahead of time and it's nothing to worry about.
Grubhub definitely wins the gear game! Even though I don't go out for Grubhub all that much, I'm glad I signed up because I've used the bag for pizza orders on DoorDash and UberEats so it's definitely worth looking into.
Now that you're ready to hit the road, let's look at what you'll see in the app.
Con: App layout
App layout may not seem like a big deal but I personally like to have as much information as possible before I go out to deliver. It's helped me develop some sort of strategy in an otherwise unpredictable industry.
Grubhub just changed one of its most annoying features but that doesn't mean that the app is more user friendly.
It now takes you directly to the map and task menu. While this is a huge improvement, the app is still incredibly clunky with many in-app steps when delivering.
Once you're signed in, you're shown a map of hotspots in your delivery area as seen here. You can zoom in on that map but it doesn't show you hotspot restaurants like on DoorDash, just the general area.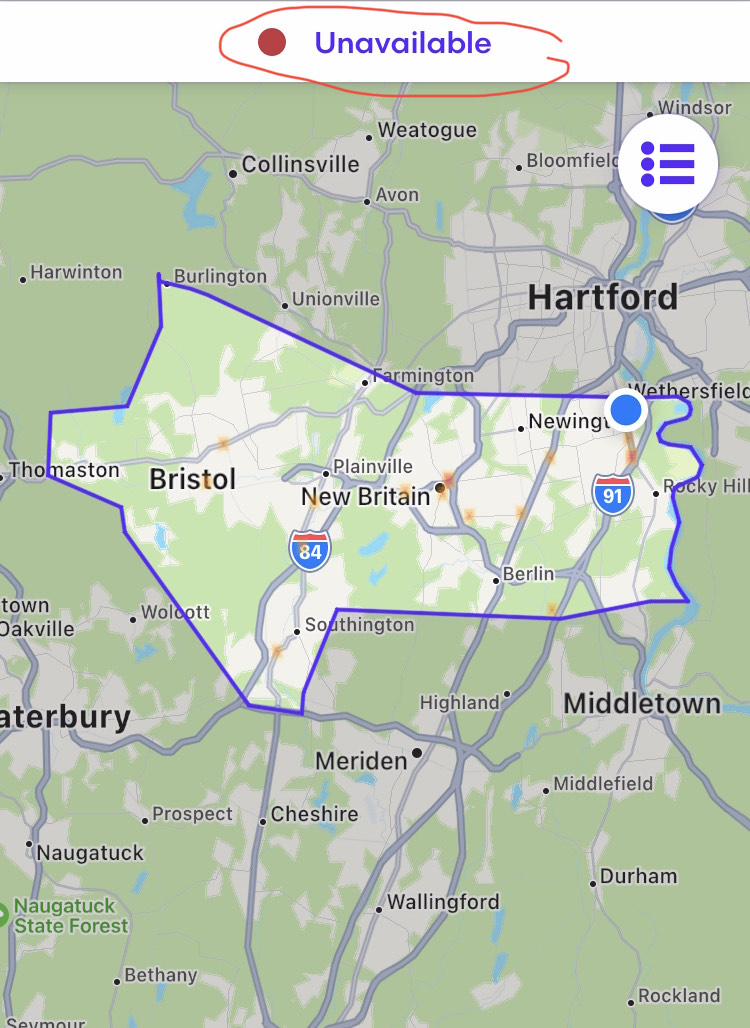 Grubhub zone screen
---
To start receiving offers, hit "Unavailable" at the top.  You'll be able to swipe to available to receive offers.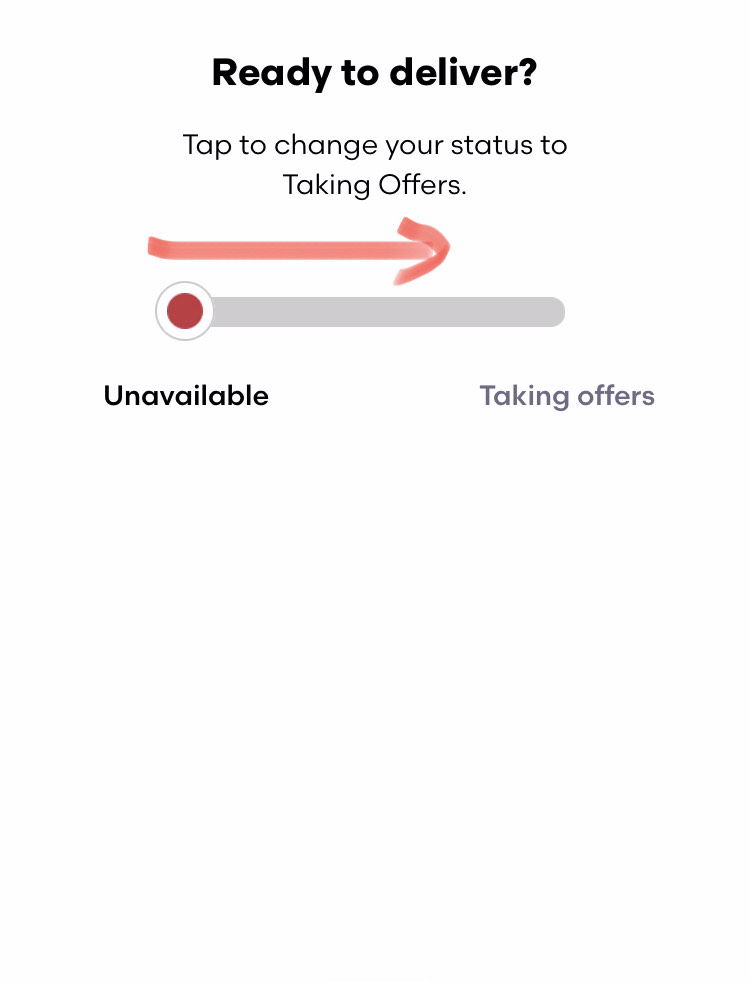 ---
You can swipe back at any time so don't worry about being held to the schedule. The app now has a take rest feature if you just need to make a pit stop.
While you're not on the hook for orders if you're not scheduled, Grubhub seems to encourage scheduling blocks and accepting pretty much every order that comes to you.
It does seem  like you're bound by those blocks and get dinged for dropping a block. My first few times, I couldn't schedule a block because they were all taken for over a week.

Once I scheduled a block, Grubhub messaged me to make sure I knew I was scheduled.
You can still go out without scheduling a block and I received plenty of orders the times I went out without scheduling.
The Grubhub zone map with hotspots leaves much to be desired.
As I said before, I love having everything on one screen so Grubhub is definitely my least favorite layout.
---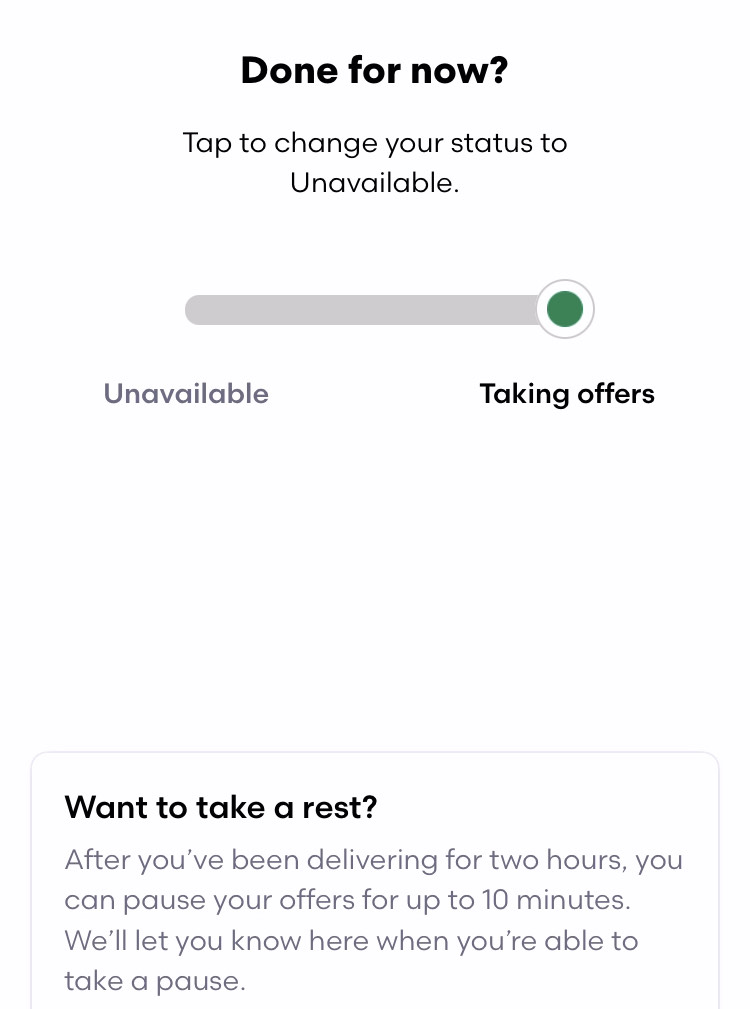 Grubhub Task menu
---
Con: Zones
Grubhub permanently ties you to one zone (unless of course you move and request to change zones) and even if your area is close to another zone, you won't receive orders if you deliver past the zone you signed up for, which in my case happens all the time. I then have to backtrack all the way to my area to get new orders, I can't just get one at restaurants where I ended up.
DoorDash does this to an extent but you can just switch over to that new zone on DoorDash by signing out and back in. Annoying too but not as bad as not being able to grab an order at all like on Grubhub. UberEats doesn't have zones, which makes it easy.

This is major for me because my zone borders two other zones (as you can see in the map above, I live right at the bordering zone) that I often delivery into so I have to head back to my original zone if I want to get order so that's definitely a huge drawback for me.
---
Declining, accepting and dropping an order
Con: Declining
Yes I'll start with declining because you are most likely not going to accept the first order that is sent to you unless it's a good order. This is generally true whether it's your first ever delivery or your 1,000th; the first order that pops up is rarely the one you'll accept since it's most likely a reject from other drivers.
Grubhub's accept / reject buttons are pretty straightforward with a "Reject offer" button that's quite hard to select, especially if an order pops up while driving, which it most certainly will. Not only that but you'll also have to give a reason for declining, also somewhat difficult while driving. And yes, Grubhub knows when you're driving so it's all the sneakier to have a smaller reject offer button.
Grubhub shows you a map of where you'll end up and you can zoom in but it doesn't give you the actual mileage (like DoorDash and UberEats) or time it would take to complete the order (like UberEats). 
Once you hit "Reject offer", you will be prompted to give a reason why you're declining the offer. I usually select "offer is just too low". It doesn't really matter.
Much like DoorDash, Grubhub keeps track of your acceptance rate so rejecting offers will obviously lead to a low acceptance rate which matters when it comes to your level on Grubhub.
Alternatively, if you want to accept an order, just hit "Accept offer". More on that below.
---
Pro: Accepting an order and delivery
If you want to accept an offer just hit "Accept offer" on Grubhub to take an order.

Grubhub is almost too detailed with info about when the customer (called "diner" on Grubhub) placed the order, etc. You also have to say you've arrived at the store, you picked up the order and you're getting on the road to deliver, (Leaving), which is a bit much and falls in line with my overall impression that Grubhub is quite serious about the delivery game.
However, I think it's beneficial to have these steps to avoid confusion. I can't really give it a con even though it's a little cumbersome.
Just follow the customer's delivery instructions and you're all done. Grubhub unlike DoorDash and UberEats doesn't prompt you to take a picture upon delivery if the customer chose contactless delivery. It has a pre-populated text that you just send and then you swipe to complete delivery.
Overall, that process is pretty straightforward even though I prefer DoorDash and UberEats ever so slightly.
---
Con: Dropping an order

In case the restaurant informs you of a long wait time (15-20 minutes is too long for me unless it's a $ 20+ order), you should consider dropping the order because you have to think about the bottom line (not to sound greedy but this took me a while to learn that I do not get bonus points for waiting).
I meet so many new delivery drivers who are waiting at the restaurant for 20+ minutes and that's just not profitable, please drop the order, the customer will be OK since another driver can just pick up the order. The unfortunate thing on Grubhub is that if you drop an order with a long wait-time, the next order you'll get will probably have a long wait-time as well.
To drop an order on Grubhub can seem daunting since they make it seem like you have to call support (Care) but I recently talked to a person who's been doing Grubhub for a while and he showed me how to circumvent having to call Grubhub Care to drop an order by selecting either "Total payment is too low" or "Distance is too far".
But first, you have to select "There's a problem" from the bottom of the screen. Make sure you're in the Order screen, not the customer to do this.
Now select "I can't deliver this order". 
Finally, walk through the steps to select "Total payment is too low" or "Distance is too far" as a reason even if the reason is something else.
Everything other than those two options will result in you having to call support to drop the order. I think Grubhub is going to change that but the last time I used it, I had a wait time of 60 minutes and had to select pay too low to drop the order without having to talk to Grubhub Care on the phone.

Below is a quick video that shows you the process.
---
Once you go through those steps, Grubhub will ask you to confirm that you indeed want to drop the order (reject offer) and then it'll take you back to the home screen where new offers will pop up.
Con: Restaurant wait times and grouping of orders
I've talked to a few buddies some of the restaurants and they said that Grubhub sends a driver a few minutes after the order gets placed to ensure timely delivery but it leads to the driver having to wait quite a bit each time.
I've experienced this myself. Pretty much every Grubhub order I took had a wait time, one restaurant said 60 minutes, which is way too long.
Many of us park near restaurants we know are busy so that strategy doesn't work quite as well with Grubhub.
This is a major con on Grubhub. I've talked to more experienced Grubhub drivers and they all say restaurant wait-times are insane. Like I said, I've had orders where the restaurant gave me a 60+ minute wait-time and you may think that was an anomaly but it wasn't. I've had two more 60 minute wait-times and many 30-45 minute wait-times because Grubhub sends its drivers right as the customer places the order.
Therefore, if a drivers' strategy is to wait near popular restaurants, that strategy is negated by having long restaurant wait-times. I recently had a Grubhub order where I was on the opposite side of town still 10 minutes away from delivering an existing order when a big order at a restaurant 20 minutes away popped up.
I was hesitant to take it since I still had an order to deliver and then head across town 20 minutes but I got to the restaurant and still had to wait 30 minutes. I've never had this happen on DoorDash and only once did I wait 30 minutes on Uber so the wait-times on Grubhub are on average atrocious.
There are exceptions where I've walked into a restaurant and the order was on the shelf but after having talked to more experienced Grubhub drivers, the wait-times are definitely a huge con. The grouping of orders is OK but if you consider restaurant wait-times, those are even worse when you have two orders so even though the orders aren't grouped terribly, restaurant wait-times make them a con in my book as well.
---
Pro: Ratings
Grubhub may seem a bit serious about the delivery game since it provides a brief online orientation for new drivers and a bag that's big enough to fit pizza boxes right away, it doesn't have a ratings systems for customers to rate Grubhub drivers.
I'm not sure how I feel about not having ratings but I also like customer feedback. It's made me better at this job but I'll list it as a pro since it's not a drawback.
While Grubhub doesn't have ratings, it does ding you for everything from dropping a scheduled block to not accepting every order that comes around. I don't like to be locked into schedules and acceptance rates in order to reach a higher program level.
---
Con: Intro promotions 
When I signed up for Grubhub, they did not have an intro promo. In comparison, DoorDash had a "get an extra $ 75 for completing 35 orders", which was quite easy to complete and the $ 75 showed up as earnings right after completion.
UberEats had a great intro promotion at the time I signed up with "complete 40 orders, get an extra $ 200". Yes, an extra $ 200 on top of all the earnings from the 40 orders!
I was unable to complete the 40 orders but I did complete 20 orders for an extra $100 so that was pretty good.
Like I said, Grubhub did not have any promotions when I first signed up. That does not mean it does not have a lot to offer in the earnings category though.
---
Pro: Earnings
How much you'll make is essentially up to you. I am strategic and only go out for lunch and dinner orders 5-6 days a week. That allows me to make between $ 400-600 weekly plus whatever I make on Instacart (another $400+).
Some of the drivers I've talked to go out at night but I can barely find customer's homes during the day so that's a no for me. I talked to an UberEats guy the other day and he said he's able to make about $ 1,000 a week by going out late on weekends (4 PM-11PM). He also does Instacart.
OK, back to earnings on Grubhub. Overall, the pay structure is higher with Grubhub paying for mileage from restaurant to customer. It also allows the customer to adjust the tip afterwards.
I've talked to quite a few Grubhub drivers who say there are many orders that are $25 and above but the wait-times at restaurants only allow them to complete one order an hour.
I'm able to do 3-4 orders an hour on DoorDash, making an average of $25-$30 an hour doing smaller orders with shorter delivery distance so to me the higher pay on Grubhub does not make up for the ridiculous wait-times at restaurants.
Still, if we're just talking earnings without considering wait-times, it's a pro in that area for Grubhub.
I will quickly mention that if you're able to get a quick pick up at a restaurant and you're on your way to deliver, Grubhub will send you a new order and you should take that order if it's decent in pay EVEN if the pickup is a bit of a drive across town. I don't do this on DoorDash because I risk the order sitting on a cold shelf but it does work on Grubhub.
The few times I've made really good money, I stayed looped in to Grubhub sending me a new order while I was delivering an existing one and while I was hesitant to take the new order because I didn't want to the food to sit on a cold shelf, I ended up getting to the restaurant while the order was still being prepared but was ready in a few minutes.
Then, I delivered that order and was sent a new one across town and so on and so on. I made over $100 in two hours by accepting a new order while I was out delivering an existing one. However, this loop doesn't always work but when it does, I've had some success with regard to earnings.
---
Pros and Cons Summary
Pros

Relatively easy signup

New driver orientation (quick online video)

Provides insulated bag that fits large pizzas

Customers can increase tip after delivery

Mileage pay (from restaurant to customer)

Overall higher base-pay

Sends new order while you're still out on current order

Has pro levels to get higher paying orders after x deliveries

No customer ratings

Cheap cash out (50 cents)

Cons

Clunky app

Many in-app steps 

Acceptance rate is important

Dropping orders is difficult

No intro promos

No referral bonus

Cash out is not always instant but Grubhub has recently improved this

Frequent long restaurant wait times
Related Pages
If you are ready to get started with Grubhub, check that out here.
Like I said, I recommend signing up for more than one delivery service so checkout getting started with DoorDash here and UberEats, here
If you'd like to do Instacart, check it out here.

Go here for my extensive head-to-head comparison of delivering for DoorDash vs UberEats vs Grubhub. 
The pros and cons of delivering for DoorDash are here and the pros and cons of delivering for UberEats, here.
Sign up for Gig It! News


G

et exclusive tips & tricks monthly to stay ahead in the food delivery game!