Getting started as UberEats driver
Let me take you through the basic steps of becoming an UberEats driver, including declining, accepting and dropping an order so you know what to expect.
Many people sign up for food delivery and then don't go out for their first order because they don't know what to expect. 
I always recommend signing up for two around the same time so you have a backup in case demand for one decreases or one of the apps glitches, which does happen. You'll find more info on the pros and cons of delivering for UberEats, DoorDash and Grubhub at the bottom of this page.
You probably won't have insulated bags on your first order, although I recommend you find some in your house and sanitize them.
Your job is to deliver food to customers and that food should arrive hot if it was meant to arrive hot. UberEats doesn't push for you to have them, which is quite nutty in my opinion. 
Signup as UberEats driver
Signup to become an UberEats driver is relatively easy once you get past the fact that you're downloading the same app as you would to become an Uber driver. Download it here.
The process is slightly less clear than on DoorDash so just be aware.
Once you download the app, enter your personal info. Then, you'll be prompted to upload a picture of your Driver's License and car insurance.
Once that's done, you'll likely have to wait until that info is processed and your background check is complete. Once it's processed, you'll be sent a W9 partner agreement.
I won't go into more detail here since the process is relatively straightforward.
Like I said, most people I've spoken to went through the signup process but never went out on their first order so let's focus on getting your first order under your belt.
YouTube UberEats app tutorial
Before your first order
You're all set to go on the road as an UberEats driver! I recommend you check the app to see if it's busy in your area.
Busy times in my area are usually from 11:30AM-1PM and 5PM-9PM and later on the weekends.
UberEats will show you your area like this. It's not always incredibly accurate and I've gone to a busy area only for it to show up as less busy once I got there but overall, you can trust that if it shows as busy, you'll get orders. I recommend you head out the door if it's busy and go to an area you know has restaurants.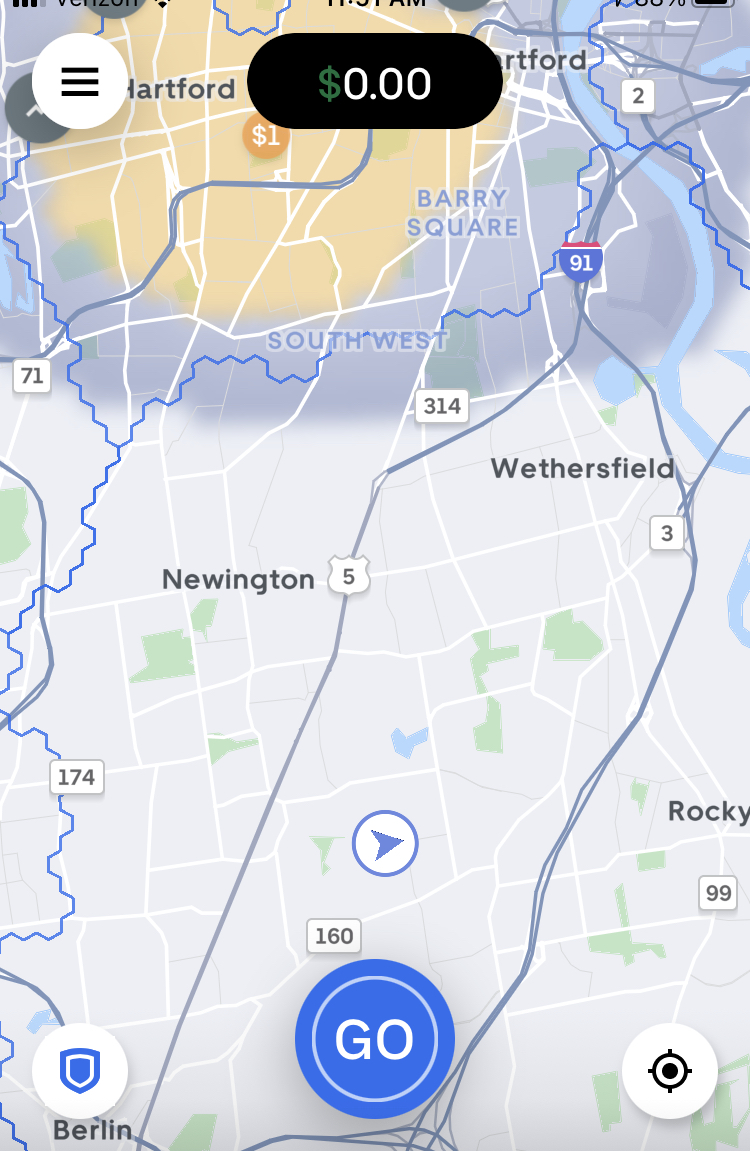 Once you arrive in an area with restaurants, just sit in the parking lot and hit "GO". You might be prompted to take a picture. It won't let you do that while you're driving.

Declining an order
You'll soon be sent an order. You'll most likely decline that order because it's crappy. I usually have to decline a few orders before a good one pops up. If I decline too many orders in a row, the app will kick me out but I simply have to hit "GO" and I'm back online.
Simply hit the x and the order will go away.
Many orders I decline look like this:

Screenshot of small UberEats order
This next order might seem like a good deal but since UberEats gives you the approximate time it'll take you to complete it, you'll see that it's not the greatest since it also has two orders and a 25 mile delivery distance. I would only take an order like this if it took me in the direction of my home area after a delivery.
On UberEats, you're not shown the second restaurant or first customer's address so it's often a shot in the dark. I like to be able to know where exactly I'm going for my deliveries but not everyone cares about that. Unlike DoorDash and Grubhub, you can't zoom in on the map to see the street.
Screenshot of UberEats double order with long delivery distance
Accepting an order
Once an order pops up that seems like something you wanna do, just hit the green "Delivery" button. You'll see the navigation to the restaurant (Uber defaults to its own navigation, I suggest you also use another common one like Google maps as backup at all times).
Go to the restaurant. As I said, sometimes orders have more than one customer in which case you might have to go to two restaurants and deliver to two people. You'll see this at the time the order pops up as I described before. 
Once you arrive at the restaurant, tell someone the name of the person whose order you're picking up. I usually say "Uber for XYZ". That way they know it's UberEats and not some other service. Many places also have shelves with pickup orders so you can check that as well. I usually check the shelf first but more often than not, I have to let someone at the restaurant know. 
While you're waiting, check the items. See if the order has drinks. They're the most forgotten item. You can locate the items by hitting the three dots next to the person's name (I've used an arrow to point to it).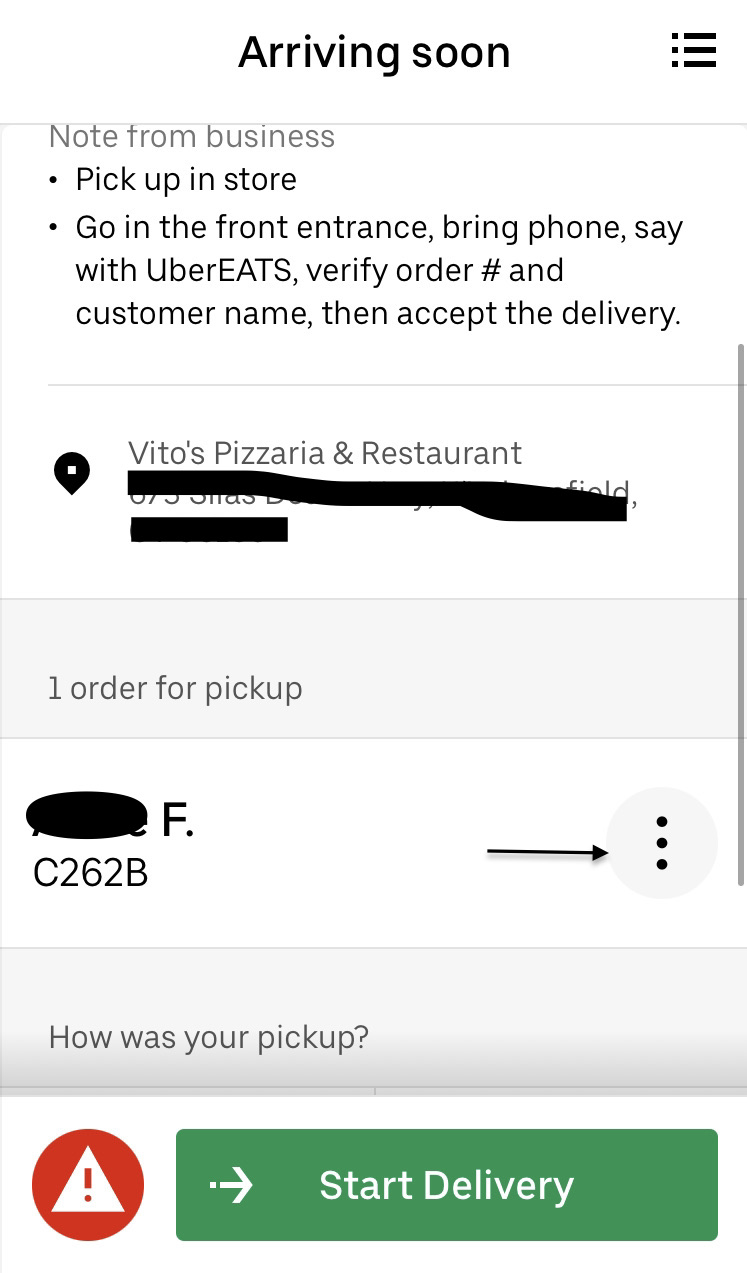 Screenshot of UberEats items
Once the restaurant person hands you the order, confirm the name on the ticket (sometimes there isn't one so you don't have to do that part obviously) along with the items and click "Start Delivery". Uber's navigation will start. Again, I highly recommend you use another service like Google maps because Uber's navigation is mediocre.  

Delivery
Once you arrive at the customer's, just follow the delivery instructions. Many customers choose "Leave at door" so you'll be guided through the process of taking an optional picture on the app. You can choose to leave a note. I usually do "You're all set, enjoy." You depend on ratings (a thumbs up or down on UberEats) so a little customer service goes a long way.
If the customer chose "Meet at door", walk up to their door. You might have to ring the bell if they're not already out there. Before you do that, just give them a call or text them you're there. I prefer texting but I also don't wanna waste time so I call if the customer isn't outside.
If there is no response, ring the doorbell. Some customers select "wait in car", which is the strangest options of them all. If you don't see the customer, just text them that you've arrived.
Click "Delivered" and you're all set for your next order. 

Dropping an order
There are times you get to a restaurant and the employee will tell you it'll be another 20 minutes. That's a no go for me so I often drop the order. I don't make it a habit because it affects the timing of the customer's order but it's OK to drop an order with excessive wait time or if you're stuck in major traffic. It's better to drop the order so someone else can get to it. 
To drop an order you've accepted, just click on the red triangle icon next to "Start Delivery", then select which order you're dropping and give a reason (i.e. Excessive wait time).
This is also where you'd contact support if there's an issue with this order. Once you hit "Excessive wait time" or whatever your reason, you'll see the main screen where new orders will pop up.
Earnings
Obviously, earnings depend on your area and what times you're available to go out. It's not really something I can guarantee whatsoever.
I often make $350 a week with relatively little effort and $600 with a bit more hustle, combined with another app like DoorDash running in the background.
I know drivers who go out on weekends and into the night and make $800 but I wouldn't expect more than $200 your first week since that's just your time to get oriented with the app and your area's restaurants, etc. 
When I first signed up for UberEats, it had a promotion of "complete 40 orders, get an extra $200", which was nice but I wasn't sent that many orders so I only completed 20 orders for $100. 
UberEats lets you cash out your first earnings right away, given you've entered your bank info. It has the fastest cash out process compared to DoorDash and Grubhub.
Check out my direct comparison of DoorDash, UberEats and Grubhub here.
Going forward as an UberEats driver
Gear
UberEats will not send you an insulated bag so you'll have to invest in your own.
Since UberEats allows customers to adjust their tip based on good service, I highly encourage you to get an insulated bag or two since many orders have two customers, where the delivery distances are often longer. Therefore, two bags can keep double orders warm as well.
I cannot tell you how many times customers have increased their tip on UberEats because they noticed I had insulated bags. It's literally your job to deliver food on time and hot if it's meant to be hot.
Taxes
Here's one of the most important things that will reduce your tax bill:
Mileage
Tracking your mileage is essential to reducing your tax burden.
Don't just track your mileage that UberEats gives you from the restaurant to the customer but also if you have to come back to your starting point without having gotten another delivery or any other time you're driving around waiting for an order to pop up. 
UberEats doesn't pay for mileage so you'll have to keep track of it yourself, trust me you'll be able to reduce your tax bill significantly.
I recommend having a mileage tracker app in the background at all times while you're out delivering including while you're driving back from delivering an order and while waiting for your next order to pop up.
Here's what the mileage on UberEats means when an order pops up. It's from where you are located, to the restaurant, to the customer's. Nothing else.
Quick vid: How to track your mileage on UberEats
Here's a quick guide to taxes if you're interested.
UberEats Plus Card
UberEats has the Plus Card for when you decide to shop retail orders. I've never used it because if I want to shop for a customer, I do Instacart. It's much more lucrative and the app is far superior.
Nonetheless, keep the card with you in the car in case you ever stumble upon a decent order that requires it. Please do not worry about this whatsoever.
One last thing...
UberEats is a great way to make extra cash. There are some drawbacks like the initial confusion about the Uber driver app signup and the grouping of orders can be a pain since you can't see the second restaurant name/location ahead of time.
Personally, I like the fact that UberEats customers can adjust the tip later, which isn't the case with DoorDash. 
Related Pages
Like I said, I recommend signing up for more than one delivery service so checkout getting started with DoorDash here and Grubhub, check, here.

If you'd like to do Instacart, check it out here.

Go here for my extensive head-to-head comparison of delivering for DoorDash vs UberEats vs Grubhub. 
The individual pros and cons sites of delivering for DoorDash are here and the pros and cons of delivering for UberEats, here. Grubhub pros and cons are here.
Sign up for Gig It! News


G

et exclusive tips & tricks monthly to stay ahead in the food delivery game!