Here's what you need to know about being a DoorDash driver
Also known as Dasher!
Let me take you through the basic steps of being a DoorDash driver (Dasher), including declining, accepting and dropping an order in the app so you know what to expect right away without confusion.
Many people sign up for food delivery and then don't go out for their first order because they don't know what to expect. Then they imagine what it's like being a DoorDash driver or Instacart Shopper, which can lead to a fear spiral that prevents many from actually hitting the road and getting into the food delivery game.
I'm here to get you on the road and keep going!
One quick note: I always recommend signing up for two apps around the same time so you have a backup in case demand for one decreases or one of the apps glitches, which does happen.
For example, I used to do Instacart with DoorDash as backup and I've now moved more toward DoorDash as my main gig with UberEats as backup and on occasion Grubhub. After gas prices skyrocketed, I'm back to doing Instacart.
At the end of this page, there is a list of relevant pages about becoming an UberEats, Grubhub driver and/or Instacart Shopper.
Signup as DoorDash driver
Signup is easy. You're essentially applying to become a DoorDash driver (Dasher) within the driver app. Here's the link to start your DoorDash signup.
I quickly wanna note that if you know someone who is a Dasher, see if they can send you a referral link so you get more $$ and they get some for referring you. 
Just download the app and enter your personal info. You'll be prompted to upload a picture of your Driver's License and car insurance. Once that's done, you'll likely have to wait until that info is processed and your background check is complete. 
Once it's processed, you'll be sent a W9 partner agreement.
I won't go into more detail here since the process is very straightforward. Like I said, most people I've spoken to went through the signup process but never went out on their first order because they had talked themselves out of being a DoorDash driver out of fear and confusion.
View the full app tutorial on YouTube
Before your first order
You probably won't have insulated bags on your first order, although I recommend you find some in your house and sanitize them so you're a pro right from the get-go.
Your job is to deliver food to customers and that food should arrive hot if it was meant to arrive hot. DoorDash will eventually send you a flimsy little thing that's pretty much useless so find something a bit better right away to make your life easier. 
You're all set to hit the road as an official DoorDash driver (yes Dasher!). I recommend you check the app to see if it's busy in your area. Busy times in my area are usually from 11:30AM-1PM and 5PM-9PM and later on the weekends, although demand has declined significantly in the last few months. It's the gig economy; you'll always be bound by demand so that's something to always keep in mind.
I don't usually go out when the surrounding areas are green since I know the busy rush won't last long.
---
DoorDash will show you your area similar to this based on the zone you signed up for.
Once you see it's busy, I recommend you head out the door and go to an area you know has restaurants. You'll get to know your area a bit better once you complete a few orders so don't fret.
---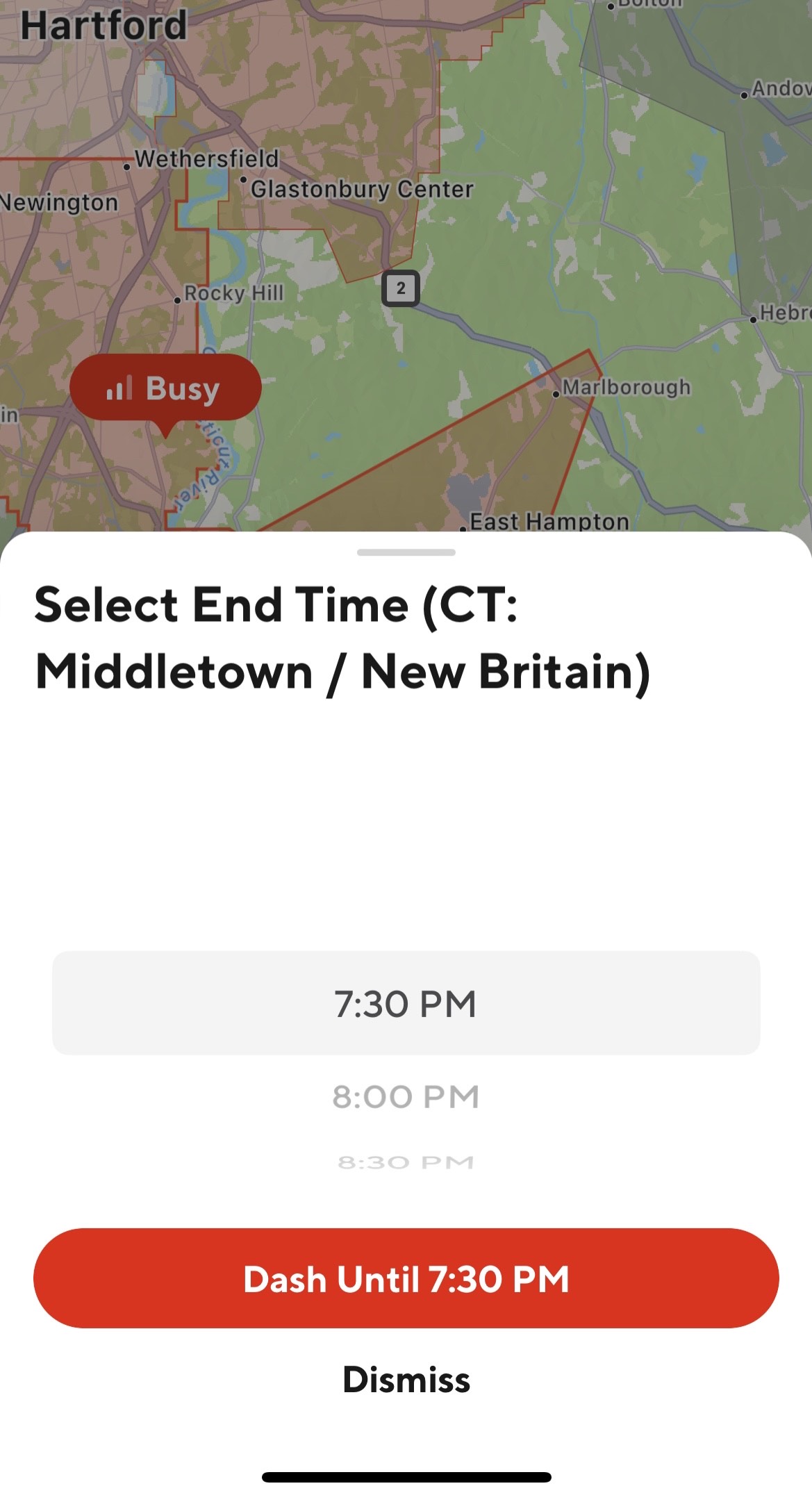 Once you arrive in an area with restaurants, just sit in the parking lot and hit "Dash Now".
You'll have to set how long you want to dash (you can end or pause your dash at any time even if you scheduled it without consequences).
It's not like Grubhub where you have a block drop rate. 
You'll now see a screen with hotspots (restaurants that are hoppin'). I wouldn't recommend driving back and forth to the most popular hotspots at that moment, just wait in an area with participating restaurants and you'll be fine.
The hotspots change too frequently for you to drive around; most towns have strips of popular restaurants so I'd advise you to just stay and see what order pops up. You'll get the hang of it soon enough.
Restaurants will vary based on where you are so I'm not including a screenshot here to avoid confusion.
Earn by time vs. earn per offer
---
On my last Dash, I saw that DoorDash had updated the screen to something like this. It's brand new so I haven't quite figured out what to make of it but stay tuned; I always update my pages based on the latest app dates, I just haven't played around with the two different options since I think the earn per offer is a better deal but I'll update once I compare it to earn by time soon.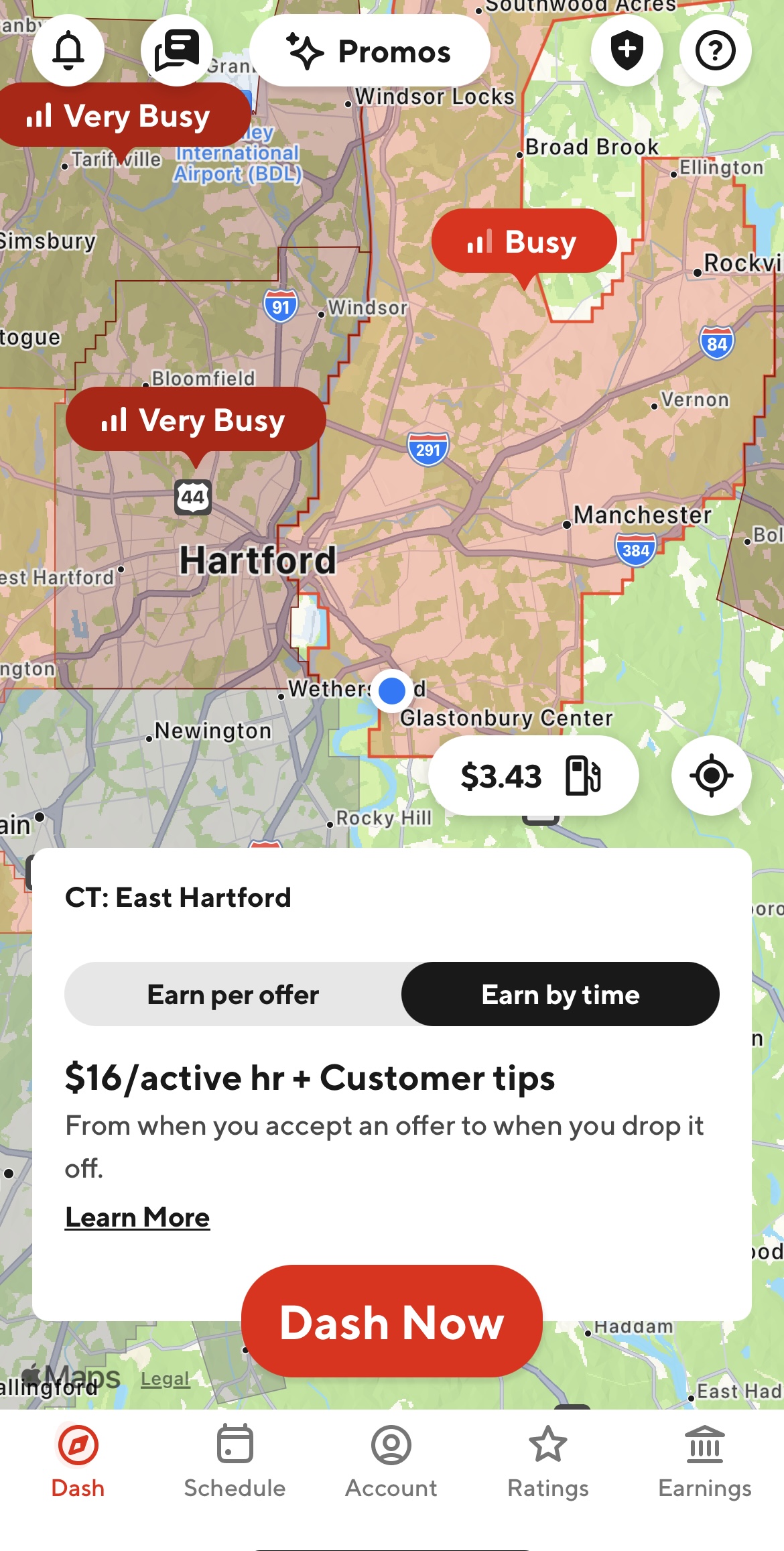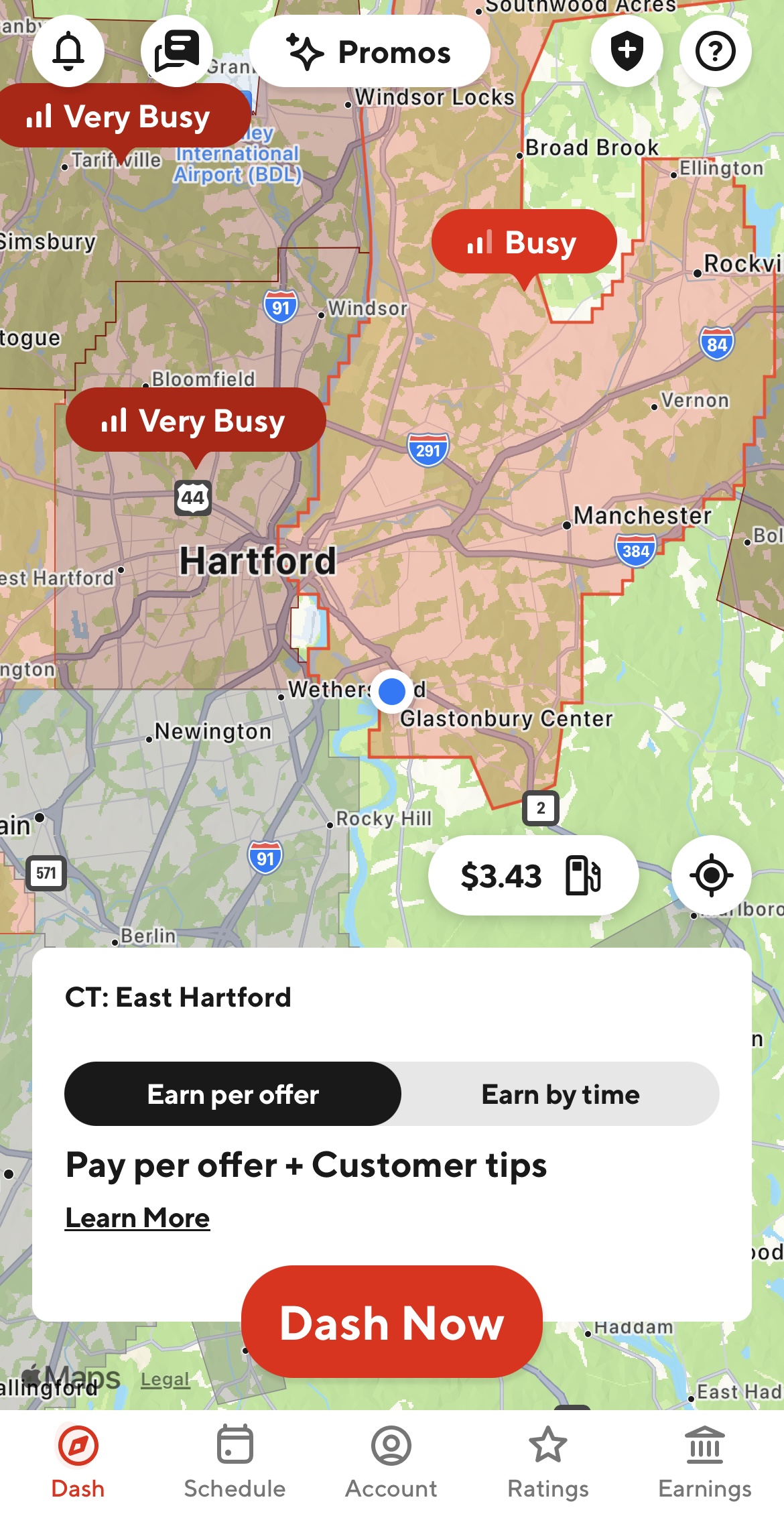 ---
Apparently this has been in effect for longer in certain areas of the country but just recently arrived in my area.

Here's what DoorDash had to say about "earn by time": "You can see the current guaranteed hourly rate for your dash in your app before you start.  While this rate may change throughout the day, once you start your dash, the hourly rate is locked in and will apply to the entire Earn by Time mode dash session.
You can decline or unassign up to one offer every hour. If you decline or unassign more, your Earn by Time dash will automatically end but you'll still be able to shift to Earn per Offer mode to continue dashing."
Here's the link to the full article on DoorDash.
I don't really see the point of earn by time since there are so many bad orders that I decline quite a few in a row on any given night but like I said, I'll update once I get more experience with the two.
Speaking of...
Declining an order
Assuming you chose earn per offer, you'll soon be sent an order. You'll most likely decline that order because it's crappy. I usually have to decline between 5 to 10 orders before a good one pops up.
Many dashers don't do that but I've done the math over thousands of orders and I can't afford to take tiny orders gas wise; I'll end up losing money.
Needless to say I don't ever go for Top Dasher. Read on to find out the Top Dasher requirements and how I personally feel about them after having completed over 1,400 orders on DoorDash.

Honestly, orders like these don't make financial sense when you consider the time you could have spent doing a bigger order and other considerations like gas. Being a Dasher requires common sense and you have to make smart decisions that benefit you, not DoorDash. 
---
In my area fast food places are notoriously slow for food delivery orders (ironic, I know) so having to wait for such a tiny-paying order is just frustrating so I always decline orders like these, especially because you can tell they're no/low tip.
DoorDash pays between $2-$3 per order in my area so I know this one is a no tip or just a few cent tip. Not worth my while.
---
When an order pops up, you can zoom in on the house icon to get a better idea of the address, though it won't give you the exact house number for privacy reasons. 
Some DoorDash drivers (by now you know they're called dashers but I'll just continue on with DoorDash driver) will take super low orders because they don't want their acceptance rate to go below 80%. That's such a trap and only benefits DoorDash.
My acceptance rate is between 5%-20% because I want to maximize my earnings and minimize time traveled and wasted gas so I look for orders with a restaurant that's nearby and a short delivery distance.
I've done thousands of orders across different apps so I simply know how this game works. I would never take any of the above orders since I'd spend more on gas than I'd profit from them. I've done the math!
It's up to you though.
Simply hit "Decline" in the upper corner. 
Once you decline an order, you'll get back to the screen with hotspots. 
Accepting an order
Once an order pops up that seems like something you wanna do (don't overthink this), just click "Accept".
You'll then select "Directions" for navigation to the restaurant. Go to the restaurant. Sometimes orders have more than one person in which case you might have to go to two restaurants and deliver to two people. You'll see this at the time the order pops up for you to accept or decline.
Once you arrive, click "Arrived at store" on the app and tell someone at the restaurant the name of the person whose order you're picking up.
I usually say "DoorDash for XYZ". That way they know it's DoorDash and not some other service.
Many places also have shelves with pickup orders so you can check that as well. I usually check the shelf first but more often than not, I have to let someone at the restaurant know. 
While you're waiting, check the items. See if the order has drinks. They're the most forgotten item. If you still have time, check where the person lives by clicking the hamburger icon (upper lefthand corner) and see their delivery instructions. I like doing that ahead of time so I can be prepared when I get to the customer's.
Once the restaurant person hands you the order, confirm the name on the ticket (sometimes there isn't one so you don't have to do that part obviously) along with the items and click "Confirm Pickup". Then, start the navigation. 
Delivery
Just follow the navigation and once you arrive at the customer's, just follow the delivery instructions. Many customers choose "Leave at door" so you'll be guided through the process of taking a picture on the app. You can choose to leave a note. I usually do "You're all set, enjoy." You depend on ratings so a little customer service goes a long way.
If the customer chose "Hand it to me", hand it to them. You might have to ring the bell if they're not already out there. If they chose hand it to me but "do not ring doorbell", just give them a call. I prefer texting but I also don't wanna waste time so I call if the customer isn't outside.
Click "Complete delivery" and you're all set for your next order. 

I didn't include screenshots because each order will be slightly different so I don't want to confuse you.
You'll always have to look for delivery instructions and just follow the in-app prompts. Sometimes there's a note like "side door" or "third floor to the left...", etc. You'll get the hang of it quickly. 
DoorDash is pretty straightforward when it comes to the delivery part.
Dropping an order
There are times you get to a restaurant and the employee will tell you it'll be another 20 minutes. That's a no go for me so I often drop the order. I don't make it a habit because unlike your acceptance rate, your completion rate matters and you want to keep that high.
It's OK to drop an order with excessive wait time or if you're stuck in major traffic. It's better to drop the order so someone else can get to it. Here's a quick vid or you can skip to the screenshots.
To drop an order you've accepted, just click on the ? icon in the top corner and select "Can't do this order" (if you have two orders, just click on the name of the order you want to drop) and then give a reason, i.e. Order not ready. Voila, you dropped the order.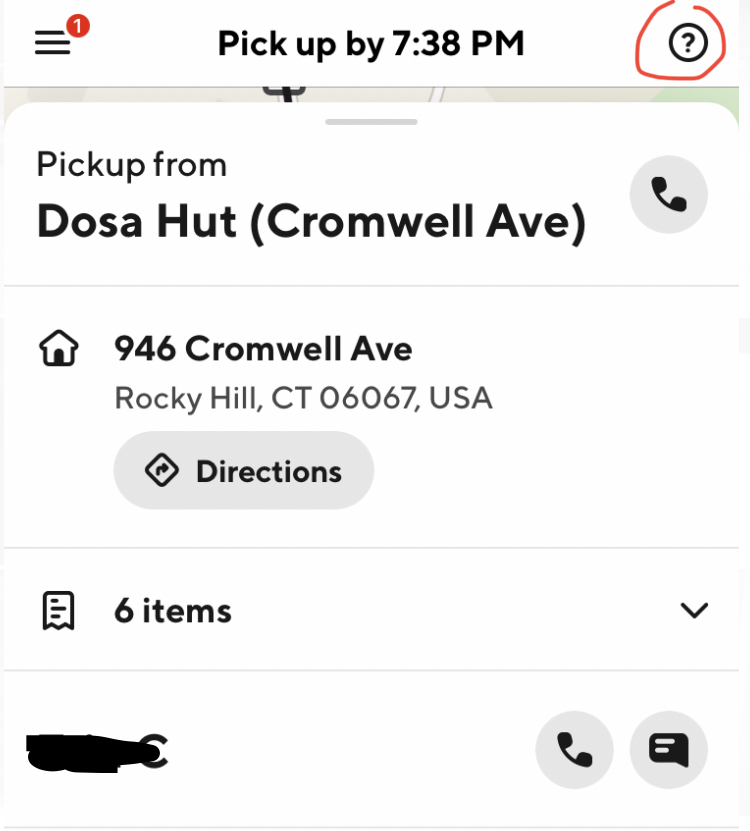 Screenshot of accepted order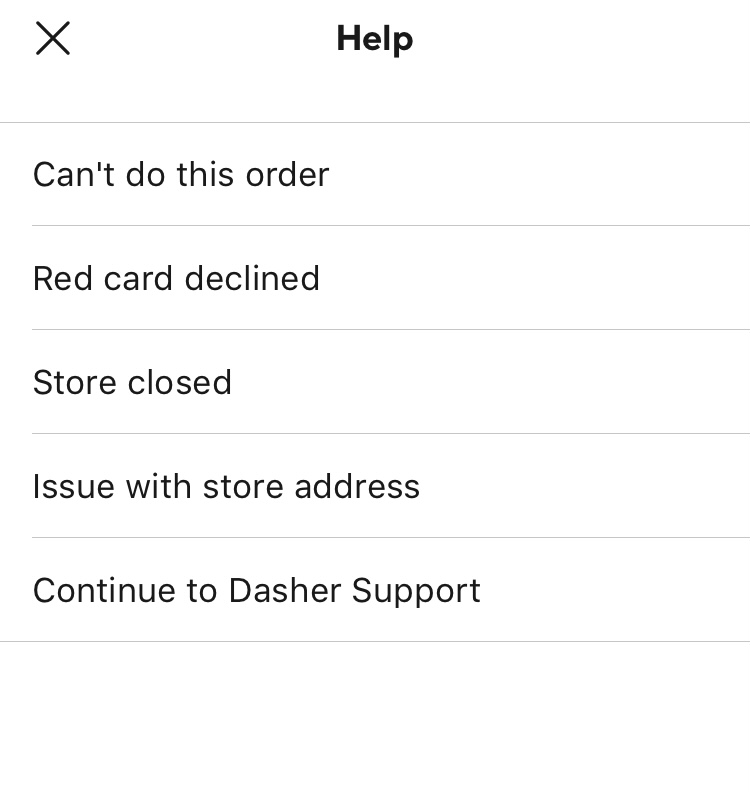 Screenshot of Can't do this order after selecting question mark icon to drop order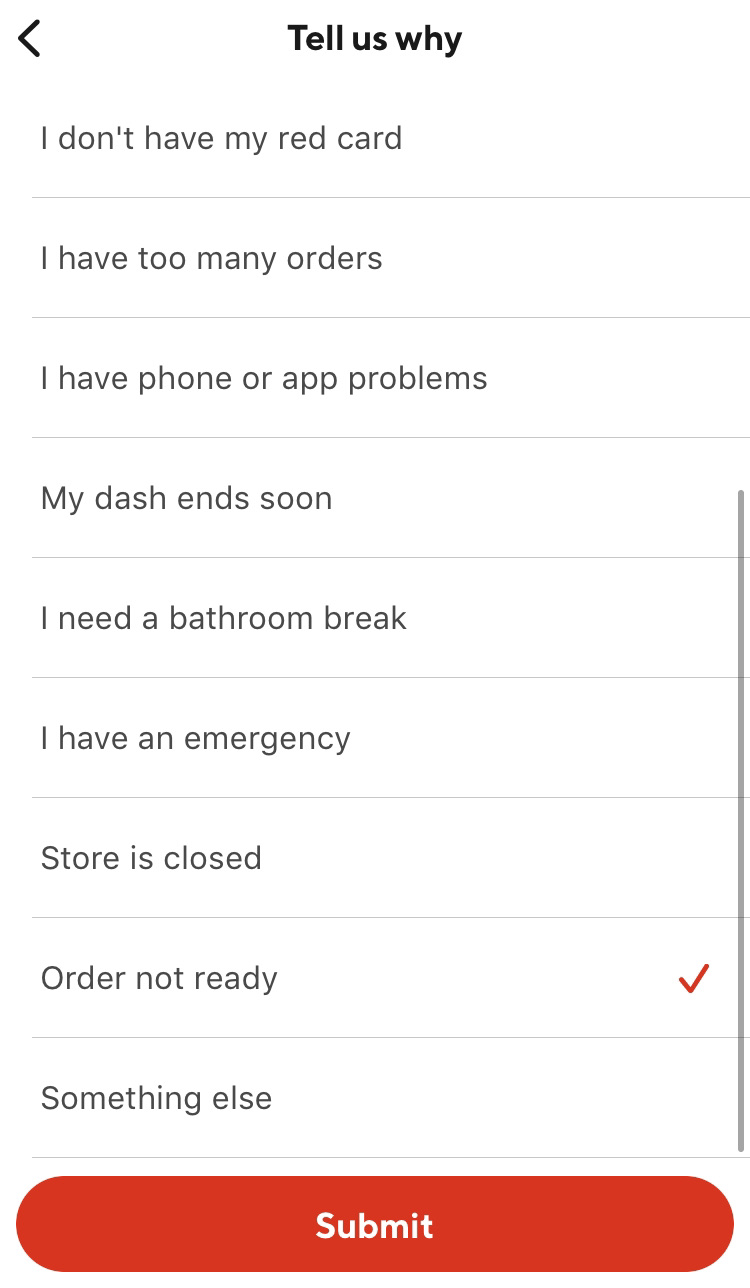 Screenshot of reason for dropping order
I will say that in about 1,000 orders, I've encountered two restaurants that were closed but also other instances where someone else had taken the order or the restaurant wasn't taking DoorDash orders. 
In those cases, don't just drop the order, let DoorDash know by getting on chat with them (second picture, instead of saying "Can't do this order", select "Continue to Dasher Support".
If you prefer a video, below is a super quick one to show you how Dasher Support works in case you need to contact them about a closed restaurant, etc.
Never drop an order when the restaurant is closed or another Dasher took your order. You want to get paid for that order so just get on chat or call support. It won't take very long and you'll get at least half of the pay.
Here's how to get on chat with DoorDash
DoorDash has added a feature where you can just let them know that the restaurant is closed but I'm not sure that a new Dasher has access to that yet so here's the more common way to chat with DoorDash Support.
Someone will be assigned to you right away and you can let them know the store is closed. You'll get a few extra dollars, usually the base pay but not the tip of the order. I've found that I usually get half of what the order was quoted to me when it popped up.
Still, it's worth it since you actually drove to the store and you don't want to just drop the order. You want to get compensated for it and you also want to avoid the order getting released again for another Dasher to encounter the same problem.
Earnings
As you can see, there are quite a few small orders on DoorDash each day. I don't accept anything under $7. DoorDash is strange because sometimes an order will pop up as $7 and then end up being $12.
I've had this happen quite a bit and I'm not sure why. My guess is that DoorDash tricks you into thinking that every $7 is gonna be high but often a $7 order is just $7 after you complete delivery. It's a constant gamble so I usually accept an order that's already pretty high so I don't get disappointed after delivery.
It's an unfair practice on DoorDash's end and affects both the customer and the Dasher but that's for another time.
Here is an example where the order ended up being $8.25 higher than when it popped up and I accepted it.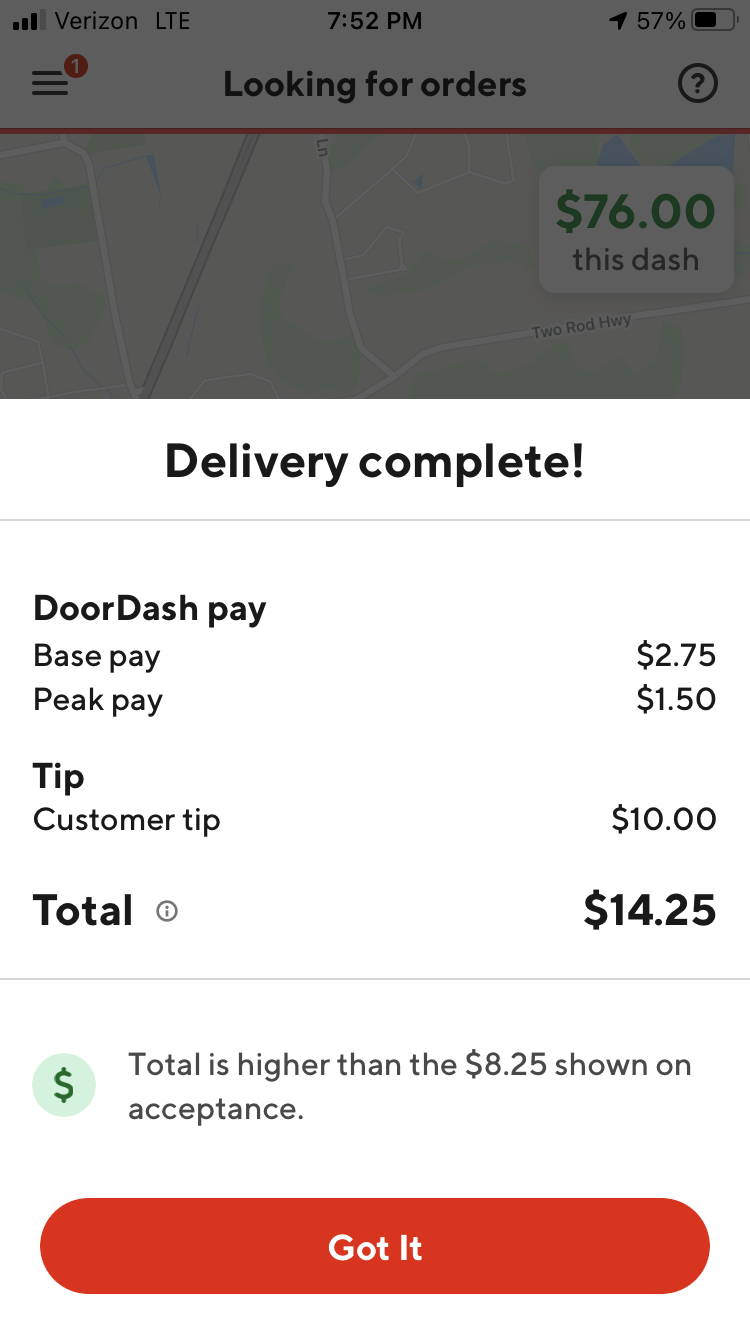 Screenshot of completed order with higher tip than originally quoted
---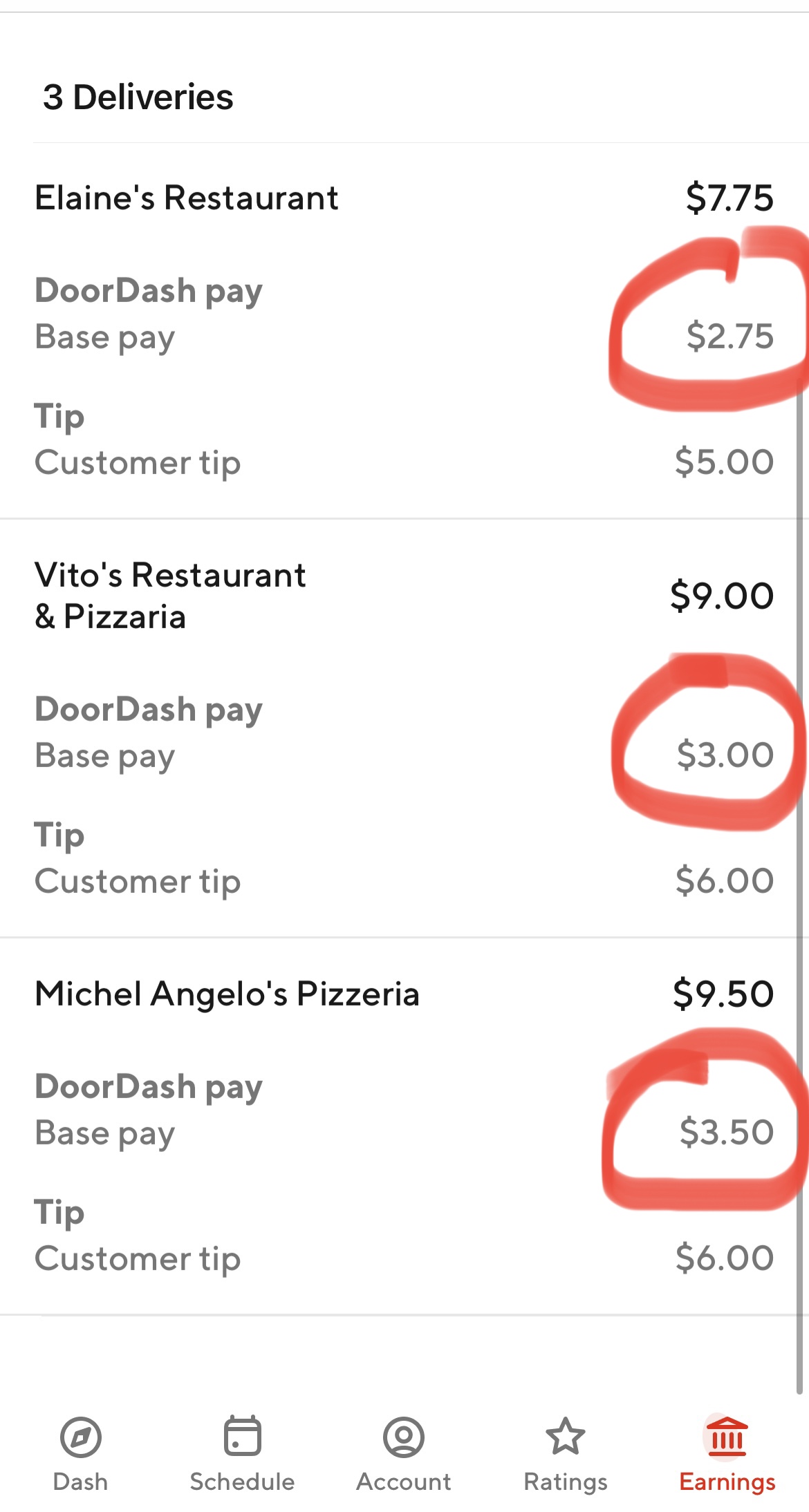 Here is an example of orders from a Friday night on DoorDash. Friday nights are a little higher in terms of base pay but not always. It depends on demand. 
I chose examples where the tips weren't insanely high but you can see that even a $5 makes a good difference in how much you'll earn. These deliveries were done in a little over an hour.
The good thing about DoorDash is that there are generally quite a few orders and you can do them back to back.
The delivery distances here were quite short so while the tips aren't super high, I was able to make $26.25 in about an hour. 
Again that's before gas and taxes. I generally aim for $30 an hour on DoorDash, especially on weekends.
---
Obviously, earnings depend on your area and what times you're available to go out. It's not really something I can pinpoint for you. All I can tell you is to decline small orders, especially those with long delivery distances.
I often make $350 a week with relatively little effort and $600 with a bit more hustle and UberEats running in the background along with Grubhub. You can check out my comparison of DoorDash, UberEats and Grubhub, here.
I've made $1,000 a week on Instacart during the height of 2020 but food delivery gig work has slowed down quite a bit in my area since then. It always ebbs and flows. 
I know drivers who go out on weekends and into the night and make $800 but I wouldn't expect more than $200 your first week since that's just your time to get oriented with the app and your area's restaurants, etc. 
When I first signed up for DoorDash, it had a promotion of "complete 35 orders, get an extra $75", which was nice and once I completed the orders, the money hit right away.
In the past, DoorDash took a while to verify your bank information so as I said before, just sign up for another app while you're at it so you always have a backup in case something glitches.
DoorDash also recently (and finally) implemented a feature where customers can increase their tip after delivery; something UberEats has excelled at over the years. 
Earnings cash out
When I first started, I couldn't cash out my earnings for two weeks, which I know is a concern for many of you. I always recommend signing up for more than one app (UberEats, Grubhub, Instacart) for various reasons anyways so I recommend you sign up for another app if the DoorDash cash out process seems too long for your needs.
Once that two week period passes, you're able to cash out any amount you made right away for a $1.99 cash out fee or wait until the end of the week when DoorDash will transfer your earnings into your bank account for free.
This is not instant and you'll have to wait another two days for that money to show up.
DoorDash now has the DasherDirect debit card you can sign up for once you're a dasher that circumvents having to pay a cashout fee and your money will be in your account right after each dash. You can read my pros and cons about DasherDirect, here.
Going forward with being a DoorDash driver
Gear
Now that you have an idea of what to expect during your first order as dasher, let's see what you can expect going forward.
DoorDash will send you an insulated bag and its red card for certain orders. 
The insulated bag is small and doesn't fit bigger orders like those at Chili's. After a couple of weeks, the zipper on mine broke.
Your only job is to deliver food so it should stay hot if it's meant to be hot and in my opinion insulated bags are a must.
I highly recommend getting professional insulated bags, they're a tax write-off. You'll need at least two because you'll likely have quite a few double orders and you want both customers' food to stay hot.
Taxes
Mileage
Speaking of taxes, I know you're early on in the process but you'll have to worry about taxes no matter which company you choose to deliver for.
One of the most important components that will reduce your tax bill is tracking your mileage.
Don't just track your mileage that DoorDash gives you from the restaurant to the customer but also if you have to come back to your starting point without having gotten another delivery or any other time you're driving around waiting for an order to pop up. 
DoorDash doesn't pay for mileage so you'll have to keep track of it yourself, trust me you'll be able to reduce your tax bill significantly. I recommend having a mileage tracker app in the background at all times while you're out delivering including while you're driving back from delivering an order and while waiting for your next order to pop up.
Here's what the mileage on DoorDash means when an order pops up. It's from where you are located, to the restaurant, to the customer's. Nothing else.
Many people skip this part and let me tell you, tax season is a doozy if you don't have your ducks in a row. Check out my tax guide here.

Top Dasher Requirements
DoorDash has a rewards program called Top Dasher that allows dashers access to higher paying order if they reach Top Dasher. The requirements are as follows:
"On the 1st day of each month, if you meet the criteria, you will be considered a Top Dasher! You qualify as a Top Dasher when you meet the following criteria by the last day of each month":

Complete 100 or more orders
Accept at least 70% of the deliveries offered to you
Maintain customer rating of at least 4.7 
Complete at least 95% of orders
Have at least 200 lifetime deliveries
Personally, I have not reached Top Dasher because of the 70% acceptance rate. I would have to take $2 orders on a regular basis, which I simply can't afford, literally. You can read a bit more about my opinion about whether Top Dasher is worth it, here.
The TopDasher requirements do change from time to time so check out DoorDash's page for the most updated requirements, here.
DoorDash red card orders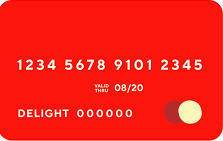 As I said, DoorDash will send you its red card in the mail after you've completed a few orders or within two weeks.
The red card is nothing to worry about whatsoever. It's is no big deal so don't even worry about it. I've done four red card orders out of 1,000 orders on DoorDash so it's not even something to discuss in detail in this post. 
But just in case.
Here is a quick guide to DoorDash Red Card orders.

Some orders like retail ones, where you have to shop and deliver require it. I never do those since Instacart is way better. If I want to shop for a customer, I always just do Instacart. It's much more lucrative and the app is far superior for shopping.
If a restaurant order requires it, DoorDash shows it upfront and it won't send you those orders your first week since you won't have your card. When you do have it, DoorDash makes it clear it's a red card order so do NOT worry about it when getting started!
Nonetheless, once you receive the red card, keep it with you in the car in case you ever stumble upon a decent order that requires it.  

DoorDash Alcohol orders
DoorDash allows customers to place orders containing alcohol. Before you are sent those orders, you have to agree to DoorDash's alcohol delivery guidelines and you obviously have to be 21+. I have a super quick page that guides you through an order.
Check it out, here.
Promos or referrals 
One last thing:
Before you sign up, you should ask around to see if someone you know is doing DoorDash because there is often a decent referral bonus, where you'll get x amount after completing x amount of orders and the person who referred you.
I recently referred someone and if she completes 230 orders, I'll get $450 and she'll get $350 so that's pretty good. This amount will vary by region, season and demand. There were no referrals over the summer but now the same $450 for me and $350 for the new dasher popped up again so hopefully I can get someone to sign up.
I've seen the amount as high as $900 so make sure you ask someone for a referral even if it's a random dasher you see at a restaurant; I'm sure they'd be happy to have that extra cash as well.

Related Pages
More info on DoorDash, UberEats, Grubhub and Instacart below!
I hope all this info was useful and will relieve some of the anxiety related to getting on the road and using the DoorDash app. Check out my list of pros and cons of DoorDash, here.
As I said, here is more information about the other food delivery giants including UberEats, Grubhub and Instacart:
For getting started with UberEats, go here. 
For Grubhub, here.
For Instacart, go here
If you're unsure if you want to do DoorDash or the others like UberEats or Grubhub, click here for my very detailed (read: lengthy but very informative) head-to-head comparison of each.
Sign up for Gig It! News


G

et exclusive tips & tricks monthly to stay ahead in the food delivery game!