DoorDash vs UberEats vs Grubhub? Which one wins?
A long-time food delivery driver compares the three! 
So you've been looking into the food delivery game but don't know where to start? What to expect? 
Can't decide which app is best for your needs? Maybe DoorDash? No wait, maybe UberEats is better. What about Grubhub?
Which one pays more? I hear UberEats. Nah, keep reading.
No need for confusion. I've done them all and will give you a breakdown of each here so you can decide which one (or two) best fit(s) your needs.
A little about me: I've been a gig economist for a few years now. I've done over 3,500+ (this number keeps changing obviously) orders across platforms, starting with Instacart and DoorDash and over a year ago, UberEats and Grubhub. 
Please be aware that I've updated this page with current screenshots so you have the latest info but things change and I try to keep everything updated. See something that's wrong? Contact me!
If you already know you want to do Instacart, check here for how to get started as an Instacart Shopper. However, if you are going to do Instacart, I do recommend you have one of the apps below as backup as well so keep reading.
I do recommend you give this article a read for more in-depth information about how each compares. 
Just a quick reminder: you have to be flexible if you want to do this long-term. If you're just doing it for the summer or as a small side hustle, it's not as important to have a backup but since you're going through the signup process anyways, why not sign up for two?
There are constantly fluctuations based on demand so it's good to have at least one backup and not put all your eggs in one basket. 
Without further ado, I give you the side by side comparison of DoorDash, UberEats and Grubhub. 
---
Signup process
DoorDash signup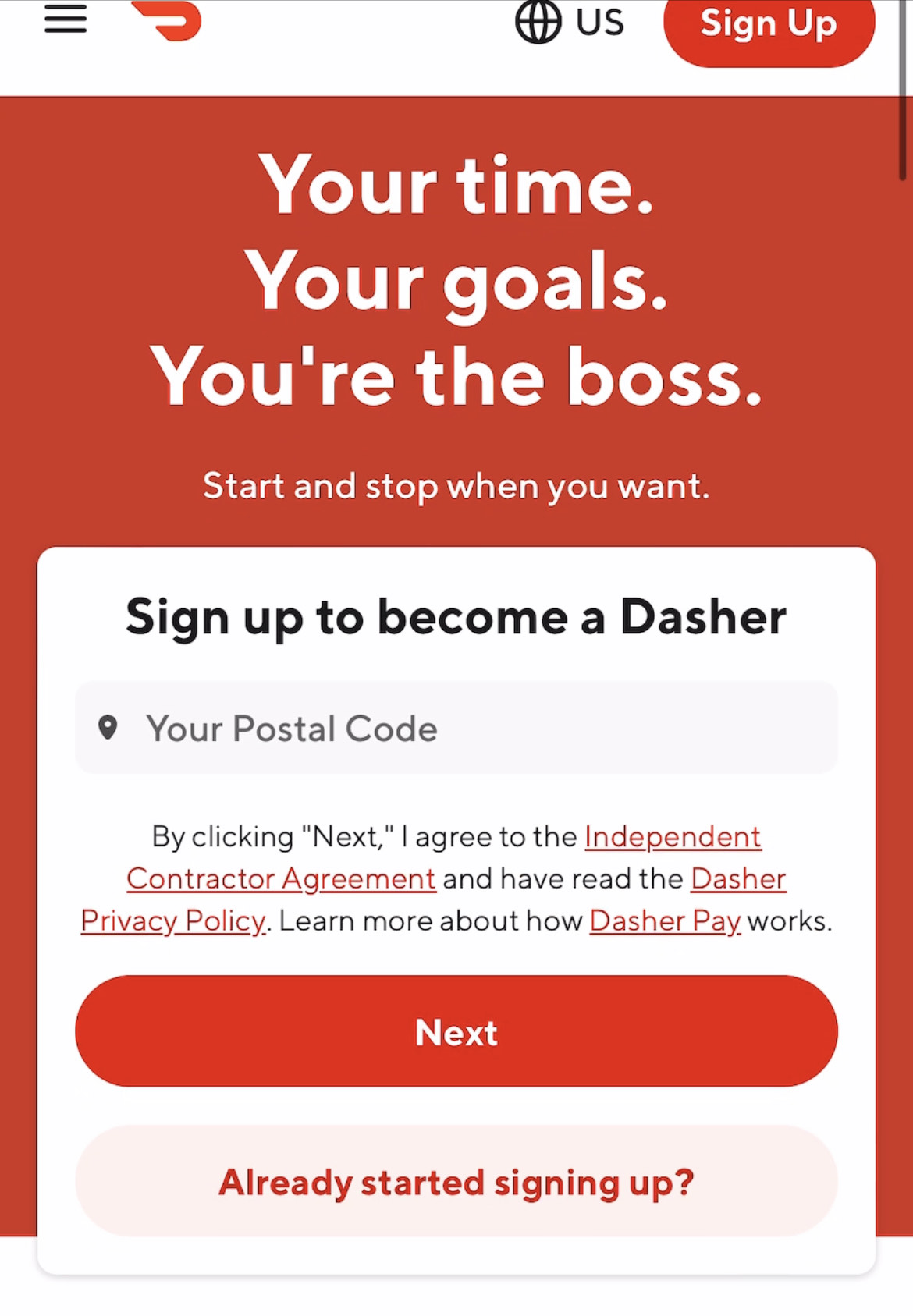 Example of DoorDash signup screen
Signup is pretty easy across apps so it's not something that needs an in-depth explanation.
I like the actual signup process for DoorDash as it is clear and straightforward. You download the app and just add your personal info, upload your license and insurance card and wait for your background check to clear.
Then, you just follow the partner delivery agreement and you're good to go on the road.
Helpful hint: If you know someone who is a Dasher, see if they can send you a referral link for your area so you both can make some pretty good extra cash once you complete the required amount of orders.
This varies but I've sent friends referral links where the offer was, get $950 if the new Dasher completes 300 orders in 90 days or something like that. The Dasher also gets a good amount, not just the referrer. Right now, there are no offers like that in my area since demand varies throughout the year.
---
Grubhub signup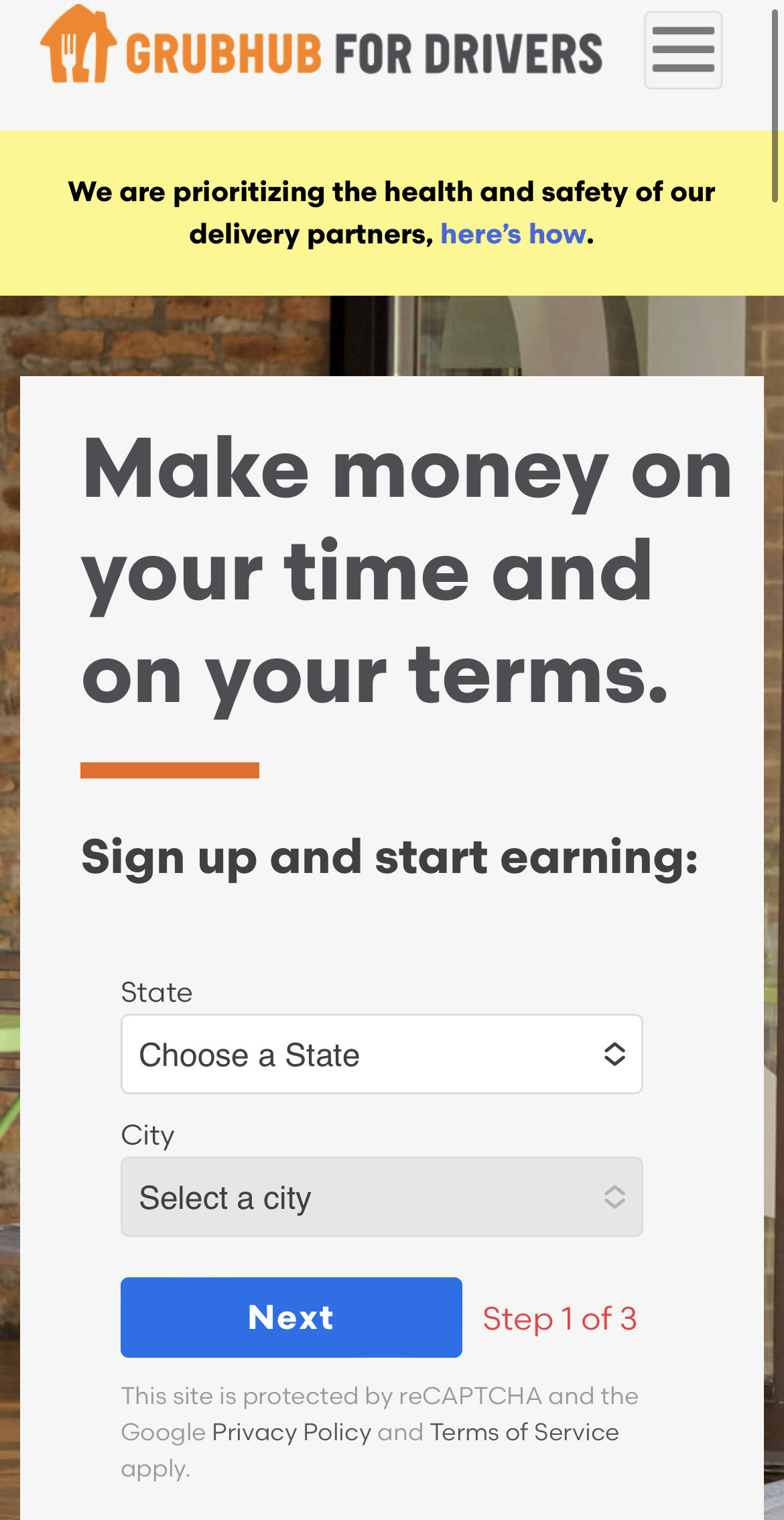 Example of Grubhub signup screen
With Grubhub you are guided through the application steps but can't actually create a user name and password for the app until your background check clears. 
Grubhub does require a short orientation before you hit the road, which makes it seem more serious in comparison to DoorDash and UberEats.
Grubhub does not have referrals like DoorDash, at least I've never been offered any.
---
UberEats signup
Example of UberEats signup screen
When I downloaded the UberEats app, it was a little confusing at first because I felt like I was signing up to be an Uber driver. UberEats seems to have changed that part
However, sometimes I get notifications in the app that are meant for Uber drivers not UberEats so while it looks like they've improved the signup experience, some of the in-app features are still shared so that's a little weird since it's two very different jobs.
Overall tho, signup was easy and I was on the road just a few days later.
What happens after signup? 
Once your background check clears and you sign your delivery partner agreement (similar process across apps), you'll be able to upload your picture to the app (DoorDash does not require a picture, which I kind of like) and enter your bank account info.
Speaking of ...
Bank verification
In terms of bank info, DoorDash and UberEats let you add a bank account for weekly transfers (which are free) AND a debit card for when you need to cash out daily (for a fee). DoorDash now has a DasherDirect debit card you can sign up for to circumvent the cash out fee. I'll link to my pros and cons page about DasherDirect at the end of this page.
Grubhub just has one account that both the weekly transfers and cash outs go into.
DoorDash used to take two weeks (and still does as I'm writing this) before you get paid the first time, which I know is a major deal breaker for many people who need money right away. 
DoorDash also has the highest cash out fee at $ 1.99, compared to UberEats and Grubhub at 50 cents per cashout. 
UberEats allows you to cash out the moment you earn money and Grubhub has a three-day bank info verification window before it allows you to cash out your earnings when you first start. After that, you can cash out your earnings the same day for a 50 cent fee on both UberEats and Grubhub. Like I said, DoorDash charges $1.99
So while DoorDash wins for ease of signup, overall, UberEats wins for ability to get your cash right away with Grubhub coming in second. 

Let's talk gear
I know some of you wonder if you need any gear before hitting the road and I would like to say yes you will need an insulated bag on your first day because your job is to deliver food ... and most of that food is intended to stay hot from the time you pick it up to the time you deliver.
You can check out my quick essential gear video here.
---
---
Good gear, bad gear, no gear
Grubhub gear
Grubhub sends you a package within the first few days including a pretty substantial insulated bag (it even fits pizza boxes!), their debit card (more on that later but it's not really all that relevant) and a sign saying "delivery in progress".
Grubhub is serious about the delivery game! Again, these change so you may receive different things since it's been a while since I signed up.
UberEats gear
UberEats doesn't send you sh*t.
UberEats does not even require an insulated bag, it barely suggests you get one, which I personally find to be quite unfair to the customer because UberEats is also terrible about grouping long distance orders so I do not see how customers ever get their food hot and on time.
Some orders on UberEats have three customers so that third customer is gonna get some pretty cold food by the time you deliver.
You do get to request their debit card for retail orders, which arrives quickly. More on that in a minute.
Grubhub definitely wins the gear game!
Now that you're ready to hit the road, let's look at what you'll see.
DoorDash gear
DoorDash sends you a very small and flimsy bag (mine broke within two weeks) and their red card debit card. I recommend you either find insulated bags in your home or just buy professional ones like I recommend in the video down the line (they're a tax write-off so keep the receipt!).
You do not have to get those until you know you want to actually continue to deliver for longer than a week but have some sort of bag right away so you can actually do your job.
Why the debit cards?
Please be aware that the cards each company sends are company cards that have money on it in case you have to pay for an order whether at a restaurant (as is very rarely the case on DoorDash and Grubhub) or a retail/grocery order as is the case on DoorDash and UberEats (personally, I don't bother doing those much since Instacart pays better on average).
You will at no point be required to use your own credit or debit card to make purchases on behalf of the customer, etc. These cards are pre-loaded with the customer's money.
Sometimes I get asked that and that's just never the case, you will not be asked to use your own money. 
You don't really have to worry about the cards. I've only used the Uber card a couple of times for shop and pay order and I've used the DoorDash card about five times in 1,500+ orders so please don't worry about this too much.
Again, I do Instacart if I wanna shop for customers, not UberEats or DoorDash but if you're planning on shopping on UberEats and DoorDash, just keep these cards handy in your glove box.
App layout 
Let's take a look at how each of the apps compares in terms of layout. This may not seem important but I personally like to have as much information as possible before I go out to deliver.
It's helped me develop some sort of strategy in an otherwise unpredictable industry.
DoorDash app layout
One of the main reasons I chose DoorDash as a backup to Instacart was because the app is similar in its layout.

The layout is clear and has everything you need right on the home screen, including your ratings and earnings. 
That's a major plus for someone who is a visual like me.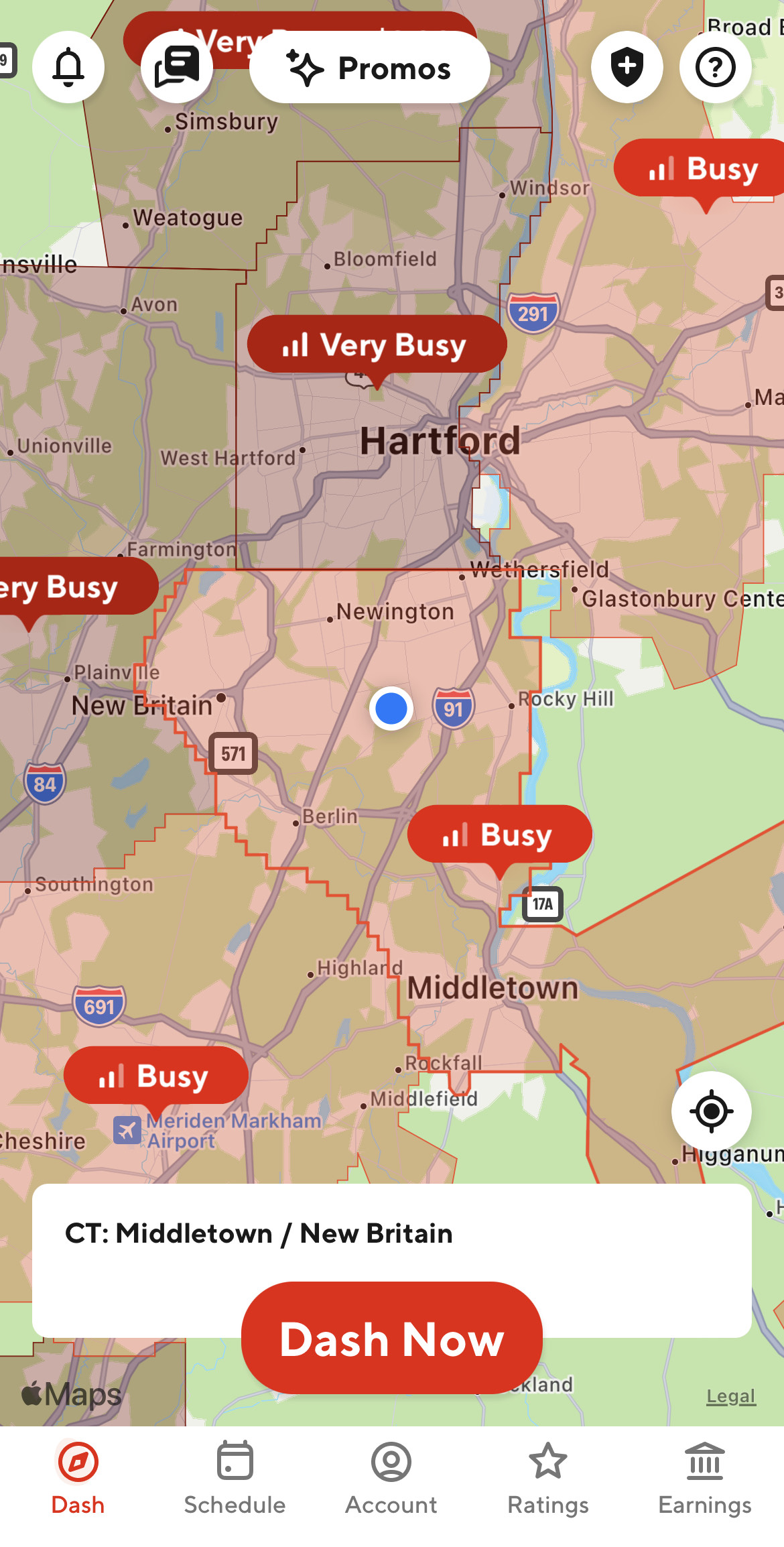 DoorDash map including DashNow button
Everything on DoorDash is right in front of you when you open the app. You see if it's busy right away and you can choose "Dash Now" if you want to go out.

Note: DoorDash will not let you dash if it's not busy (you'll see a green map). You'll have to schedule it for when the app thinks it will be busy in your area but you can also just wait till the map shows it's busy, which is how I usually go about dashing. 
I rarely schedule a dash since I like to just go out when I see it's busy and not be locked in to a schedule.
Even if you choose to schedule a dash, you can cancel it right away, it doesn't affect your stats like it does on Grubhub. 
On my last Dash, I saw that DoorDash had updated the screen to something like this.
It's brand new so I haven't quite figured out what to make of it but stay tuned; I always update my pages based on the latest app dates, I just haven't played around with the two different options since I think the earn per offer is a better deal but I'll update once I compare it to earn by time soon.
Apparently this has been in effect for longer in certain areas of the country but just recently arrived in my area.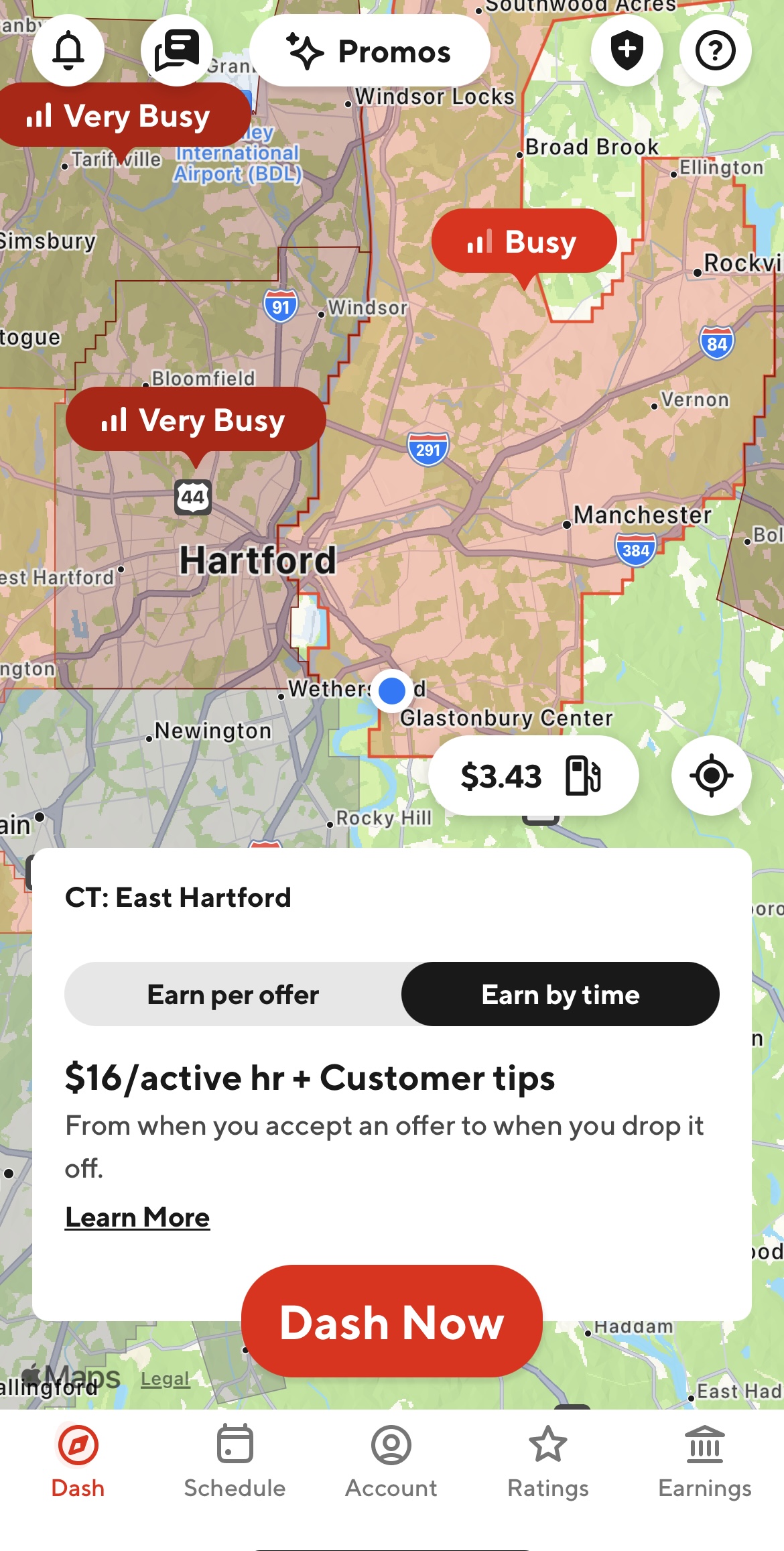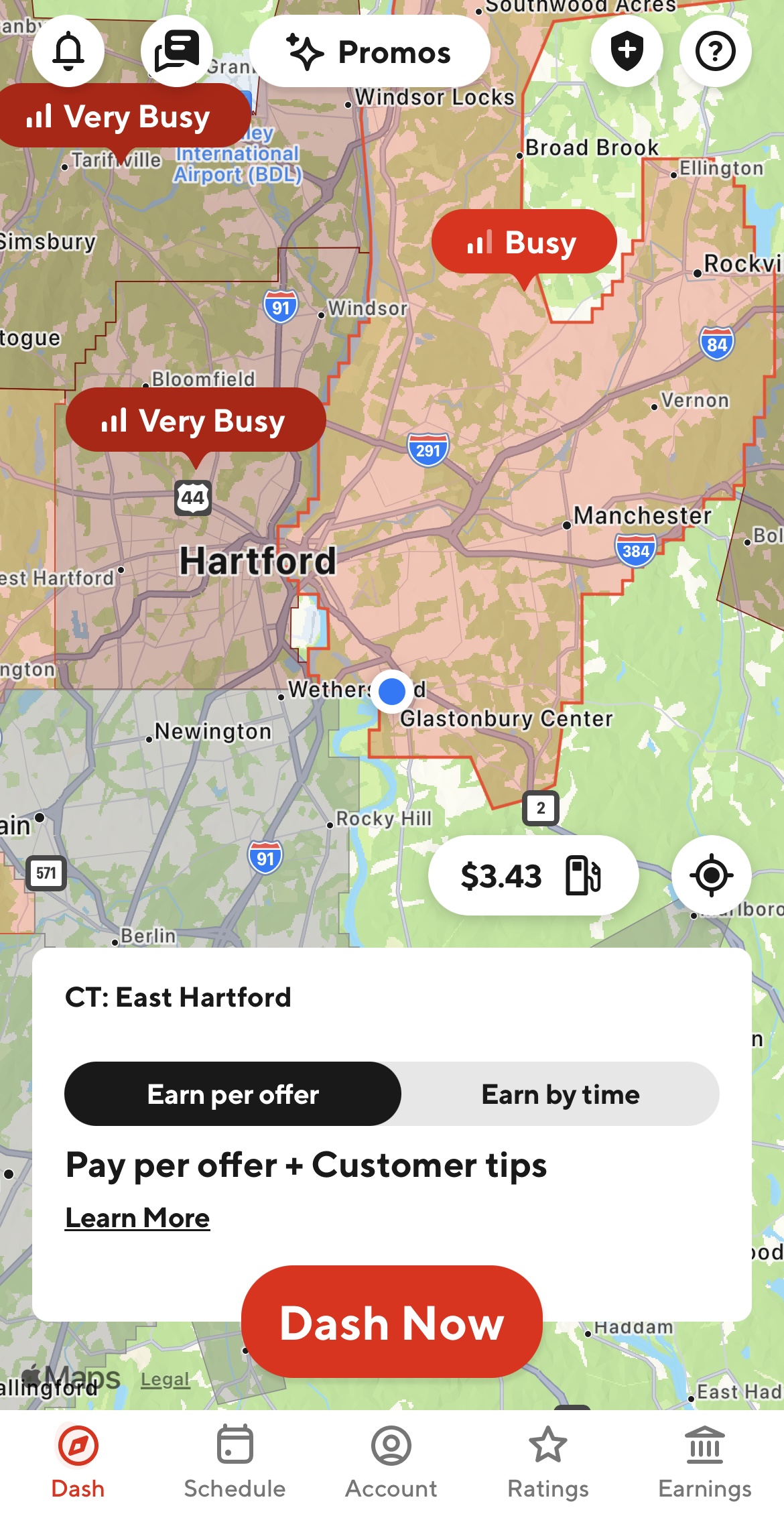 Here's what DoorDash had to say about "earn by time": "You can see the current guaranteed hourly rate for your dash in your app before you start.  While this rate may change throughout the day, once you start your dash, the hourly rate is locked in and will apply to the entire Earn by Time mode dash session.
You can decline or unassign up to one offer every hour. If you decline or unassign more, your Earn by Time dash will automatically end but you'll still be able to shift to Earn per Offer mode to continue dashing."
Here's the link to the full article on DoorDash.
I don't really see the point of earn by time since there are so many bad orders that I decline quite a few in a row on any given night but like I said, I'll update once I get more experience with the two.
---
The most annoying thing about the DoorDash app is the zones.
Once you're out of the bordered zone (which happens quite often when deliveries take you into another zone), you will not be sent dashes in that new zone and instead, you either have to head back to your zone or end the current dash and start a new one in that zone.
DoorDash has a new feature called Dash Along the Way but it still doesn't provide that zone free felling that UberEats has. Dash Along the way is an improvement but it'd be better if DoorDash did away with zones altogether.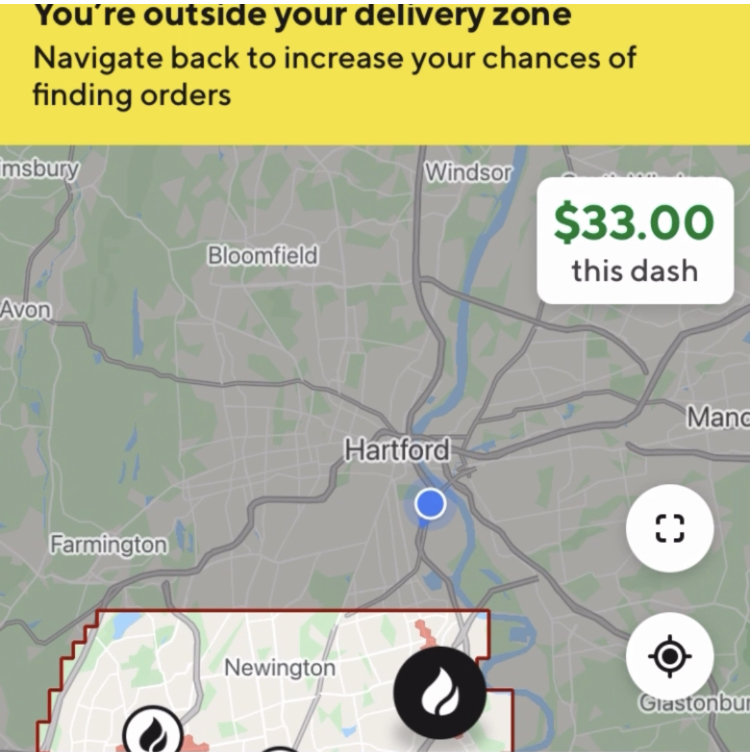 DoorDash out of zone example
The first few times I went out, my delivery was only a couple of miles but it took me out of my zone and I had no idea until I saw the screen. I was waiting for orders to pop up and sometimes they do but only back in that original zone.
It's super weird and similar to Grubhub (except Grubhub ties you to your zone without allowing you to take orders outside of that zone - ever), which is definitely a drawback.
As I said ,there is now a Dash Along the Way option on DoorDash but I honestly don't understand why it doesn't just get rid of the zones.
---
UberEats app layout
As I said before, UberEats seems to share the app with the Uber drivers so the layout is slightly more confusing at first. While the map is interactive on the home screen, meaning you can zoom in on areas with busy restaurants, the map is not interactive once you get sent an order. You can't see the second restaurant so it's this weird guessing game for double orders.

UberEats home screen with Go button
As you can see, you don't have all your stats at the bottom like on DoorDash, they're in the menu on the left hand side.

That's fine, I just like having everything right in front of me like it is laid out on DoorDash. Nonetheless, you are able to see busy spots on the map, which is helpful.

To get on the road, you simply check the home screen to make sure there are hotspots and choose "GO". The app often asks for your picture as verification before you can get started so make sure you're not driving.
It will not allow you to take a picture when in motion. 
UberEats lets you go out at any time even when there are seemingly no busy areas so that can be confusing if you're new and you're driving around waiting for an order.
My first few times with UberEats, I used DoorDash to see if my area was busy since I did not think the UberEats app was very informative.
Even after 300+ deliveries on UberEats, I still do not find the hotspot map very accurate.
I often find myself driving to an area UberEats shows as super busy only to have it show up as not that busy once I got to that area so I stopped doing that.
I just use DoorDash as my main indicator as to where it's busy and I let UberEats run in the background until an order pops up for me to accept or decline. More on that later.
Overall though, the UberEats map is simple for when you want to get on the road. You just hit GO and you don't have to worry about pesky zones like DoorDash and Grubhub. 
---
Grubhub app layout
As I said before, Grubhub is a bit more serious (read: not as fun to use). Grubhub just changed its app layout slightly so you can now access the map and slide to available in a couple of steps, which used to be quite a few steps before.
The app is still super clunky so while it's an improvement, it still needs work. It finally did away with the clunky menu and everything is now on the bottom similar to DoorDash.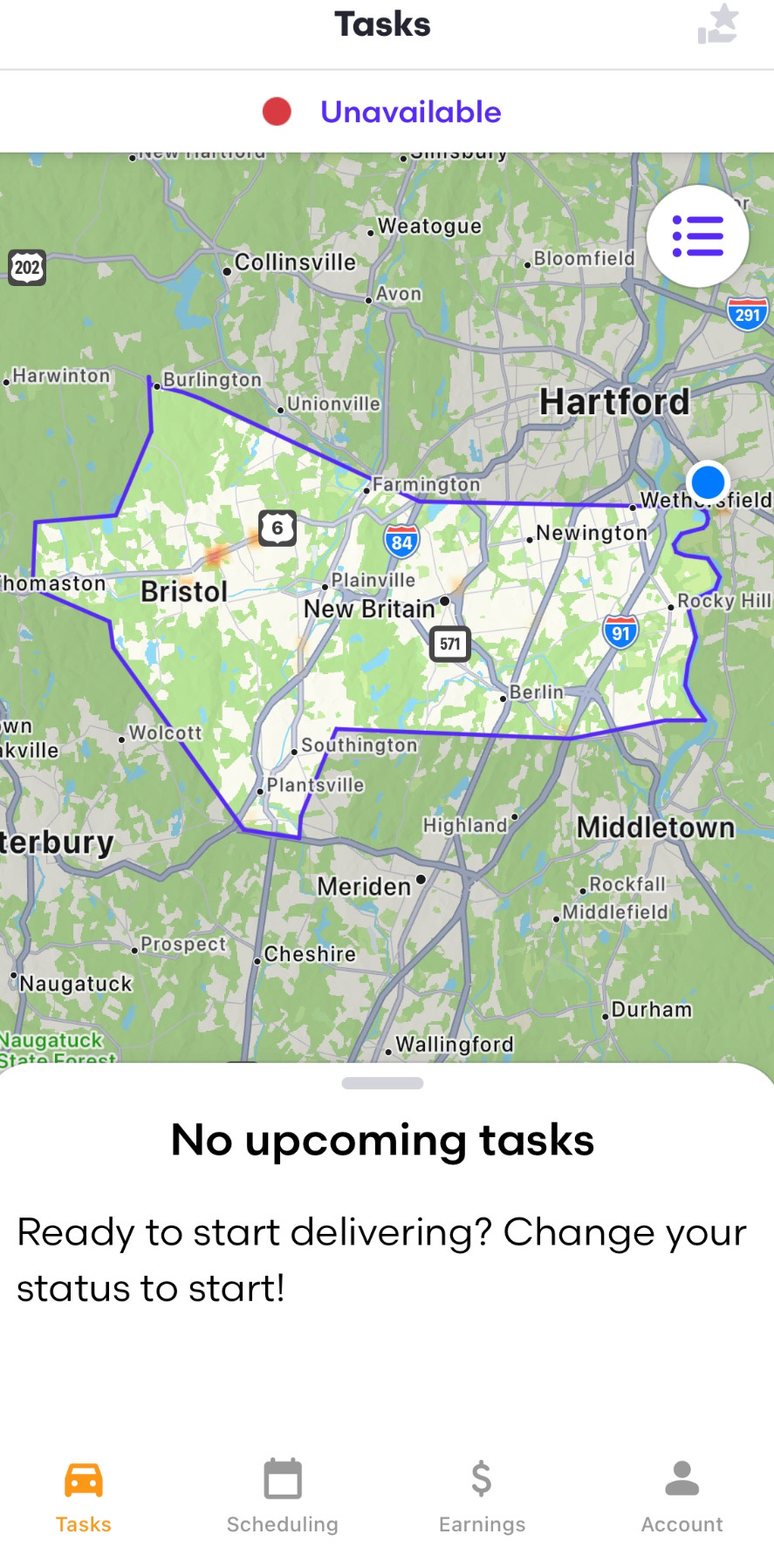 The map still sucks overall and going online is still a little clunky as well.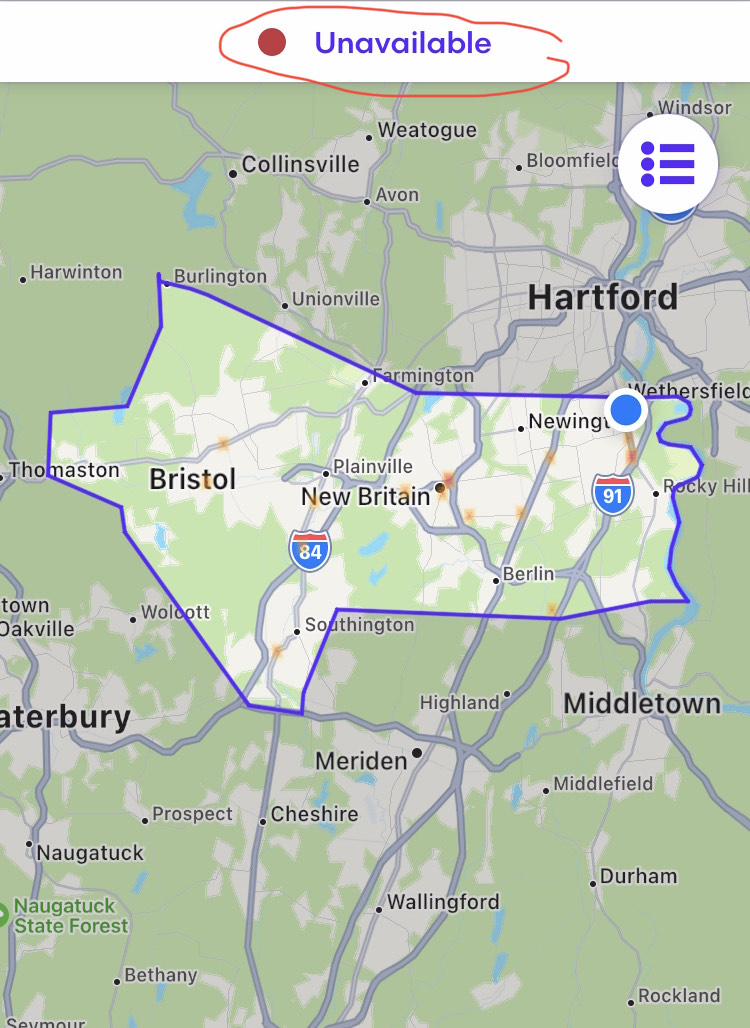 Grubhub Zone map
If you look closely, you can see some orange dots sprinkled on the map. That means those particular areas are busy.

You can zoom in but it's not really all that informative.
Once you're ready to receive orders, just hit the "Unavailable" button up top and you'll be taken to the step where you can slide over to be sent offers.
My area is where that blue dot is and I usually deliver east of that map and as you can see, that'll take me outside
of my zone. Unlike DoorDash, I won't be able to take orders outside of my assigned zone on Grubhub, which has been a major deal breaker. 
---
You'll be shown a screen reading "Ready to deliver?" with a slider to go from "Unavailable" to "Taking offers".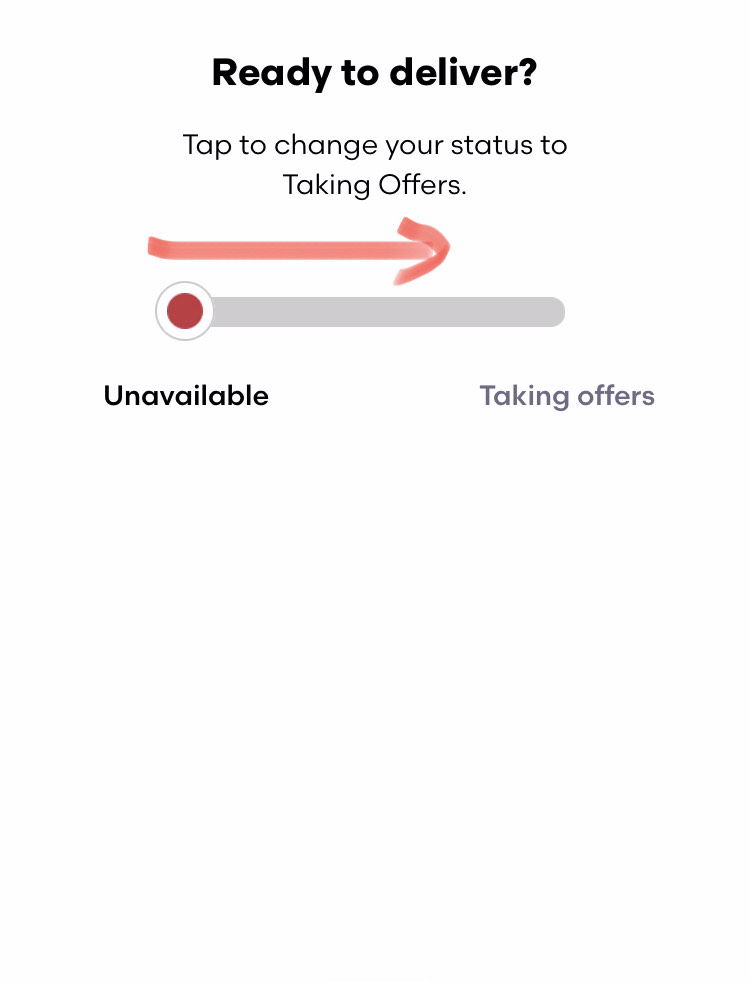 ---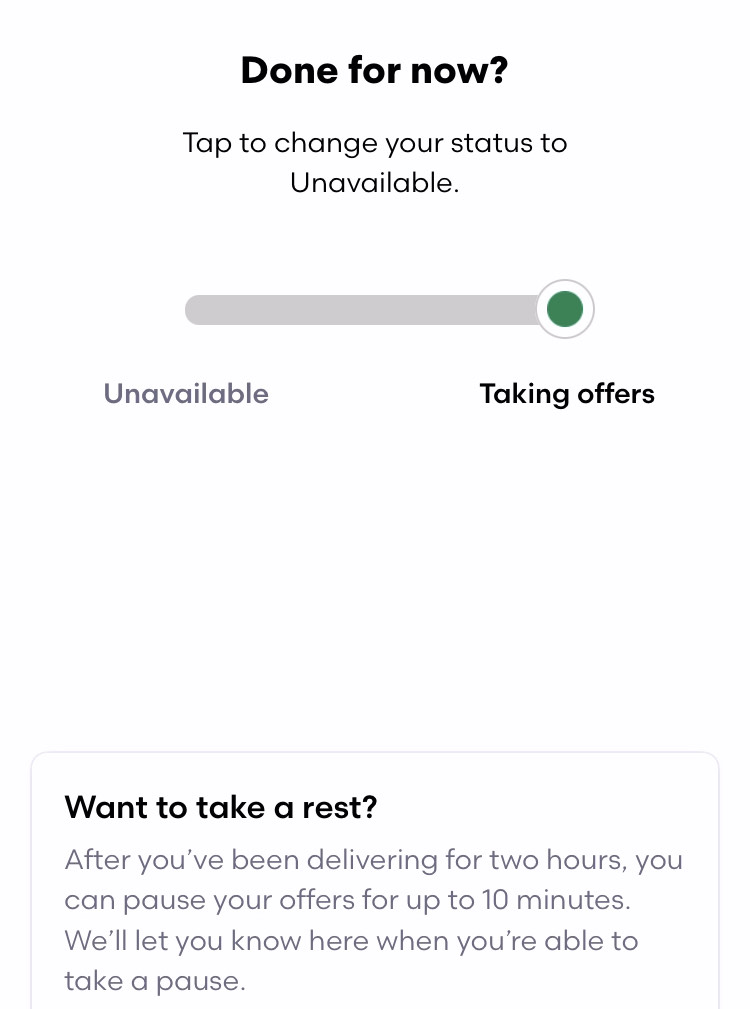 Grubhub unavailable to taking offers
Once you slide it to "Taking offers", you'll be sent orders.

You can immediately slide it back to "Unavailable" so do not worry about being on the hook for an order right away.
While you're not on the hook for orders if you're not scheduled, Grubhub seems to encourage scheduling blocks and it seems like you're bound by those although my first few times, I couldn't schedule a block because they were all taken for over a week. You'll want to schedule blocks if you plan on doing Grubhub long-term since you'll be able move up on their program levels.
Once I scheduled a block, Grubhub messaged me to make sure I knew I was scheduled. You can still go out without scheduling a block and I received plenty of orders the times I went out without scheduling. It's my preferred way of delivering since I don't like to be bound by schedules hence why I do gig work.
The Grubhub zone map with hotspots leaves much to be desired since you can not tell where anything and getting on the road means jumping through the task screen.
As I said before, I love having everything on one screen so Grubhub is definitely my least favorite layout.
Aside from the zone drawback, DoorDash wins overall layout and accessibility with UberEats behind it and Grubhub coming in dead last.
Declining, accepting and dropping an order
Yes I'll start with declining because you are most likely not going to accept the first order that is sent to you unless it's a good order. This is generally true whether it's your first ever delivery or your 1,000th; the first order that pops up is rarely the one you'll accept since it's most likely a reject from other drivers.
Let's take a look at each app in more detail!
DoorDash orders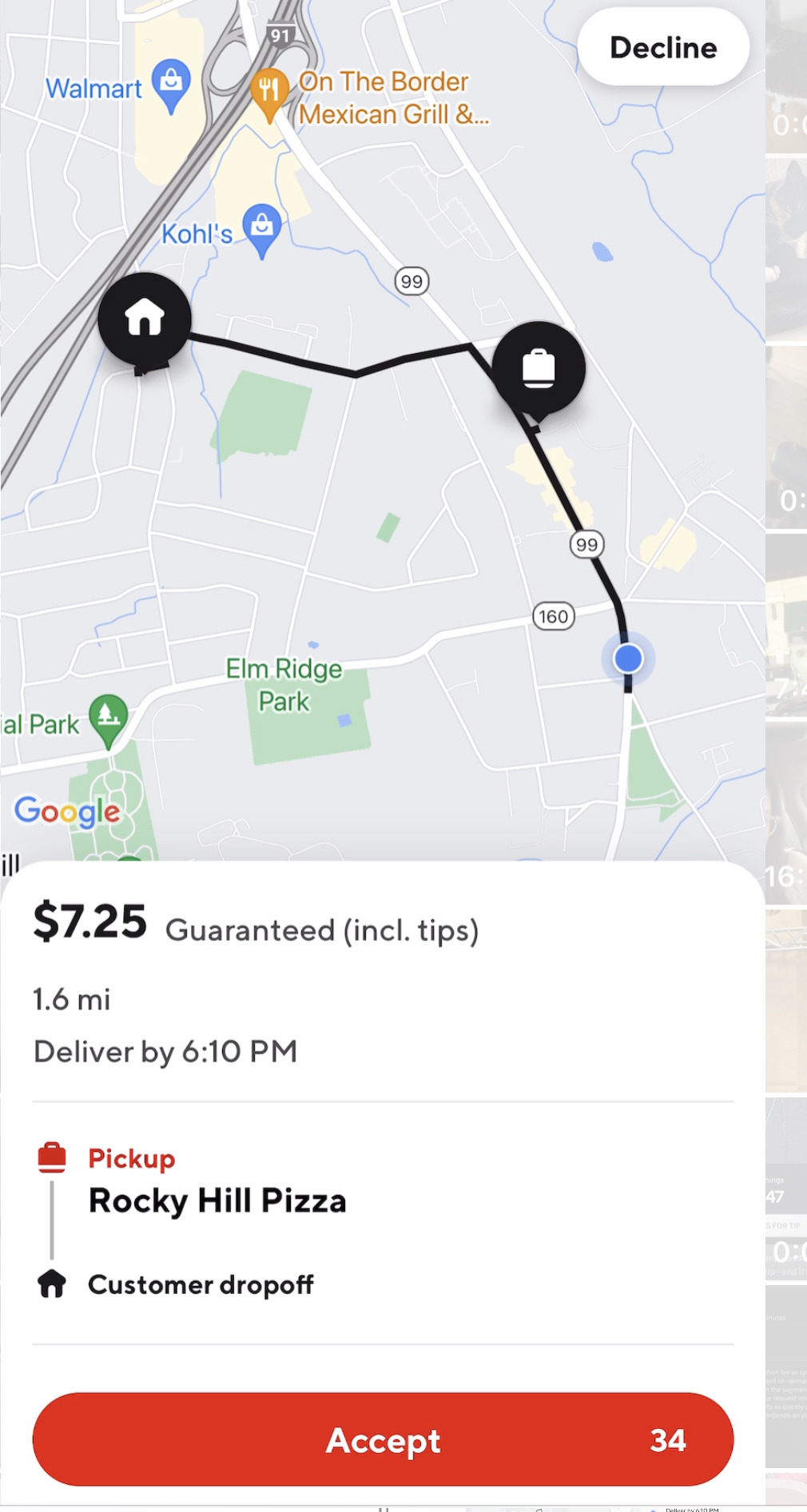 When an order pops up on DoorDash, the Decline and Accept buttons are very clear. You'll see how much the order will pay (includes the total DoorDash pay and tip although the total is often slightly higher once you deliver, I'll include a screenshot on that farther down because it's been a weird thing on DoorDash for years) and the total mileage you'll have to travel.
You can see where you are in relation to the restaurant and customer. You can even zoom in on the customer's house to get an idea where it is (not in a creepy way) while the timer is ticking. If it's a double order, you can see if it's at the same restaurant or a different one and you can zoom in to see where each customer lives.
You can also see how many items, which can be very important when it comes to determining wait times beforehand. I once had a $ 17 pop up on DoorDash but it had 20 items at a restaurant that's notoriously slow so I declined. This can be an important tidbit for you to decide whether you want to accept or decline an order. 
Sometimes those items can be as small as sauce packets but they're often also actually items like pizzas and you won't really know until you accept the order.
DoorDash does make it easy to drop an order if you think you can't do it but it counts against your completion rate. It's totally fine to drop an order every now and again tho. I've included a quick screenshot of this process so keep scrolling!
---
UberEats orders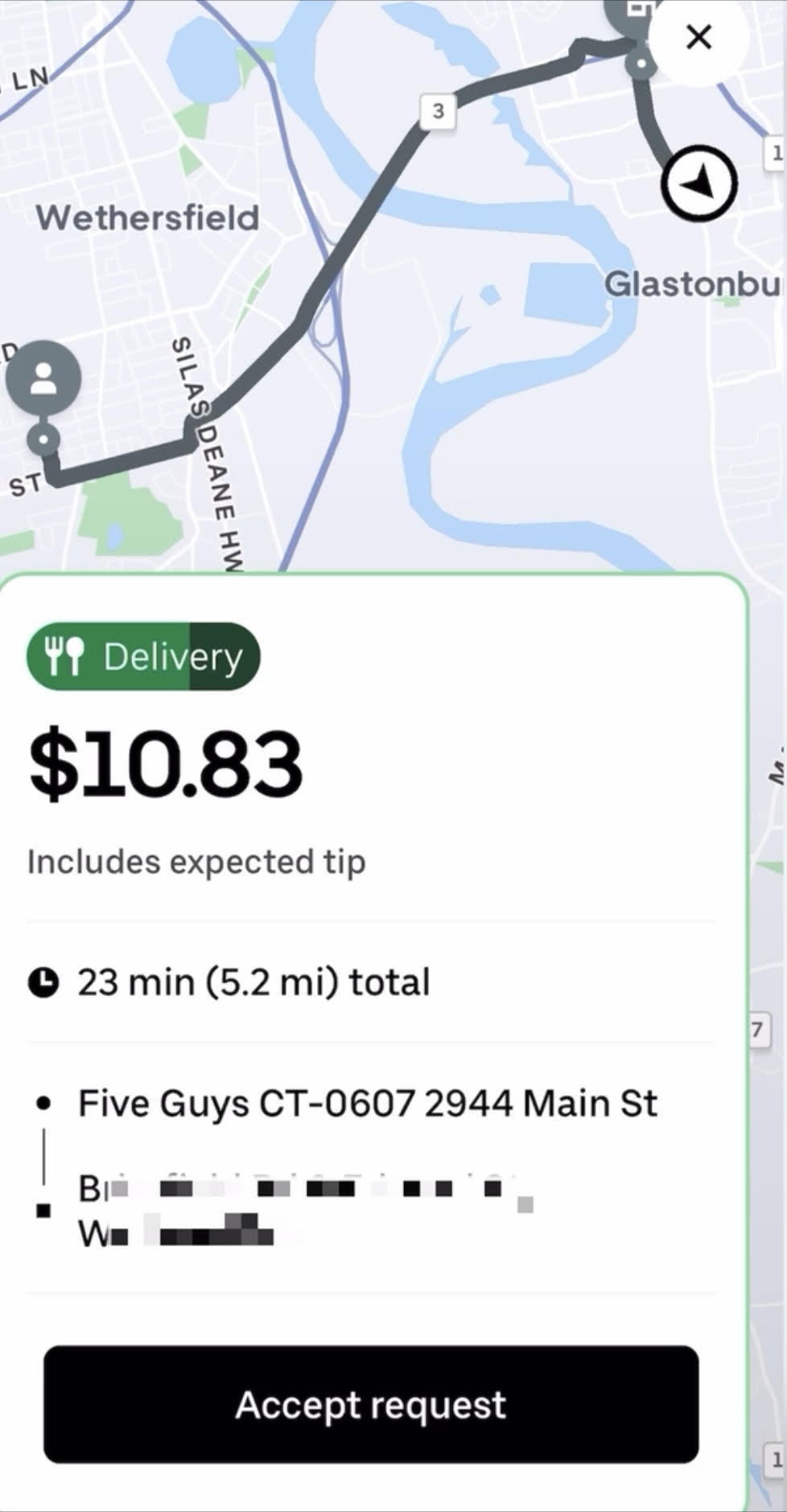 On UberEats, the X to decline the order is small but that's a relatively small issue although, during one of my first few orders, I accepted an additional order I meant to decline.
You have to be precise and hit the X to decline, which is incredibly annoying when you're in a hurry. Alternatively, you can just let it time out but if it pops up as you'll completing another order, you'll have to X out of it in order to continue with your current order.
UberEats will also send you an order once you're out delivering, which can also lead to you accepting a bad order by accident.
DoorDash and Grubhub will also send you potential orders while you're delivering your current order but there's no real chance of accepting them by accident like there is on UberEats.
UberEats gives you the approximate time it'll take and the distance, which are generally pretty accurate. The distance means where you're currently are to the restaurant to the customer(s)'. It doesn't show you the exact location of the customer(s), just an approximate cross street. 

You either hit accept request or decline by hitting the X in the right hand corner.
I definitely like that UberEats shows how long it will take to complete. It's just unfortunate that the map is not more interactive where I can zoom in so I can see where I'm going like on DoorDash and in part, Grubhub.
It remains a huge drawback on UberEats.
---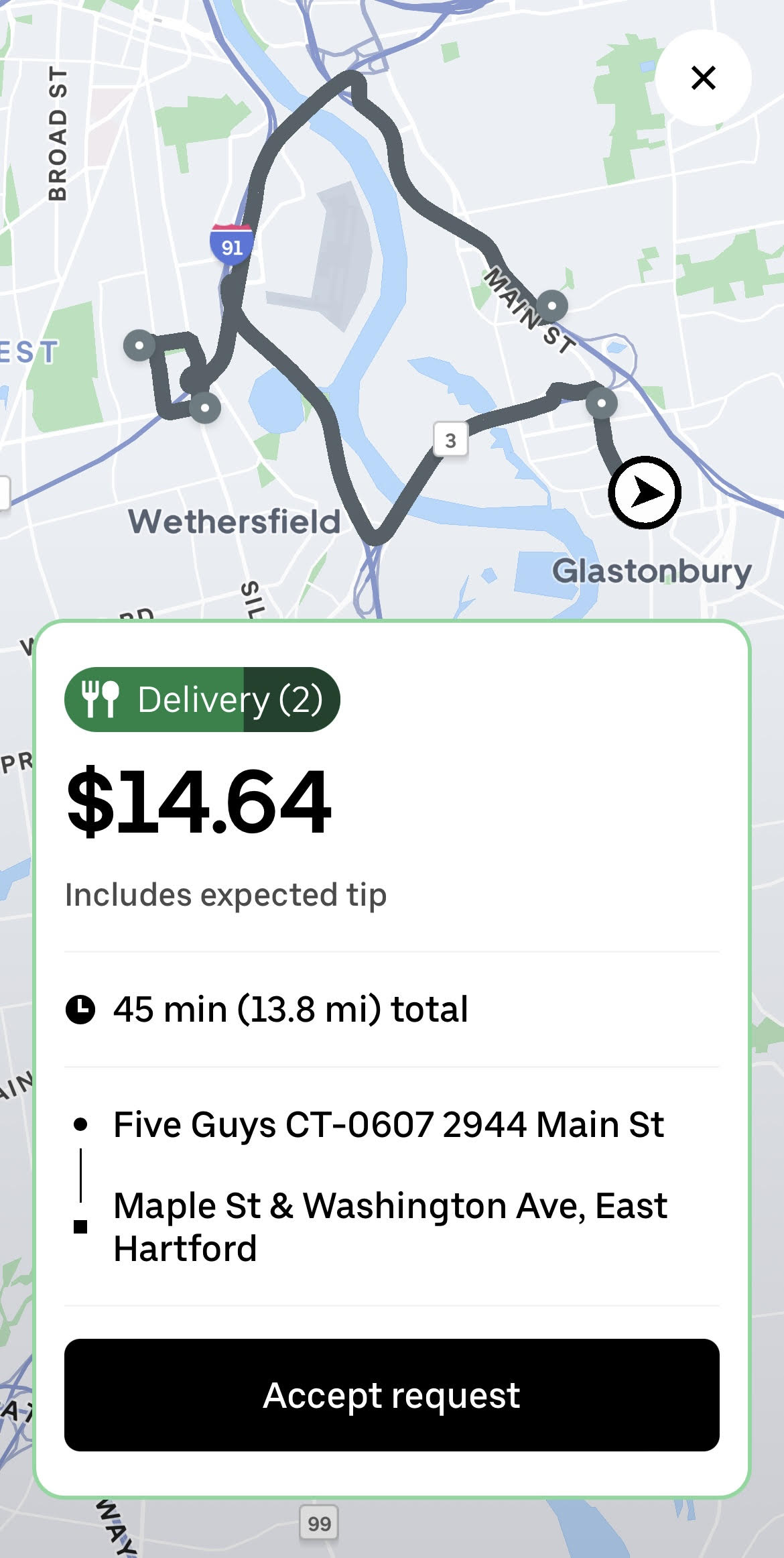 Each app has double orders, where two customer orders are grouped either at the same restaurant or a different one. This is no problem on Grubhub or DoorDash since you can see both restaurants, which can be helpful if you know one restaurant isn't as speedy as the other.
On UberEats, the map isn't interactive and it only shows you the first restaurant and the approximate address of the second customer. The second restaurant is a surprise.
Nope, you're not able to zoom in on the map to see the other restaurant(s), which is quite annoying when you're planning your route and earnings because you have no idea if the second restaurant is slow, which I would know if I saw the name.
Both DoorDash and Grubhub let you zoom in on the almost exact location of the customer(s) and restaurant(s), which is super helpful if you're more visual and aren't good at knowing all the street names in your state!
---
The double order isn't really worth taking given the time it'll take. When you compare it to the single order above at the same restaurant, it'll take almost twice as long and is almost three times the distance. No thanks!
UberEats also has three customer orders but I don't do those based on personal preferences. I've done really well with single and double orders, I've only done a handful of triple orders and they were not worth the money. As you can see here, the triple order isn't all that lucrative either. 
---
Grubhub orders
Grubhub's accept / reject buttons are pretty straightforward with a smaller "Reject offer" button that's quite hard to select, especially if an order pops up while driving.
Grubhub shows you a map of where you'll end up and you can zoom in on both the restaurant and customer locations. It also gives you the mileage from where you currently are to the restaurant to the customer(s).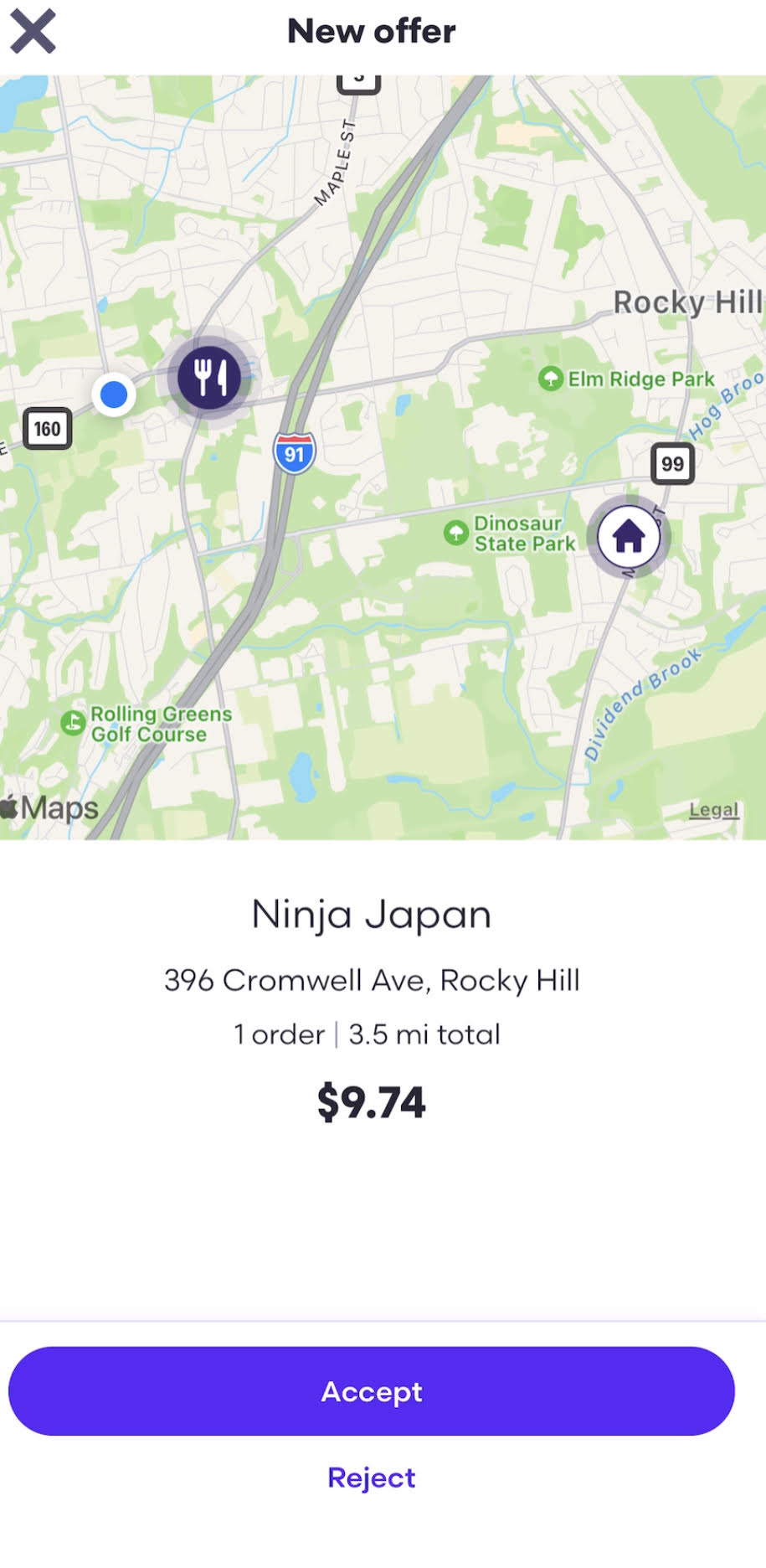 You can choose to "Accept offer" or "Reject offer". While your acceptance rate doesn't really matter on UberEats, it does matter on Grubhub if you'd like to advance in program levels.
There are stats like drop block and acceptance rate, which make Grubhub a little bit more of a drag. I personally don't like schedules, which is why I do gig work so Grubhub is not my favorite but that's just a personal preference. 

Grubhub says on its website that it does pay for mileage at 34 cents per mile from the restaurant to the customer unlike DoorDash and UberEats. You'll still have to track your mileage to the restaurant and from the customer to the next order so you can get some money toward that come tax season.
If you want to accept an order, just hit "Accept offer". Back to that in a moment.
---
So that was the basic layout for each app. This should help you get a feel for what to expect.
In my opinion, DoorDash wins in terms of the details it gives you upfront to make an informed decision about whether an order will be lucrative enough for you to take it.
Grubhub is a close second since you can zoom in on the map and it gives you all the details about which restaurants for double orders.
UberEats remains my least favorite in this category because I like to know where I'm going and what restaurants I'll be popping in to for double orders.
I have a good idea of ​​how long restaurants in my area take so with UberEats withholding the name of the second restaurant, I am often in for a rude surprise. I will say that you can drop an order if there's a long wait-time and you already have another customer's order waiting in the car. 
Accepting an order and delivery
As shown above in the declining an order examples, you just click "Accept" on DoorDash, "Accept offer" on Grubhub and "Accept request" on UberEats.
You'll then head to the restaurant and follow the in-app instructions. If you have a double order, you'll just have to pay even closer attention for items like drinks, etc.
Other than that, double or triple orders are similar to single orders.
Again, DoorDash has the cleanest interface with all the info you need to do your job. You just click "Confirm" and follow delivery instructions.
Grubhub is almost too detailed with info about when the customer (called "diner" on Grubhub) placed the order, etc. You also have to say you've arrived at the store, you picked up the order and you're getting on the road to deliver, (Leaving) which is a bit much and falls in line with my overall impression that Grubhub is quite serious about the delivery game.
You still do not know the customer's address once you accept an order on UberEats so again, you don't really know the whole route ahead of time. whereas you do on DoorDash and Grubhub. 

UberEats just changed its buttons so I've updated this page, It is now to confirm pickup, which then defaults to their terrible navigation (hint: Always use another navigation system like Google Maps, not Uber's, it's terrible).
Just follow the customer's delivery instructions and you're all done. This part is relatively straightforward on all of them with some weird options like "wait in car" on UberEats.
Other than that, it's a relatively straightforward process, one you'll get better at over time. Customer's delivery instructions often leave much to be desired but like I said, you'll nail this over time. 
Dropping an order
In case the restaurant informs you of a long wait time (15-20 minutes is too long for me unless it's a $ 20+ order), you should consider dropping the order because you have to think about the bottom line (not to sound greedy but this took me a while to learn that I do not get bonus points for waiting).
I meet so many new delivery drivers who are waiting at the restaurant for 20+ minutes and that's just not profitable, please drop the order, the customer will be OK since another driver can just pick up the order.
Dropping an order on DoorDash
I briefly touched on that before but dropping an order on DoorDash is easy but it does count against your completion rate.
If your completion rate drops below 80%, DoorDash may deactivate your account.
Still, it's no biggie to drop an order on occasion since your completion rate goes up again once you complete orders.
To drop an order you've accepted, just go to the? icon on the upper right hand corner.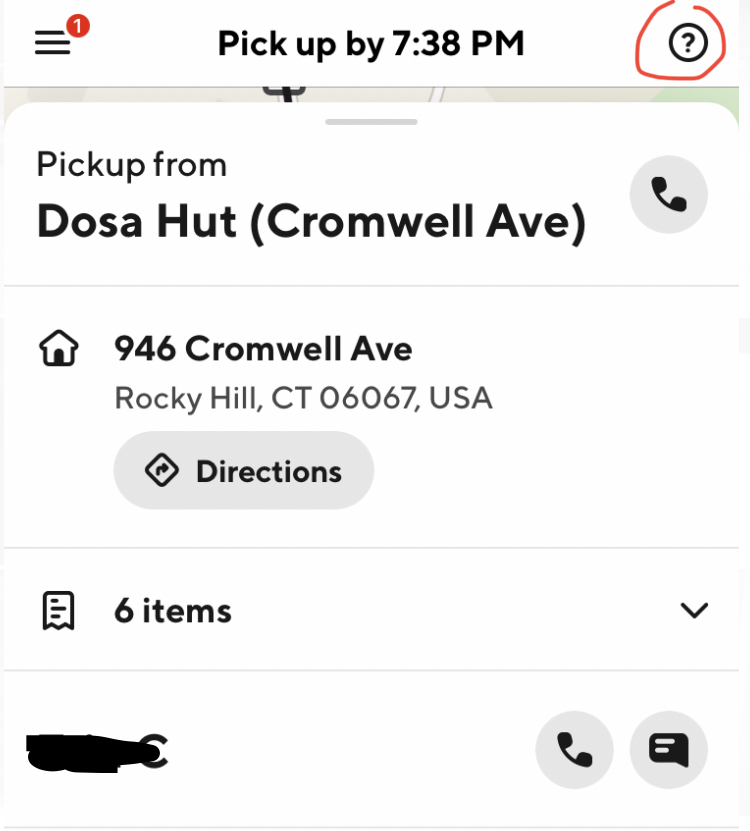 DoorDash screenshot of ? icon to drop order after having accepted it
Follow the "Can't do this order" steps. I usually choose "Order not ready".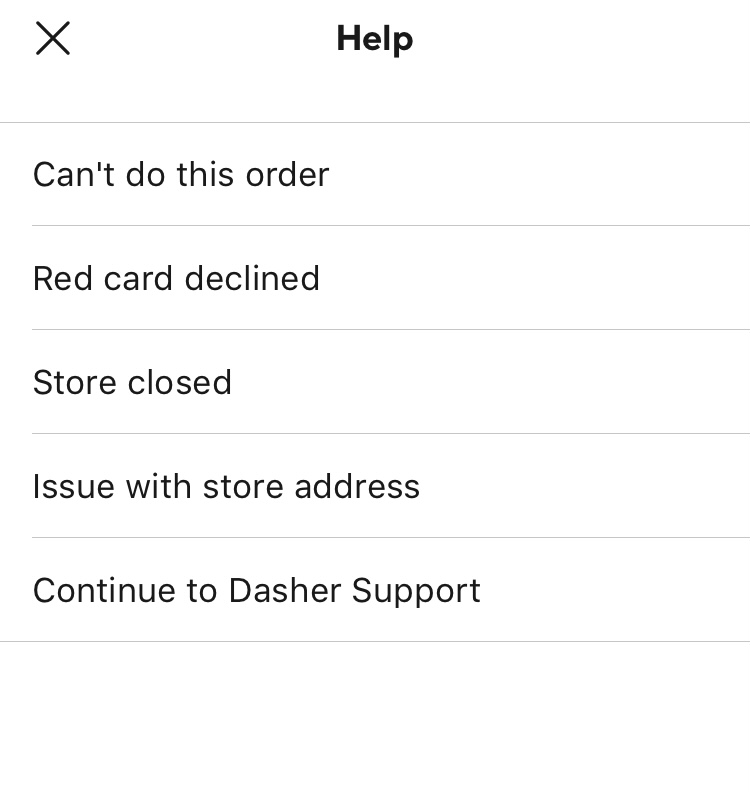 DoorDash screenshot of Help screen with "Can't do this order" option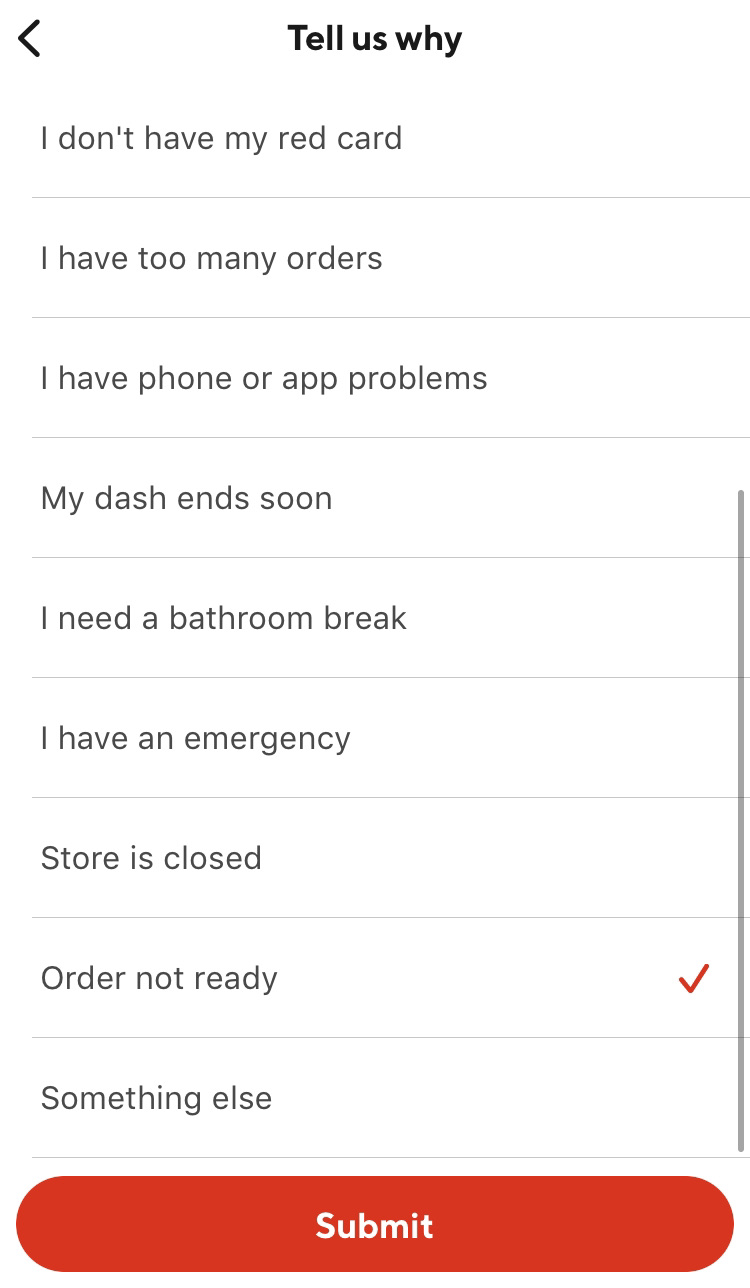 DoorDash reason for dropping order screen
Hint: if you accepted an order but the store/restaurant is closed when you arrive (it's happened to me a couple of times), you want to get on Chat support and report it, you'll get compensated for it so you always wanna report a closed store via chat. 

But that's it, dropping an order is pretty easy on DoorDash. Once you drop the order, you'll be taken back to the home screen where new orders will pop up. 

Dropping an order on UberEats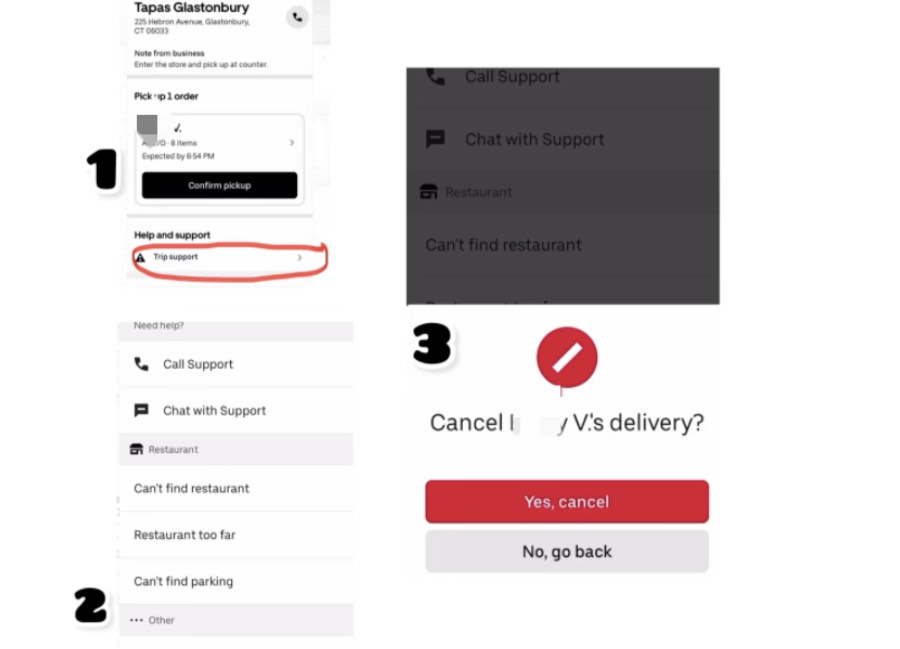 Similar to DoorDash, dropping an order is easy on UberEats. Unlike on DoorDash, while it does tell you your rate, it doesn't really count against you, especially because you easily accept orders by accident when out delivering an order. I assume excessive dropping will result in some sort of action. 
To drop an order, just go to trip support. 
You'll be directed back to the main screen for new orders to pop up.

Unlike DoorDash, UberEats does not really have a good chat function if your issue is bigger than just dropping the order, which can be annoying but it's also no big deal.
I've only had to call Uber support once and it was fine. 

---
Dropping an order on Grubhub
To drop an order on Grubhub can seem daunting since they make it seem like you have to call support or get on chat (Care) but I recently talked to a person who's been doing Grubhub for a while and he showed me how to circumvent having to call Grubhub Care to drop an order by selecting either "Total payment is too low" or "Distance is too far".
 But first, you have to select "There's a problem" from the bottom of the screen.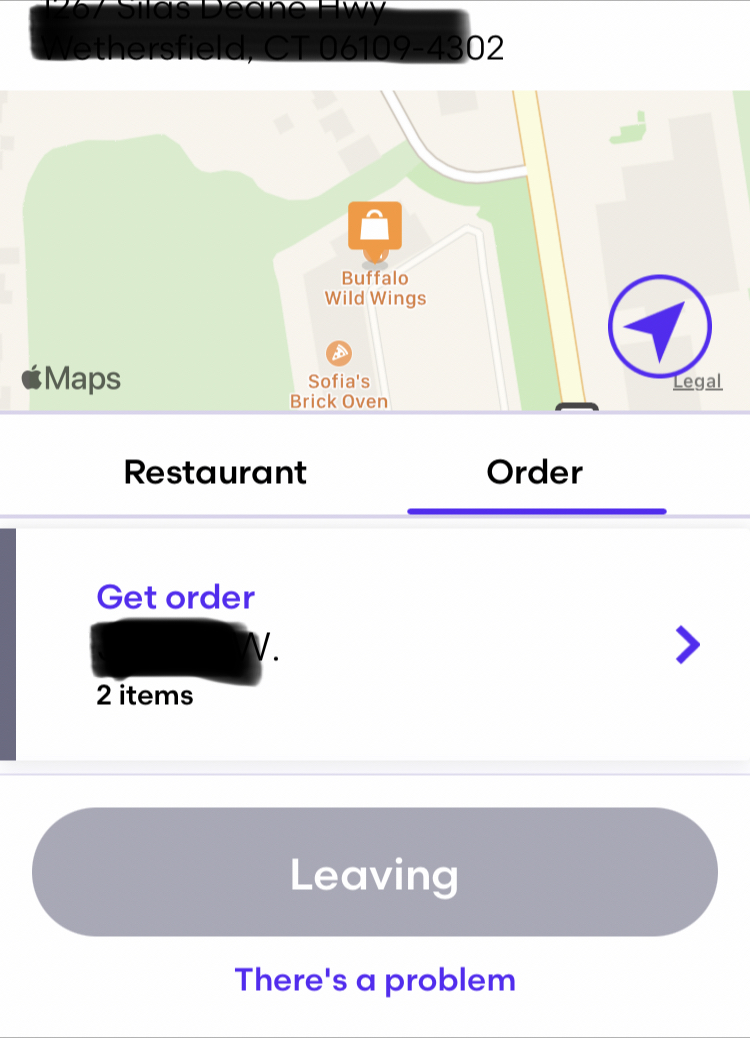 Grubhub screenshot of accepted order: Selecting There's a problem to drop order
Now select "I can't deliver this order".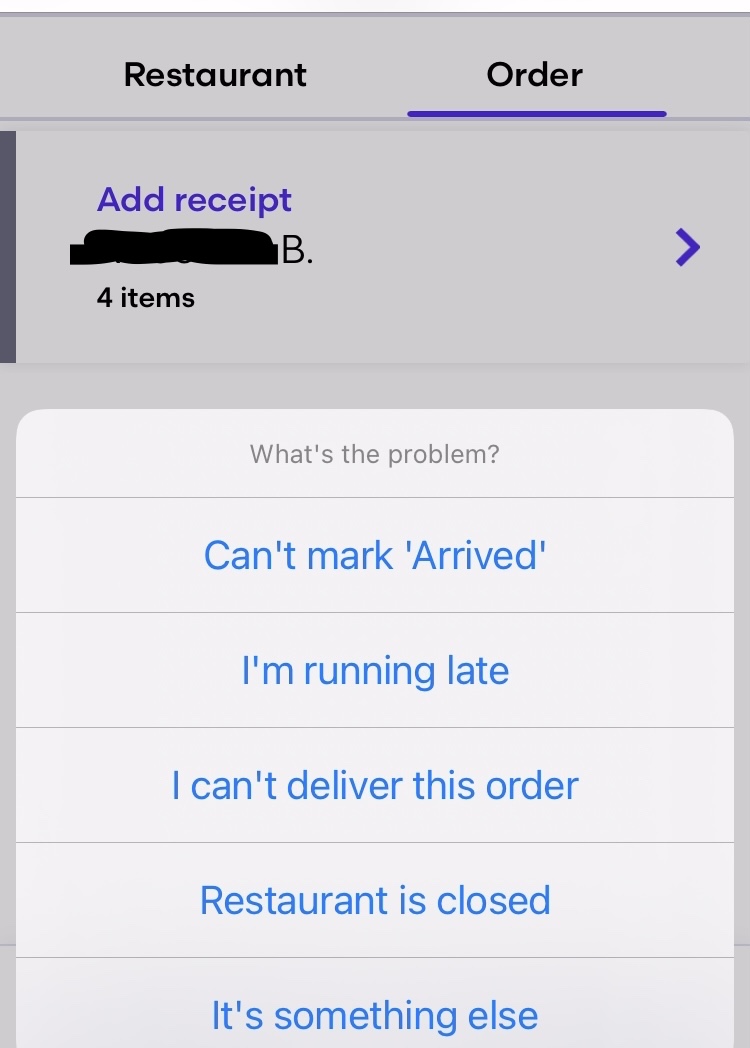 Grubhub I can't deliver this order screenshot
Finally, walk through the steps to select "Total payment is too low" or "Distance is too far" as a reason even if the reason is something else.
Everything other than those two options will result in you having to call support to drop the order. I think Grubhub is going to change that but the last time I used it, I had a wait time of 60 minutes and had to select pay too low to drop the order without having to talk to Grubhub Care on the phone.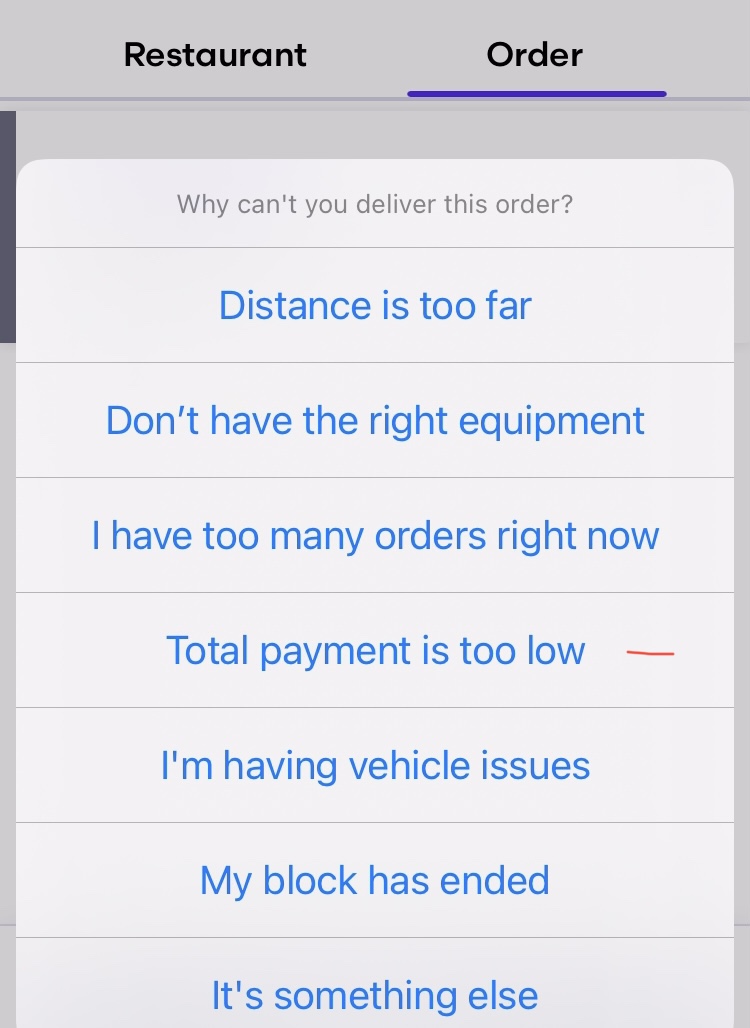 Grubhub reason for dropping order screenshot
Once you go through those steps, Grubhub will ask you to confirm that you indeed want to drop the order (reject offer) and then it'll take you back to the home screen where new offers will pop up.
Grubhub can be a bit of a pain when it comes to restaurant wait times, especially if your strategy is to park outside of popular restaurants so you walk right in.
I've talked to a few buddies some of the restaurants and they said that Grubhub sends a driver a few minutes after the order gets placed to ensure timely delivery but it leads to the driver having to wait quite a bit each time.
I've experienced this myself. Pretty much every Grubhub order I took had a wait time, one restaurant said 60 minutes, which is the above order I dropped. 
Many of us park near restaurants we know are busy so that strategy doesn't work quite as well with Grubhub.

DoorDash and UberEats win for simplicity of being able to drop an order. Grubhub again lags behind in terms of ease of use within the app.
However, Grubhub does have advantages in one big category and that is base pay that includes mileage. 
Retail orders and card orders
Each app has retail orders where you pick up from a place that's not a restaurant. Places like Walmart, Petsmart or Gamestop.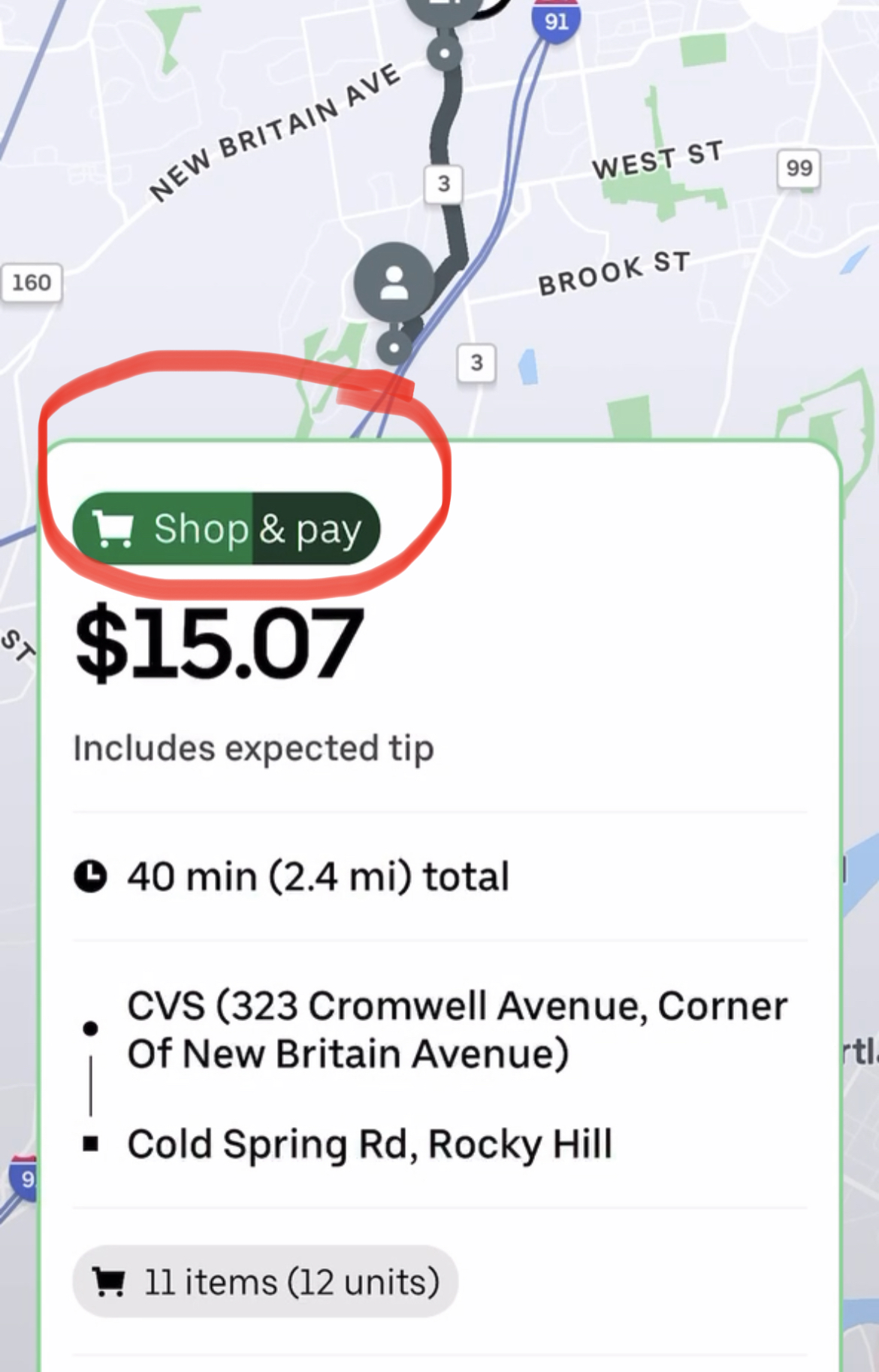 UberEats and DoorDash also have shop and deliver where you'll need the credit card they send you after signup. This page doesn't go into great detail because it would drag on for eons but I will make a separate page for just those orders. It's similar to Instacart, which is what I do if I want to shop for someone.

These are company cards you're sent when you sign up and at no point require you to use your own money, they are preloaded with the customer's money.
I will say UbeEats can be deceptive when an order pops up as it can say "Shop" or "Deliver" in the same green button so pay attention to the time UbeEats estimates it will take since that'll provide a clue as to whether it's a shopping order or just a retail pickup. Obviously, shopping for stuff will take longer so you'll want to make sure you'll get paid more than for a delivery order.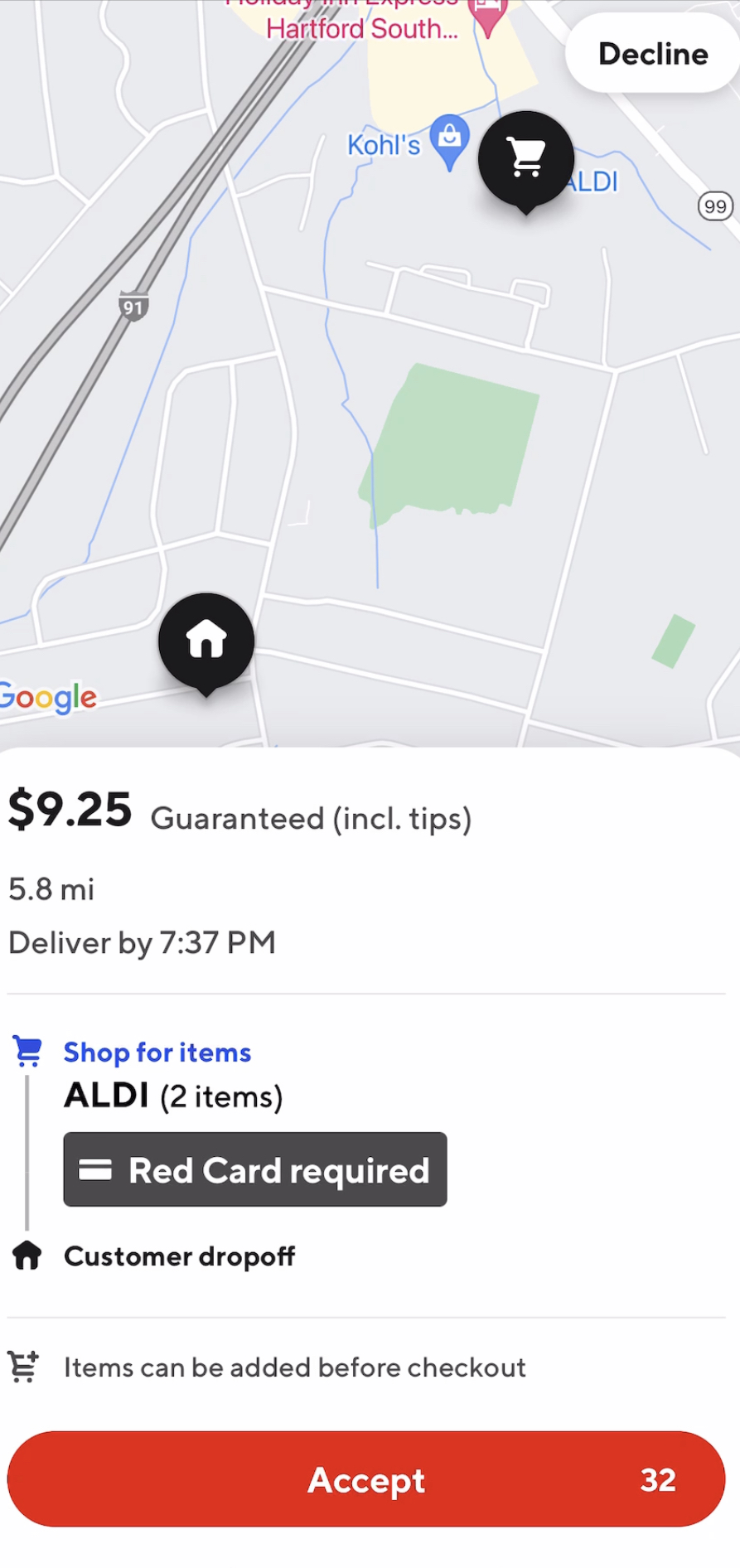 As you can see here DoorDash will show you that it'll require a red card since it's an Aldi shopping order. It also shows you the item count like UberEats does. This matters since you wouldn't want to shop 30 items for $9.25.
DoorDash and UberEats pay slightly more for shop orders than delivery only but it's really nothing to write home about. Instacart pays a little better but has recently decreased its pay per order to match the atrociously low pay of DoorDash and UberEats. But that's for another time.
I only do the occasional Petsmart or Walmart pickup but rarely a shopping order. I stick to picking up restaurant orders since that's kind of what I signed up for and the process is smooth for the most part.

If I want to shop, I'll do Instacart since its app is quite a bit better when it comes to scanning items compared to DoorDash and especially UberEats.
As always, you'll have to see if an order is worth your while before you accept it.
Restaurant card orders on DoorDash and Grubhub
Just note that some restaurants require you to pay by card but you'll see it upfront on DoorDash (it'll clearly say Red Card order) and Grubhub so you don't really have to worry about it. If you don't have your DoorDash red card or Grubhub corporate card with you, just decline the order when it pops up or drop it if you realize you don't have your card with you.
These card pickup orders are rare so it's really not something to worry about. Again, these are company cards you're sent when you sign up and at no point require you to use your own money, they are preloaded with the customer's money.
I've only had about five orders like that in 1,000 DoorDash orders so just keep the card they send you in your car at all times but don't worry too much about it.
I have videos on my YouTube (your gig economist) that show you how to deliver orders and all that good stuff but again, I don't wanna fill up this page with too much crap. 
Ratings
I will give you a brief summary of how ratings work on each app.
On DoorDash, customers select a rating between 1 and 5 for your delivery. The feedback includes Communication, Order Handling, Friendliness and Followed Delivery Instructions. This is the most detailed ratings system and is reminiscent of Instacart.
UberEats has a thumbs up and down rating, which is really annoying because it's easier just to thumbs down than it is to think about a rating between 1-5.
It took almost 500 orders on DoorDash for me to receive anything other than a 5-star rating and equally as many orders on Instacart.
However, within my first week on UberEats, a customer who selected "meet at door" as delivery option and wasn't there so I texted her and once I did not hear back rang the doorbell (a perfectly fine option for when the customer selects "meet at door"). She must have fallen asleep so she gave me a thumbs down even though I quite literally followed delivery instructions.
Surprisingly, Grubhub does not have ratings for its drivers. For a delivery service that is so detailed about each step I take, it's really surprising that there are no ratings. 
I'm not sure how I feel about not having ratings because I like customer feedback. It's made me better at this job. 
Intro promotions 
Please note that the intro promos will probably differ based on when you sign up as they change all the time.

Each app except for Grubhub had a one week promotion (for your very first week only), where you could earn extra cash on top of your earnings for completing x amount of deliveries. 
For DoorDash, it was "get an extra $ 75 for completing 35 orders", which was quite easy to complete and the $ 75 showed up as earnings right after completion.
UberEats had a great intro promotion at the time I signed up with "complete 40 orders, get an extra $ 200". Yes, an extra $ 200 on top of all the earnings from the 40 orders!
I was unable to complete the 40 orders but I did complete 20 orders for an extra $ 100, which was also a good deal but I will say that I did not receive enough orders that week to take me to 40 orders. Not by a long shot so it felt like the $ 200 was a bit of a dangling carrot I was never gonna get.
Grubhub did not have any promotions when I first signed up. That does not mean it does not have a lot to offer in the earnings category though.
As you may recall, I described Grubhub as a bit serious and the earnings category is where that comes in handy. I recently got a complete 6 orders, get an extra $21 offer but it came with the caveat of having a 100% acceptance rate, meaning accepting every order that came to me. I didn't do that.
I absolutely love the no condition "make an extra X amount for doing X amount of deliveries" but I despise conditions like the one Grubhub had. Why would I essentially be forced to take a series of smaller orders just to make an extra $21 when I can just wait for bigger orders that would exceed those $21? Silly. 
I think Grubhub has intro promotions like UberEats and DoorDash but it just didn't have them at the time I signed up.
Therefore, UberEats and DoorDash win in the intro promotion category.
UberEats, Grubhub and DoorDash Earnings
Yes I know, you've been waiting to hear all about  UberEats, Grubhub and DoorDash pay info.
 I will give you all the details in just a moment. I do want to say that the gig economy and as such food delivery is entirely based on demand.
A year ago, I was able to make $400 a week on DoorDash super easily and this year, I struggled to make just $200. You should have a backup plan and app in case demand is down for one.
OK, here's the good stuff. You may have heard that one app pays more than the other. A lot of drivers say UberEats pays more but that's not the case at all. And I'll show you in a sec.
Yes, you can make decent money on UberEats but that money will come from customer tips, not UberEats.
UberEats base pay and earnings
You'll see plenty of orders come your way on UberEats that look like this.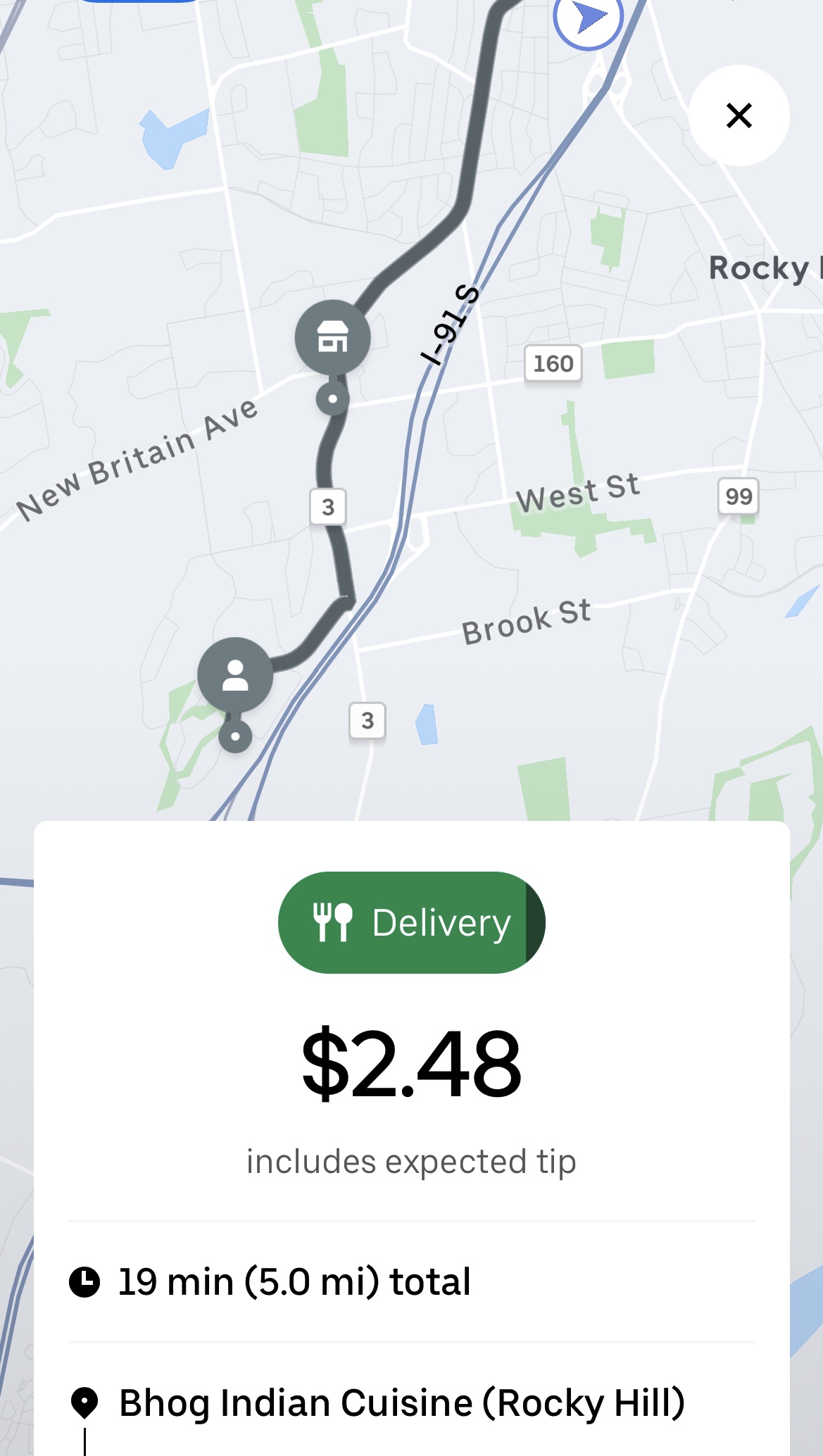 This is a no tip order. UberEats does not pay for mileage so you have to keep track of it yourself as you go out for UberEats, when delivering an order and when coming back from an order. 
As you can see, UberEats shows you how long it thinks the order will take you from start to finish. If you do the math, you'd make $7.44 an hour, assuming you'd do three orders like this. 
And that's before gas and taxes.
I'm often only able to do two decent UberEats orders an hour but I usually choose orders that are above $15 so it adds up to $30+ an hour if we do the math.
---
DoorDash base pay and earnings
Here's a similar DoorDash order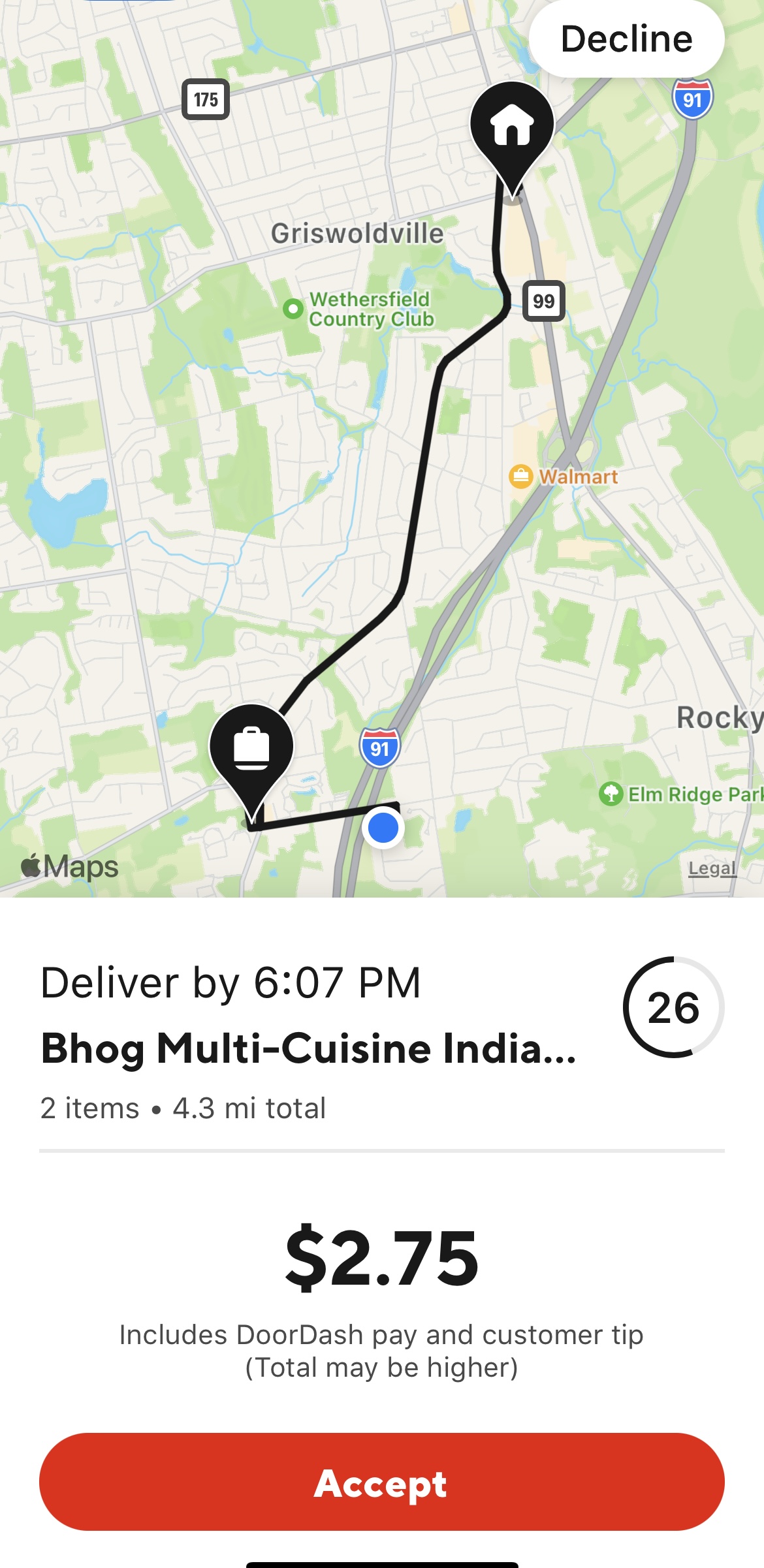 You can see that DoorDash and UberEats pay pretty much the same per order.
DoorDash doesn't pay for mileage either so just like with UberEats, you'll have to track it as you're out looking for an order, delivering and any other time you're just driving around for DoorDash.
This is very important. You'll already owe a ton in taxes if you do well on these apps so it's important you get some money back for mileage come tax season.
---
DoorDash, Grubhun and UberEats earnings in comparison
Yes, the base-pay on UberEats, Grubhub and DoorDash is really only around $2-$3 per order (and that's before gas and taxes) so it's absolutely essential that you take higher tip orders. Grubhub again says it pays about 34 cents per mile but that really only starts adding up above 10 miles and that's already kind of a far distance.
It usually pays to stay in a smaller radius unless you really know the area you end up in.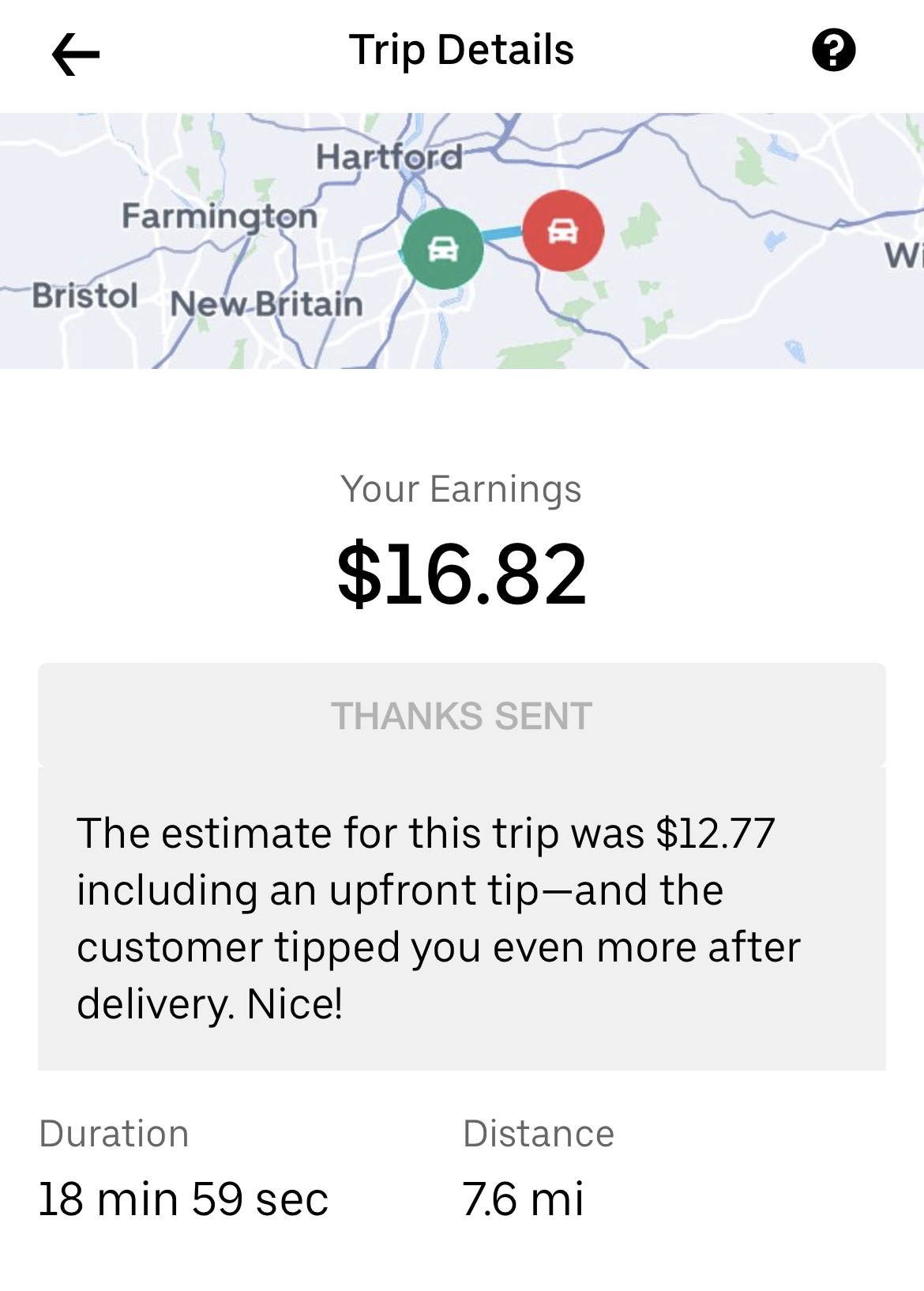 Here you can see an UberEats order I completed.
I couldn't squeeze all the info into the picture but the UberEats base-pay was $2.34 plus a 24 cent trip supplement and a 23 cent boost for it being a busy weekend. So the total base pay here is $2.81.
Super low even with all the extras. 
The rest is the customer tip. As you can see, the customer increased their tip, which is what I love about UberEats. 
Customers see that I have insulated bags, which many UberEats drivers don't have so it usually means a pretty good tip increase.
Yes, I've gotten $20+ extra on UberEats but generally it's what you see here or no increase at all.
Totally fine, that's why I pick decent orders when they pop up so I don't have to hope and pray customers will increase their tips but it is a great feature that makes UberEats appealing.
So if I do two orders like this in an hour, I'm above my $30 goal per hour.
DoorDash just recently added the tip increase feature where customers can increase their tip. I've gotten one $2 increase but I will update this page should the tip increases roll in more.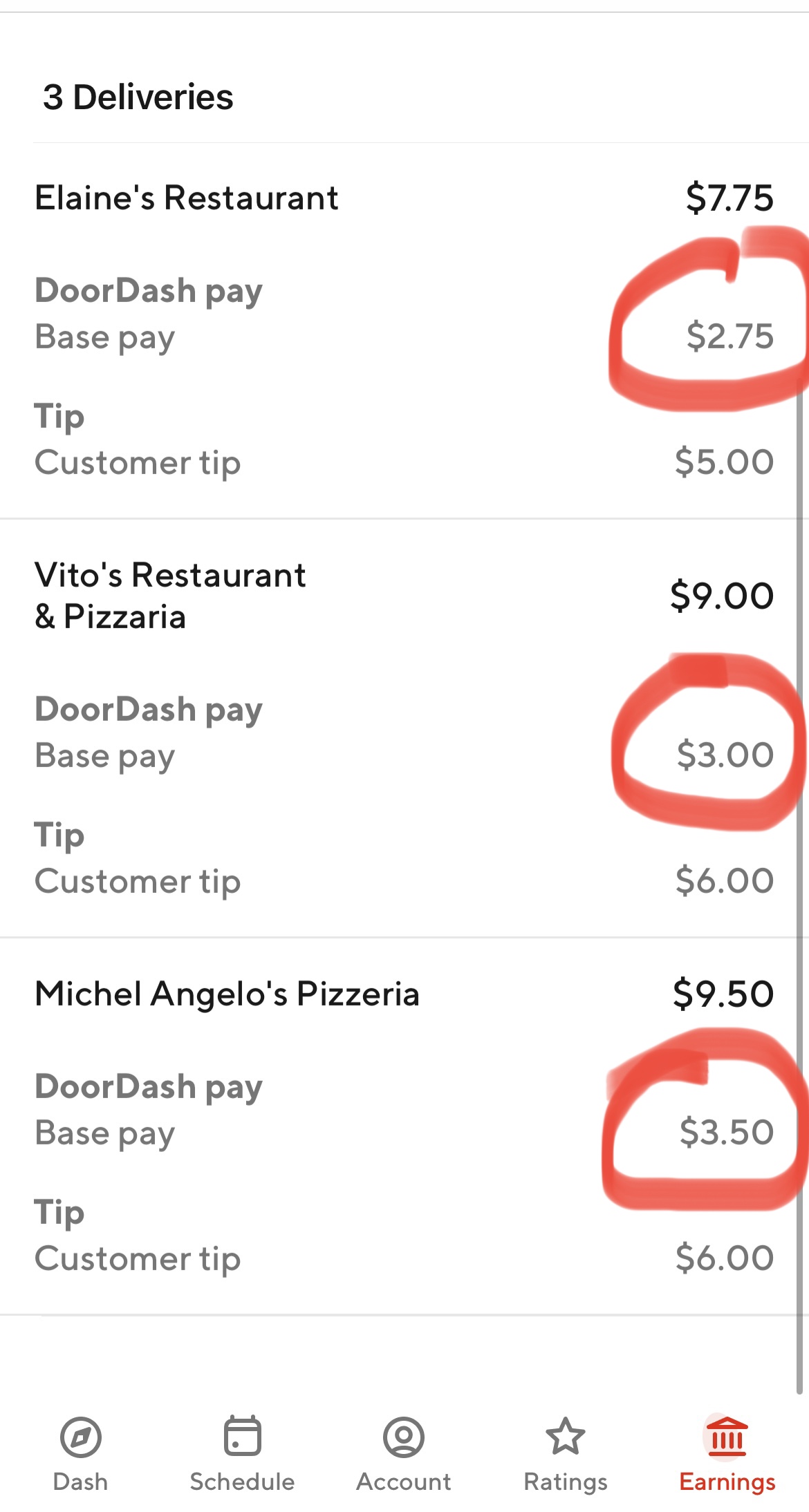 Here is an example of three orders from a Friday night on DoorDash. Friday nights are a little higher in terms of base pay but not always. It depends on demand. 
I chose examples where the tips weren't insanely high but you can see that even a $5 makes a good difference in how much you'll earn. These deliveries were done in a little over an hour.
The good thing about DoorDash is that there are generally quite a few orders and you can do them back to back.
The delivery distances here were quite short so while the tips aren't super high, I was able to make $26.25 in about an hour. 
Again that's before gas and taxes. I generally aim for $30 an hour on DoorDash, especially on weekends.
---
Grubhub base pay and earnings
Here is an order I took on Grubhub because it was quite decent. I didn't have to wait long at the restaurant, which was a little unusual so the order took just under 30 minutes.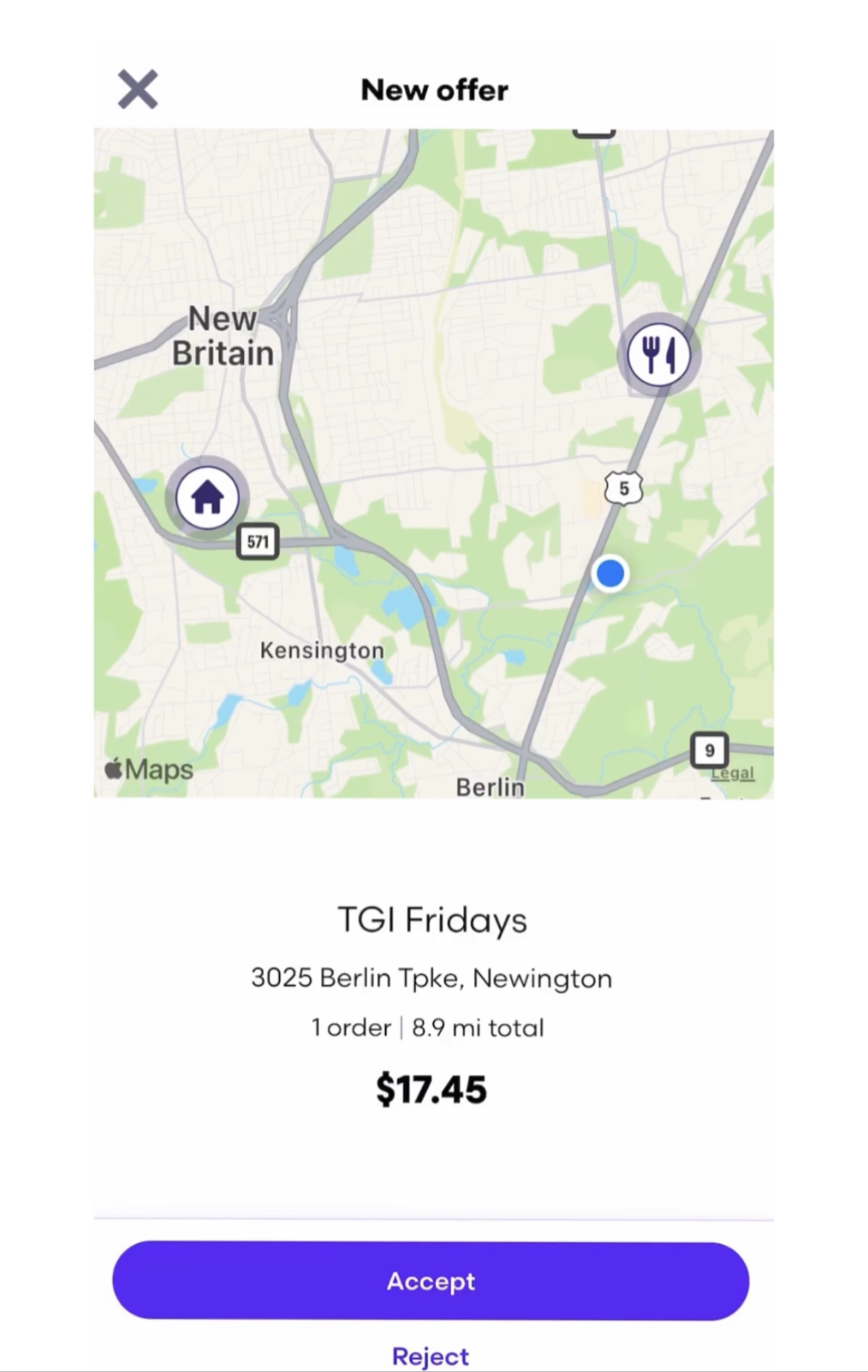 I didn't have an order that brought me back to my home base so I had to backtrack. I actually only made that $17.45 on Grubhub in an hour.
I wasn't sent another good order so I switched to DoorDash for the remainder of the night.

Sometimes it happens, which is why it's hard to say you'll make x amount but I hope you can see that you will make some $$ on any app if you wait for a decent order to pop up and you don't worry about acceptance rate, etc.
---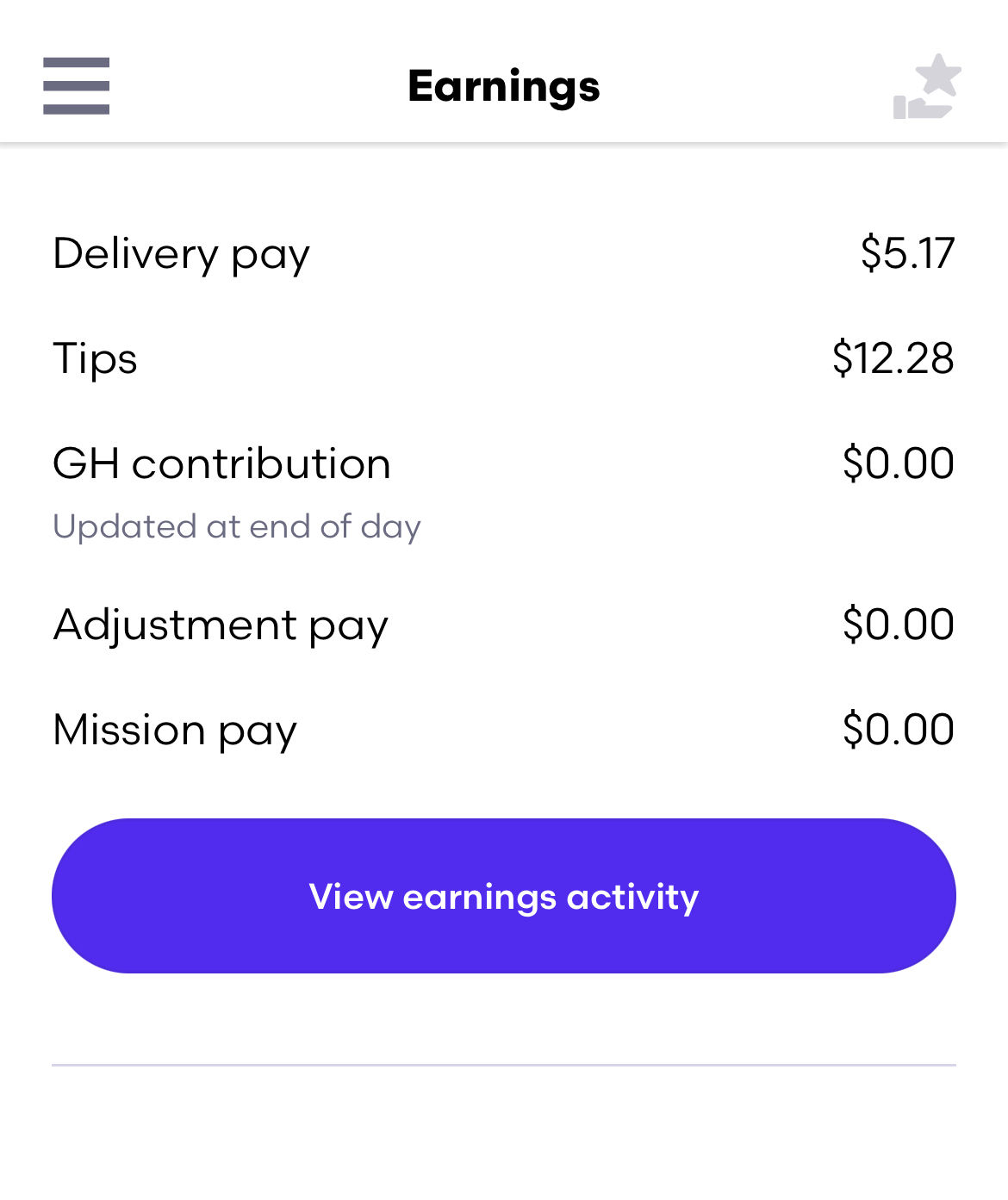 Here is the order once I delivered it and you can see that Grubhub only pays for that mileage (Delivery pay) and nothing extra. The rest of the money comes from tips.
This is also different on busier nights, where you could see an extra $2 but generally just assume you'll get paid for mileage.
Sometimes Grubhub has missions on busy nights like earn an extra $12 for completing 6 orders without skipping one or something like that. 
In the case of this order, I didn't have another order coming back that so I had to track that 8.9 miles coming back to my home base before accepting another order (I did a DoorDash after this) so please make sure you also track any mileage on Grubhub you spend driving around waiting for the next order.
All of it counts and will reduce your tax burden.
---
As I said, on its website Grubhub pays 34 cents (it used to be over 50 cents) per mile but not much more in terms of base-pay. Grubhub only pays slightly more due to the mileage but this becomes problematic when the mileage is only 1 or 2 miles in which case you'll also see less $ on Grubhub if the customer doesn't tip much as you can see in this example.
What if it is a low mileage order on Grubhub?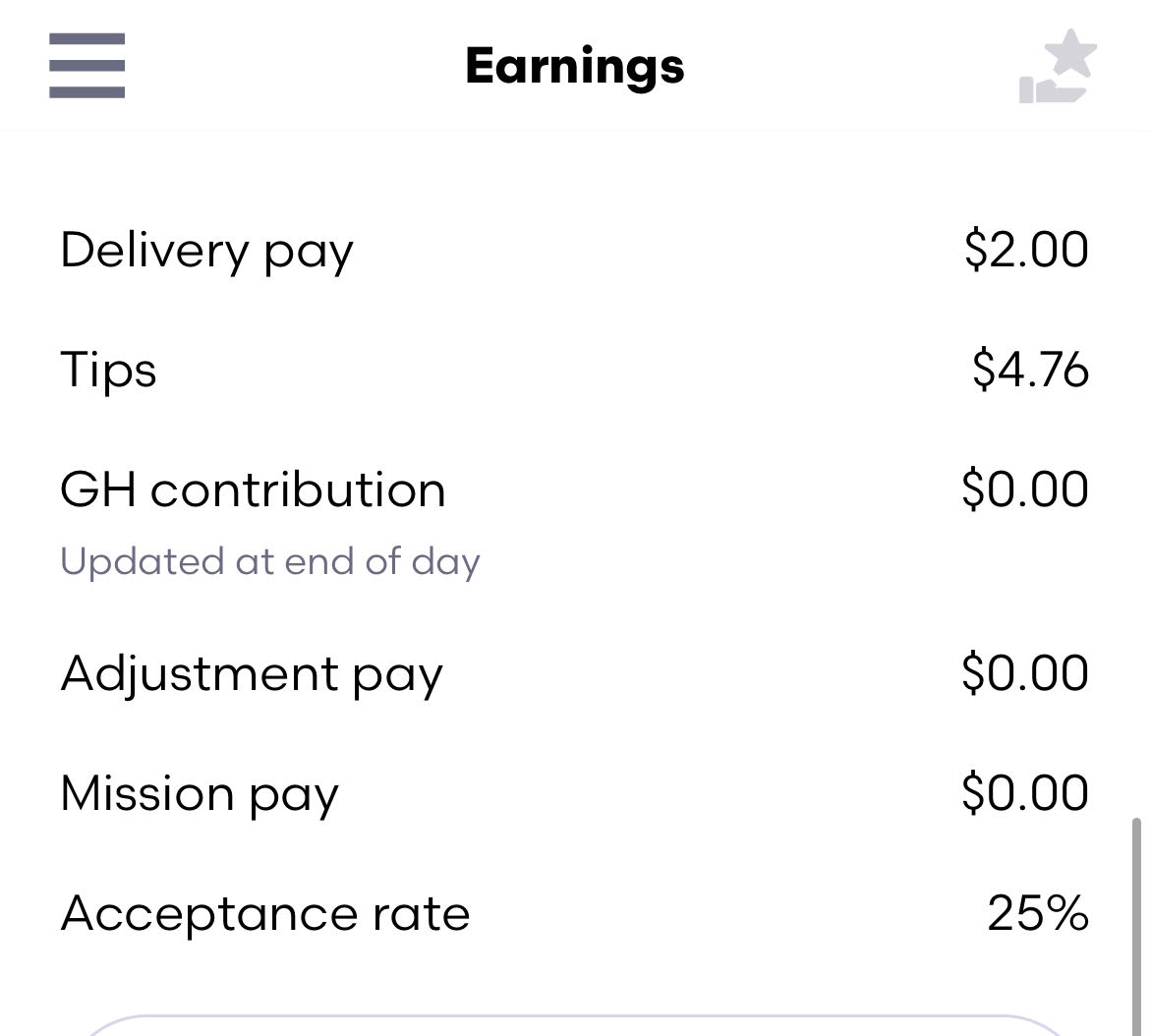 Example of lower paying Grubhub order
In this example, the customer only lived about a mile from the restaurant so that made Grubhub's base pay much less and since the customer didn't tip incredibly well, the order only paid $6.76.
So when the mileage is lower, Grubhub's base pay will fluctuate and often be in line with DoorDash and UberEats.
I hope showing you these real life numbers give you an idea of what to look out for to really make decent money. 
Important reminders to maximize your earnings on DoorDash, UberEats and Grubhub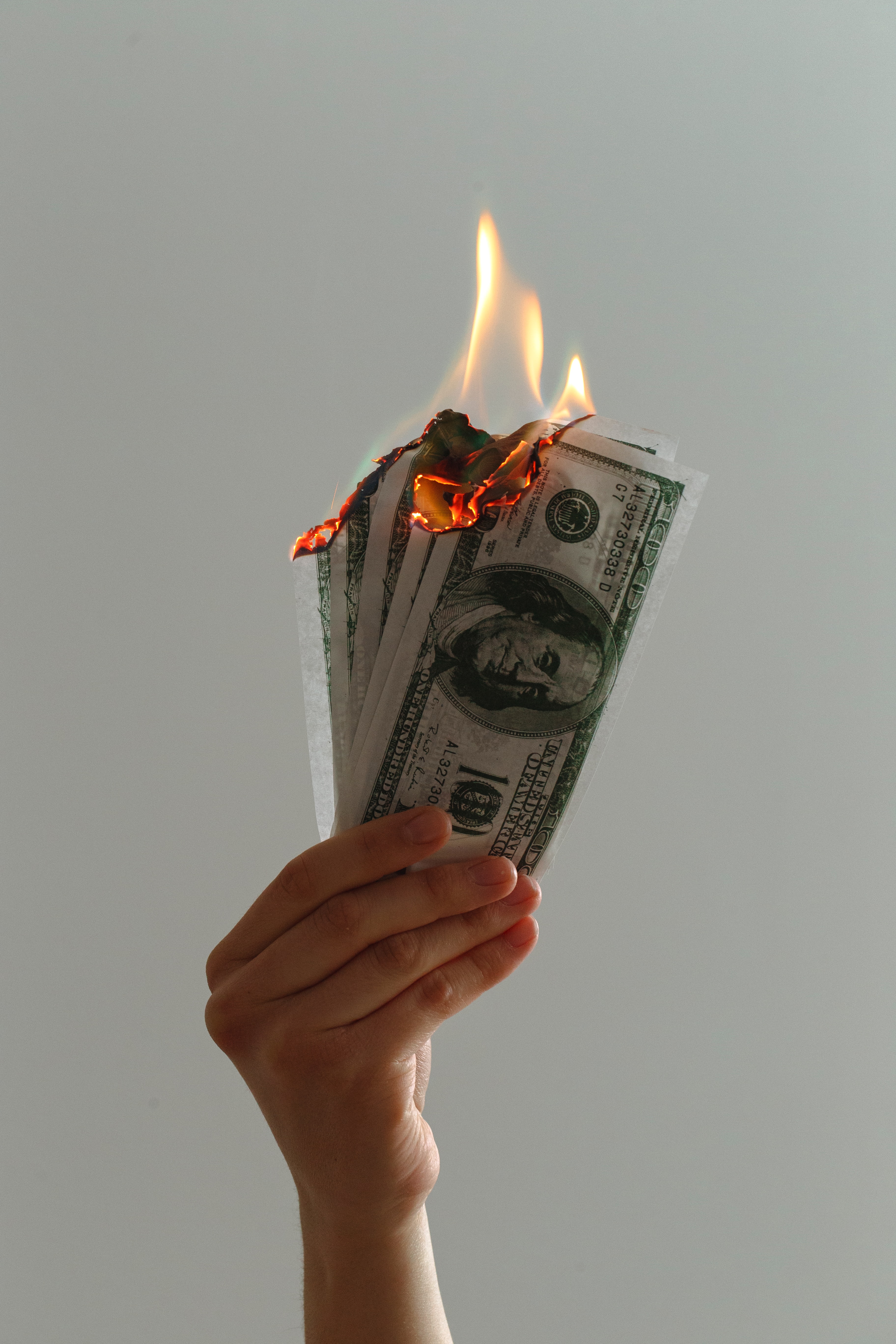 You have to remember that these apps are in the business of making money off of you and the customer so you have to choose your orders wisely.
You are not an employee, you're an independent contractor so you're in charge of how much you make, don't settle for super small, no tip orders.
That's not a sustainable strategy. You'll end up losing more money on gas than you're making.
Like I said, I've done thousands of orders and I urge you not to go for things like Top Dasher on DoorDash or worry about acceptance rate on Grubhub, you have to decline quite a few crappy orders in order to actually make a profit. 
How many orders per hour is normal? And how much can I expect to make weekly?
You can do 2-3 orders an hour on UberEats and DoorDash, the wait times on Grubhub can be high so you might just be able to do 1-2 per hour. You can see how important it is to take higher tipping orders and nothing with crazy far delivery distances. 
You should aim to make an average of $35 an hour. This doesn't mean every hour but some hours I'm able to make $50 and then the next hour maybe just $20 but it usually averages to $35 before gas and taxes. You may see more in metropolitan areas and less in more rural areas but always make sure you consider that all of this is before gas and taxes so be smart about the orders you take and don't aim for things like TopDasher if it doesn't make sense.
This summer was really bad for me and there were very few orders. I didn't force myself to go out because it was just such a drag, which is the downside of gig work. The constant dependance on demand can make it quite tough, especially if you rely on it full-time.
How much you'll make is essentially up to you and on demand obviously.
When demand is up, I am strategic and only go out for lunch and dinner orders 5-6 days a week. That allows me to make between $ 400-600 weekly plus whatever I make on Instacart (another $400+).
Some of the drivers I've talked to go out late at night but I can barely find customer's homes during the day so that's a no for me. I talked to an UberEats guy the other day and he said he's able to make about $ 1,000 a week by going out late on weekends (4 PM-11PM). He also does Instacart.
I generally stick to doing Instacart during the day and DoorDash, UberEats or Grubhub in the evenings, usually from 5PM-8PM. Demand has been down so I don't go out every night, just close to the weekend like Thursday-Sunday.
So you see, many of us make this a full-time gig by working on different apps and how much you earn depends on where you live, availability of orders and a combination of strategy and hustle.
Let me briefly mention the cash out process in case you've missed it in the beginning of this article.
Each app allows you to cash out your earnings as you make them.
If you're super strapped for cash and need money right after your background check clears, UberEats is the way to go. The bank verification takes virtually no time and for 50 cents you can cash out the moment you make money.
DoorDash takes up to two weeks for you to use the cash out function, Grubhub only takes a couple of days. I know this is important to some of you so I wanted to mention it twice.
DoorDash now has DasherDirect, which eliminates the cashout fees but you have to use their bank. You have to be a dasher to sign up. I talk about that here if you're interested in some of the pros I've encountered using DasherDirect over the last few months.
Decision Time! DoorDash or UberEats or Grubhub?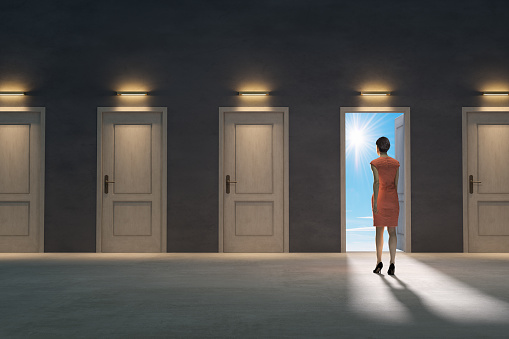 It's important for you to know what you want out of the delivery game before you sign up for any of the three apps I discussed.
That's why I outline the pros and cons without giving an overall winner. I've shown you what the apps look like so you can get a feel for them and given you some info based on my experience but it's ultimately up to you.
You can make extra money on any of them and it all depends on getting good at food delivery. Which means, getting to know the restaurants in your area, which ones are fast and which to avoid. That'll also help you make more money, more quickly.
Skip ahead to see a summary table of pros and cons for each app or keep reading for a quick recap.
In my opinion, Grubhub pretty much lost every category above and I still find the app incredibly annoying but in terms of making sure you get adequate base pay (with the exception of lower mileage orders), Grubhub does score some points.
My biggest issue with Grubhub aside from a clunky app is the fact that it times the orders strangely and really has the least amount of freedom because everything affects your stats.
The long-term drivers I've talked to do laud Grubhub for its higher pay structure, which only gets better the higher on the program levels you get so that's something to consider.
The good news is that drivers don't get ratings so that eliminates some of our frustrations.
DoorDash doesn't have program levels so there is no commitment whatsoever and yet I've done around 2,000 orders. As I said, I don't like to be bogged down by schedules and rules.
UberEats has levels as well and you get access to certain deals like tax preparation, etc. if you reach Gold, Platinumn, etc,
With DoorDash and UberEats, I'm able to walk into a restaurant with the order either sitting on the shelf ready to go or I receive it within 5-10 minutes. That's of course not always the case but more often than not, I can even take up to 4 DoorDash orders in a little over an hour, that's not possible on Grubhub.

My buddies at the restaurant I frequent for DoorDash told me that Grubhub has timing issues because they already send a driver shortly after an order goes in (to allow for driving time), which often results in the driver having to wait.
That's not great because many drivers wait by restaurants they know are busy so their strategy gets nixed because they're already so close to the restaurant but will have to wait 15-20 minutes each time. 
If you do the math, the bigger upfront earnings on Grubhub get diminished by you having to wait at the restaurant.
I don't like waiting, I'd prefer to do many smaller orders back to back on DoorDash than to wait for one bigger order on Grubhub but that's up to you. I've had a few orders where the order was sitting there ready to go so the wait-time is not always an issue. 
Since I have less experience with Grubhub, I asked close to a dozen Grubhub drivers in my area while waiting for orders what they thought of it. They all agreed that despite the app's flaws, Grubhub has some great paying orders since it also pays for mileage from the restaurant to the customer.
I will say that like me, each of the drivers also did either DoorDash and UberEats so again, I recommend you choose two when you first sign up, especially if you know you want to do it long-term.
You absolutely need to consider what you want from the delivery game. Do you want freedom to go out whenever without any commitment? Then UberEats and DoorDash win since there's no real schedule and you can drop orders without much of an explanation.
On UberEats you do reach levels, whereas DoorDash has no levels, just a seemingly impossible to reach TopDasher award.
TopDasher is not even worth mentioning here because it requires you to keep your acceptance rate at 70% and in my opinion is not a real reward. I talk more about whether Top Dasher is worth it, here.
Mathematically it makes no sense to strive for TopDasher in my area because some of the orders are around $ 3. That's crazy low so you'd have to accept crazy low orders for a month just to maybe get higher paying orders the following month as TopDasher.
No way, I usually decline 5-10 orders just to get a good DoorDash order so I keep my acceptance rate really low.  
Grubhub has program levels as part of their driver recognition program. The levels are based on your acceptance rate, attendance rate, and block drop rate. You can read more about that on Grubhub's website, here.
Again, to me that's restrictive but because Grubhub has higher paying orders, I usually accept more orders rather than declining them like I have to do on DoorDash. UberEats has some incredibly high paying orders but the grouping of orders where you can't see the second restaurant really messes with my strategy.
Personally, I do not like to be bogged down by schedules, which is why I'm in this industry so I'm OK leaving some money behind in favor of freedom to drop an order if I want to without getting dinged. I also like to start or end my day whenever I want, depending on demand of course.
So if you're looking for that freedom of just hitting the road right away, DoorDash and UberEats are your best bet.
UberEats also allows or even encourages customers to increase their tip (yes customers can also decrease their tip, which has only happened to me once) so I've had some crazy tip increases (I'm talking $10-$15 extra) for speedy delivery and for having insulated bags that kept the food hot. 
Grubhub has a tip increase option but honestly, it's not as straightforward as UberEats' so I don't even consider it a pro, I've since removed it from the pros and cons table as a pro because like the Grubhub app, it's not a straightforward process like it is on UberEats.
If you are willing to sacrifice some of that freedom for slightly higher base pay (unless the mileage is low) and an annoying app interface, then Grubhub is your choice. Grubhub also has catering orders (so does DoorDash in some areas but you have to deliver at least 200 orders and have decent stats), which are reserved for higher levels and I've not gotten there yet nor had any of the drivers I talked to. 
Grubhub in general takes care of its drivers by sending new orders while you're out delivering another so you technically have an order in line while you're still out on your current order. 
You can of course decline that order if it's crappy but I've done well when getting good orders sent to me while I was out delivering.
UberEats and DoorDash do this to an extent but Grubhub is very consistent about it.
---
Here's a quick summary of what I deem pros and cons of each app. I know they're subjective but it'll give you an overview of what I discussed above.

Pros

Easy signup

Clean, easy to use app

Able to zoom in on approximate customer location before accepting order even for grouped orders

Shows delivery distance

Shows item count

Decent timing of orders to avoid long restaurant wait times

Dropping orders is easy

Good intro promo*

Good referral bonus*

Cons

No new driver orientation

Many small orders

Zones can be annoying

The stats like TopDasher can be intimidating but don't matter

Tip increases are rare since it's a new thing

Acceptance rate tied to TopDasher reward

No other pro level options to get higher-paying orders

Insulated bag provided is tiny 

No mileage pay

$1.99 per cash out*

Initial pay is delayed
*As a dasher, you can now sign up for the DasherDirect debit card that circumvents the cash out fee. Read more about that in the "You might like" pages at the bottom
---
Pros

No zones

No schedules

Customers can increase tip after delivery

Shows delivery distance and time it will take

Shows approximate final delivery address

Good intro promo*

Good referral bonus*

Decent restaurant wait times

Dropping orders is easy

Cheap cash out (50 cents)


Able to cash out on the first day

Pro level rewards

Cons

Signup is confusing

No new driver orientation

App is the same as Uber driver 

Can only see first restaurant for grouped orders

Can only see last customer location in grouped orders

Grouped orders are generally not great

Doesn't send gear

No mileage pay

Ratings are thumbs up or down
*Varies by region and season

---
Pros

Easy signup

New driver orientation (quick online video)

Provides insulated bag that fits large pizzas

Some mileage pay

Has pro levels to get higher paying orders after x deliveries

No customer ratings

Cheap cash out (50 cents)

Cons

Clunky app

Many in-app steps 

Acceptance rate is important

Drop block rate is important

Dropping orders is difficult

No intro promos

No referral bonus

Cash out is not always instant

Frequent long restaurant wait times

Base pay is quite low when mileage to customer is lower
You might like
If you'd rather become an Instacart shopper in addition to any of these apps we discussed here, see my comparison of DoorDash vs. Instacart, here. 
Here are the basics of getting started with each: DoorDash, UberEats or Grubhub.
And for Instacart, here.
To read if the DasherDirect debit card is right for you once you're a dasher, go here.
Follow me on Instagram
Subscribe to my YouTube channel 
Sign up for Gig It! News


G

et exclusive tips & tricks monthly to stay ahead in the food delivery game!